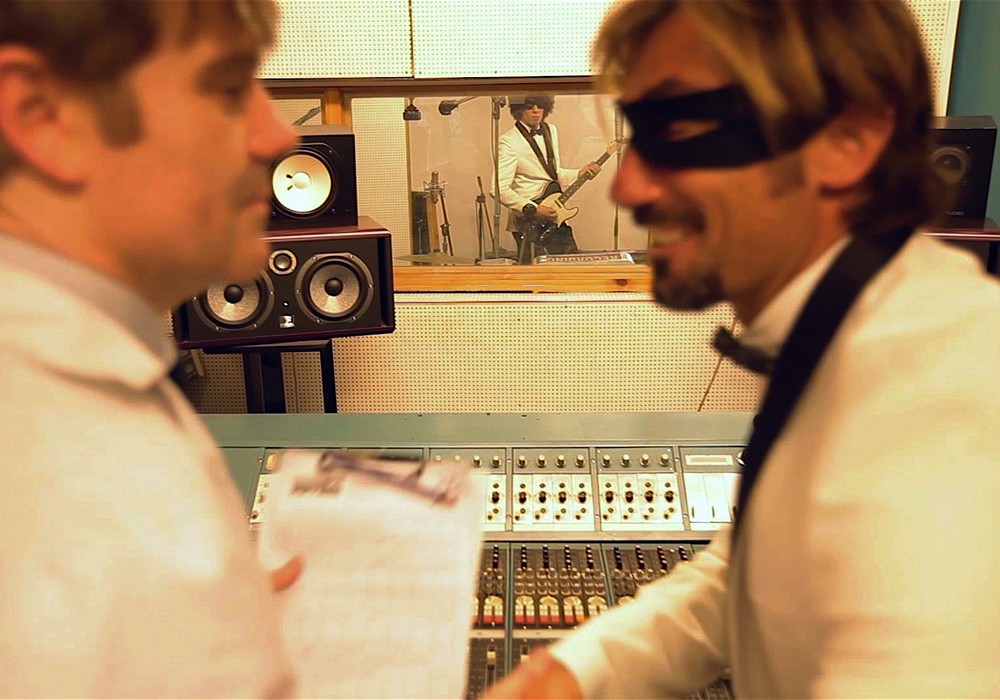 Better known by the last name "Explosion," due to his rock group Doctor Explosion, Jorge Muñoz-Cobo started Estudios Circo Perrotti in 2003 in his hometown of Gijon, located in Spain's northern coastal province of Asturias. The group may have a reputation for madcap lyrics and stage antics, but Jorge Explosion has had a life-long passion for recording, and his studio incorporates the impressive collection of vintage and new recording gear and instruments he has amassed over the years. Artists from across Europe, plus rock-a-billy legend Sonny Burgess, garage stalwarts The Fleshtones (my band), and Texas psyche-pop rockers The Ripe, have had the opportunity to enjoy Jorge's recording skills and what this unique corner of Spain has to offer: traditional cider, sea urchins, and even a bit of surfing.
What's this keyboard?
This is the Selmer Clavioline. I went to England to pick it up a few years ago. I'd found it on eBay. It was quite cheap. The guy said it didn't work, but actually it was quite new. I got the maintenance manual and I repaired it. I was working on this record by a group named Chiquita y Chatarra, two girls from Asturias, and It fell down. It's so fragile!
Have you used it on many recordings?
Not many because it is difficult to get it in tune! I never knew how to tune it properly until I got the manual. It has two tuners, two oscillators inside. It has like 20 valves. So actually the two tuners you see outside have to be operated along with two internal tuners that you don't see. And there's a fifth one underneath. It's a drag. This one was made in 1952.
What pop records would this be heard on?
The biggest hit was with the Joe Meek production of "Telstar." Del Shannon's "Runaway" I think it's a Clavioline, but I wouldn't say a 100 percent sure. [It was a clavioline-based electric keyboard called a Musitron. -LC] I The Beatles also use it in "Baby, You're A Rich Man." I love it because of the bass frequencies it produces is very amazing. It's unique.
You have a nice collection of instruments, besides the clavioline, that people can use?
I've got a few amps! A few Selmers, like the Little Giant, Thunderbird, Vanguard, the Treble N' Bass MKII, and my favorite — Zodiac Twin 30 with crocodile skin finish. I also have three Vox AC30s; the normal Treble from 1961. They are all vintage, but there are some differences. I was very lucky that I found a few cool vintage amps in a basement in Madrid in 1993. It was a shop on Calle Princesa called Jebrimont. Most of my amps are from there. Jebrimont, in the '60s and '70s, was the Vox and Selmer dealer in Spain. They stopped their instrument business in the late '70s or early '80s to move to other businesses, but in their basement they had tons of amazing gear — totally new old stock in the original cardboard boxes. Best of all they sold it for the ridiculous prices in pesetas that they had marked in their old '60s business references. There was a Vox teardrop [guitar] in white, Gretsch guitars, everything! It was like discovering the treasure of Tutankhamun! The guy working there, Señor Flores, was the soundman for Julio Iglesias in the beginning. This company put the gear in for The Beatles when they came to Spain in 1965, and they had it all right there!
So people won't have to lug too many things over the mountains to record here?
People are coming from all around the country and the world! Going back to the amps, I have some Fender, Magnatone, Gibson, and Ampeg. Lots of stuff.
Guitars?
I have Gretsch and Gibson, and a nice SG Les Paul Junior from 1962,
Burns guitars?
A few! I have the Nu-Sonic, I have the Bison Bass and a Bison Guitar. I like the Burns very much — the sound is so extreme. It's different than any other brand of guitar. I also have Hofner guitars, and this Klira I bought at Jebrimont for 1,500 pesetas (about $15). Klira is great! I've bought another I like to use. The pickups of those guitars produce an amazing sound. Sometimes it's good to go extreme, you don't want your production to sound like everybody else. For instance, the [Fender] Strat is a very good guitar, but Burns goes farther. When you want to play with the treble of the amp, there's nothing like Burns.
And you have the Binson Echorec delay.
I have another in gray, but it's being repaired.
What's your very first memory of a recording device of any sort?
In my life?
Not in anyone else's.
My parents bought a cassette recorder from the Canary Islands on one of their trips. It was a huge stereo but the recording sound was really, really good.
Did it have the small, built-in condenser mic?
It was just two microphones, one on each side of the stereo. I noticed the sound was really good when I was recording bullshit with my friends. My friend Luis Mayo and I were calling some houses. In my parents house there was two telephones, so I was on one side of the line recording the joke. We did this with our friend in the hospital, so he could have fun too in the hospital with this bullshit.
Tape Op is a bi-monthly magazine devoted to the art of record making.