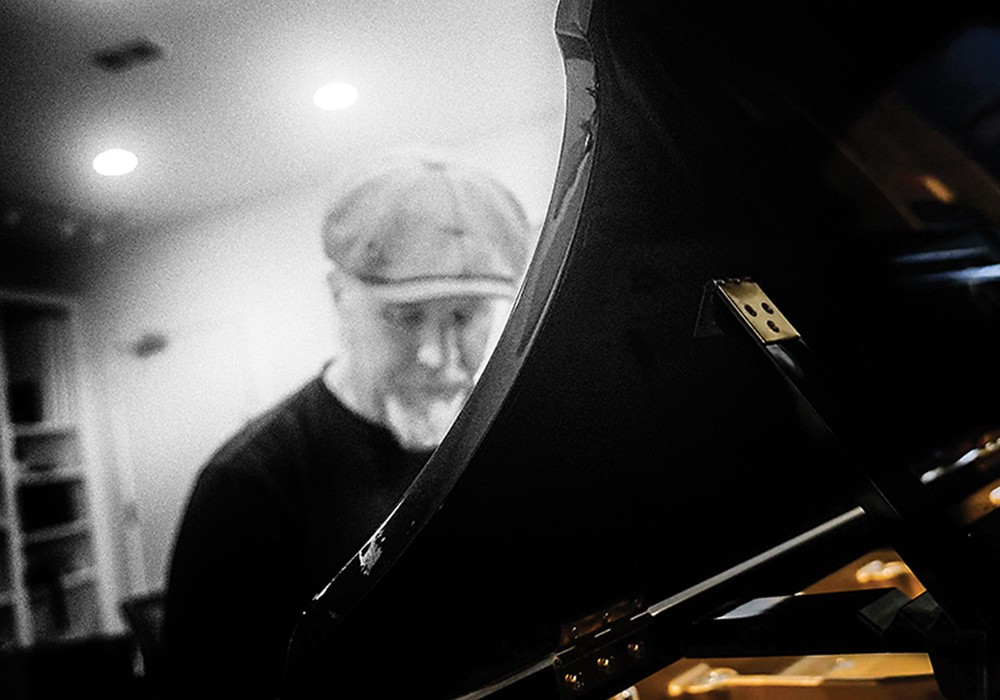 Matt Rollings has been music's best-kept secret for some three plus decades, but that's slowly changing. A live and studio keyboard ace who has played on thousands of recordings and anchored the bands of artists like Lyle Lovett, Mark Knopfler [Tape Op #97], and Alison Krauss, Rollings is no stranger to the art of making records as well. From Keith Urban's self-titled 1999 breakthrough album, to the 2017 Grammy-winning release Summertime: Willie Nelson Sings Gershwin, Rollings has steadily been making an impact as a producer of great style and skill. In 2018 Rollings' work on Willie Nelson's My Way even earned a Grammy. I worked with Rollings on my 2012 album, Revolution(featuring Andy Summers and Benmont Tench), and was amazed at his myriad of studio sensibilities. He can crush an organ solo, comp a compelling vocal, and sculpt an arrangement with the steadiness of a neurosurgeon.
Most people know you from your work with Lyle Lovett. How did a guy who was originally a Northeastern jazzer end up atop the Nashville music scene?
I was born in the 1960s inBridgeport, Connecticut, outside of New York City. That's where I lived out a lot of my early childhood, plus elementary and middle school. From age eight to eleven we did a stint outside of Chicago in Evanston, Illinois, and that's when I started playing piano. I studied at the downtown Evanston studio of Alan Swain, a renowned jazz educator. Then we went back to Connecticut for a few years, and then to Phoenix, Arizona, where I went to high school.
Why Phoenix?
My dad was an attorney. He worked in New York City when I was born, and then we went to Chicago where he worked for a while, and then back to Connecticut. Some partners of his had left the firm he was in and had gone to Phoenix to start a new one. We moved in '79, in the middle of my eighth-grade year, and I went to high school there. There was a program called the "shadow program" at my high school, and I "shadowed" the jazz department at Mesa Community College, which was run by a guy named Grant Wolf – an acclaimed jazz educator, arranger, and conductor. During that time, I met a bass player named Matt McKenzie, who was a student there. Matt called me one day, in my junior year, and he said, "Hey, I have a gig five nights a week at this club in west Phoenix called Mr. Lucky's, and our piano player just moved to Texas. Do you want to audition?" He didn't tell me that this was the biggest, full-on honky tonk in Phoenix! It was gigantic, with dancing every night.
What kinds of music were you listening to?
On the jazz front, I was into people like Oscar Peterson, Ramsey Lewis, and Ahmad Jamal. I was also into Elton John, Billy Joel, The Who, and the Stones.
Could you read music well?
Absolutely. I could definitely play. At that point I was doing jazz gigs with grownups in Phoenix.
So, you auditioned for the Mr. Lucky's gig?
I auditioned. I went down there not knowing it was a country bar. I was a private school kid; I went down there in my jeans, my button down, and my Top-Siders. And I brought a date! We walked in the door and I was like, "Oh, shit. What have I done?" I was only 17 and I wasn't really supposed to be in there,so they ushered me to the back where there was a band room. I played that night, and they loved it. I wound up playing the entire weekend, which was right before their two-week summer break.They hired me, and I went to work the next fall. At that point, I switched schools because of the schedule.We played until midnight, Tuesday through Thursday, and then afterhours sets Friday and Saturday until 2:30 a.m.The private school I attended required every student to be there at 8 a.m. for "morning meeting," so I switched and went to public school for my senior year.
You were making pretty serious money for a high school kid, I imagine!
I was making $350 a week playing piano every night. I'd go to school at 11 in the morning, stay for two hours, and then go to rehearsal at the gig and play five nights a week. The second year into that gig, a random guy from Luxembourg wandered into the club one weekend.He came into the band room and talked to Billy Williams and J. David Sloan.They were the two that led the band. This guy told them that he was in charge of booking talent for the Schueberfouer, which is...
The rest of this article is only available with a Basic or Premium subscription, or by purchasing back issue #133. For an upcoming year's free subscription, and our current issue on PDF...