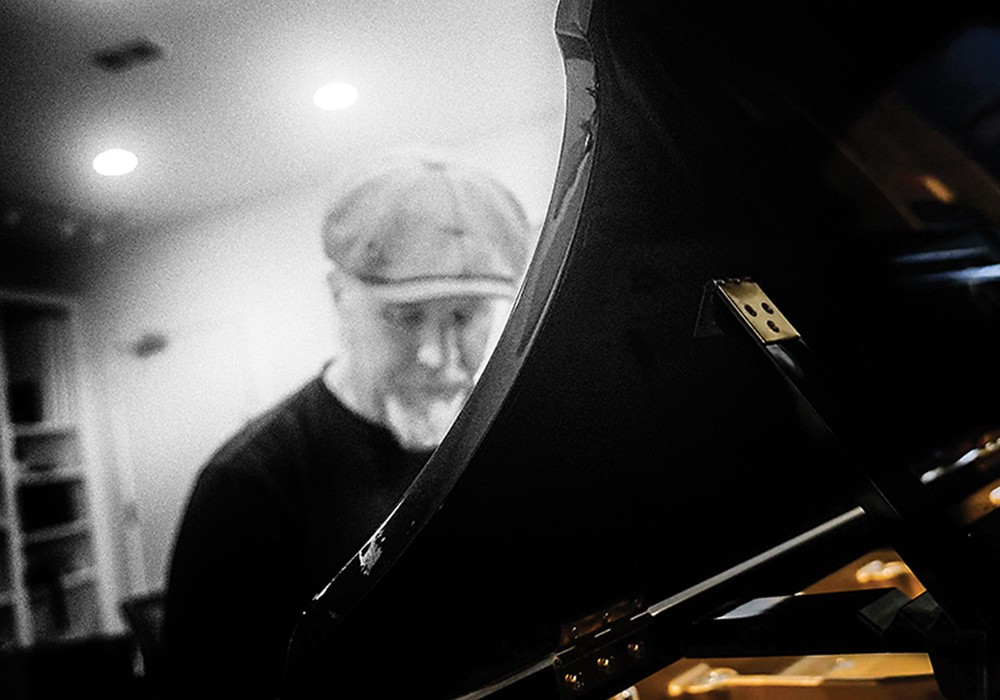 Matt Rollings has been music's best-kept secret for some three plus decades, but that's slowly changing. A live and studio keyboard ace who has played on thousands of recordings and anchored the bands of artists like Lyle Lovett, Mark Knopfler [Tape Op #97], and Alison Krauss, Rollings is no stranger to the art of making records as well. From Keith Urban's self-titled 1999 breakthrough album, to the 2017 Grammy-winning release Summertime: Willie Nelson Sings Gershwin, Rollings has steadily been making an impact as a producer of great style and skill. In 2018 Rollings' work on Willie Nelson's My Way even earned a Grammy. I worked with Rollings on my 2012 album, Revolution(featuring Andy Summers and Benmont Tench), and was amazed at his myriad of studio sensibilities. He can crush an organ solo, comp a compelling vocal, and sculpt an arrangement with the steadiness of a neurosurgeon.
Most people know you from your work with Lyle Lovett. How did a guy who was originally a Northeastern jazzer end up atop the Nashville music scene?
I was born in the 1960s inBridgeport, Connecticut, outside of New York City. That's where I lived out a lot of my early childhood, plus elementary and middle school. From age eight to eleven we did a stint outside of Chicago in Evanston, Illinois, and that's when I started playing piano. I studied at the downtown Evanston studio of Alan Swain, a renowned jazz educator. Then we went back to Connecticut for a few years, and then to Phoenix, Arizona, where I went to high school.
Why Phoenix?
My dad was an attorney. He worked in New York City when I was born, and then we went to Chicago where he worked for a while, and then back to Connecticut. Some partners of his had left the firm he was in and had gone to Phoenix to start a new one. We moved in '79, in the middle of my eighth-grade year, and I went to high school there. There was a program called the "shadow program" at my high school, and I "shadowed" the jazz department at Mesa Community College, which was run by a guy named Grant Wolf – an acclaimed jazz educator, arranger, and conductor. During that time, I met a bass player named Matt McKenzie, who was a student there. Matt called me one day, in my junior year, and he said, "Hey, I have a gig five nights a week at this club in west Phoenix called Mr. Lucky's, and our piano player just moved to Texas. Do you want to audition?" He didn't tell me that this was the biggest, full-on honky tonk in Phoenix! It was gigantic, with dancing every night.
What kinds of music were you listening to?
On the jazz front, I was into people like Oscar Peterson, Ramsey Lewis, and Ahmad Jamal. I was also into Elton John, Billy Joel, The Who, and the Stones.
Could you read music well?
Absolutely. I could definitely play. At that point I was doing jazz gigs with grownups in Phoenix.
So, you auditioned for the Mr. Lucky's gig?
I auditioned. I went down there not knowing it was a country bar. I was a private school kid; I went down there in my jeans, my button down, and my Top-Siders. And I brought a date! We walked in the door and I was like, "Oh, shit. What have I done?" I was only 17 and I wasn't really supposed to be in there,so they ushered me to the back where there was a band room. I played that night, and they loved it. I wound up playing the entire weekend, which was right before their two-week summer break.They hired me, and I went to work the next fall. At that point, I switched schools because of the schedule.We played until midnight, Tuesday through Thursday, and then afterhours sets Friday and Saturday until 2:30 a.m.The private school I attended required every student to be there at 8 a.m. for "morning meeting," so I switched and went to public school for my senior year.
You were making pretty serious money for a high school kid, I imagine!
I was making $350 a week playing piano every night. I'd go to school at 11 in the morning, stay for two hours, and then go to rehearsal at the gig and play five nights a week. The second year into that gig, a random guy from Luxembourg wandered into the club one weekend.He came into the band room and talked to Billy Williams and J. David Sloan.They were the two that led the band. This guy told them that he was in charge of booking talent for the Schueberfouer, which is a big fair in Luxembourg. He asked if we wanted to travel there and play for a month the next summer. We accepted, and the following summer we all flew to Luxembourg and wound up playing nights in the giant "American Music Tent." On the bill was our band, and a band from Florida called Body & Soul, which was a bizarre revue that had dancers and horns.And then there was a guy named Lyle Lovett, who had been hired by someone else who was working for the fair as a graphic artist. Lyle was a recent Texas A&M graduate, and he was performing by himself with just an acoustic guitar. Our band would play, Body & Soul would play, and then Lyle would come up and play on the set changes. Nobody would pay attention to him, because these two loud, fully-amplified bands had just performed. About a week into the run, Lyle came to our hotel and very graciously asked if we would be willing to learn a handful of his songs and have him sing with us so he could have a band during his set. They had bought him a one-way plane ticket and he was afraid he wasn't going to be able to get home! At the same time, his friend who had hired him had made posters for the show depicting a woman nude from the top up and had promptly been fired. Now Lyle was without a champion and struggling to be heard. We learned a handful of Lyle's songs, including "Cowboy Man," "If I Were The Man You Wanted," "God Will," "The Waltzing Fool," and "Give Back My Heart." We would call him up during our set, and that started our relationship. We played together through the month, and then months later Lyle contacted us and said that he had raised a bunch of money. He wanted to come to Phoenix and record 18 songs professionally with us.
What year was this?
This would have been '83, I guess. Billy Williams, who was essentially the leader of our band, was an independent producer in Phoenix, and he produced the sessions. He had lived in Nashville for many years. We spent a couple of weeks recording different songs with Lyle. Soon after that, Ileftthe band and decided to go to college. I went to Berklee [College of Music]. A year into my studies there, I got a call from Lyle saying, "Matt, I got a publishing deal, and I also got a record deal with MCA and Curb. They're using ten of our original demos from Phoenix as the first record." They were remixing and mastering digitally, and they wanted to overdub a couple of parts on it before releasing it.When we recorded those original demos, it was right before the Yamaha DX7 came out, and I played real Fender Rhodes on a couple of songs and no acoustic piano.They were trying to make the record a bit more country-sounding, so they wanted real piano on some of the tracks that didn't have it. He said, "Tony Brown's producing. He wants to hire a session guy here to do this, but I want you to come out and play." So, out of his own pocket, Lyle flew me to Nashville for a couple of days to go into this studio called Treasure Isle in Berry Hill with Tony Brown. I think I actually spent one day overdubbing. Tony Brown was legendary, not only as a producer but also as a piano player. He played with Elvis [Presley], he played in the Hot Band for Emmylou [Harris], and he played with Rodney [Crowell] and Rosanne [Cash]. He's an icon in Nashville. I think I got one of the tracks in one take, and that piqued Tony's interest. At that point, I was still planning to move to New York to play jazz;I wanted to be the next Bill Evans. [laughs] I got back to Boston, and a month later I got a check in the mail. That was eye-opening because it was for two "master scale" sessions. Then Tony Brown called me and said, "Matt, I love what you did with Lyle. I've got a couple of artists that we signed to MCA development deals. Would you like to come to Nashville and play on a couple days of recordings for them?" That was a turn in the road for me, because, in addition to being a jazz guy, I was also a huge fan of whatwas happening on records in Los Angeles, like Steely Dan, James Taylor, and Jackson Browne – all of these records where I would see names like Russ Kunkel, Steve Gadd, Michael Brecker, and Dean Parks. I'd see all these guys and I started to realize, "Wait a second, these guys aren't in the band. That same little check I got? That's what these guys do all the time! They go into studios, play on these amazing records, and then they go home." I made the decision and said, "Alright, I'm moving to Nashville."
You had no desire to really be on the road?
Well, soon after Lyle's record came out, I went on the road with him. I was open for anything, but I went to Nashville to be a session player for sure. And I went there with Lyle's first record under my heels. That was "cred" immediately. Tony hired me to play on a Patty Loveless' session with David Hungate and Larrie Londin. That was the beginning. Jimmy Bowen, who was the"top dog" producer in town, started hiring me. My first time working for Bowen was on a Waylon Jennings record called A Man Called Hoss. John Jarvis was hired to play piano, but he got the flu that morning. I got the last-minute call; I showed up and worked for Bowen for the first time, and then I started working for him. He was the first guy to pay me double scale, and he was my "seal of approval." Then everybody started calling me. That was the beginning of basically 20 years of recording. From that time, until I moved to Los Angeles, I probably played on 1,200 records.
Besides your studio work, most people associate you with the records you made with Lyle Lovett. Your sound was an integral part of his sound.
Yeah. I think that was developed in the studio in Phoenix when we recorded those demos.To Lyle's credit, he's always been very generous in the studio and on stage, letting musicians shine in their own ways. He let me put my signature on those songs, and he kept letting me do it, and it became a prominent part of a lot of those records. I definitely became known for it, particularly when it came to the album Joshua Judges Ruth and songs like "I've Been to Memphis." I was coming into my own more, as far as my style goes, and it opened a lot of doors for me.
When did your work as a producer start, and what motivated you to get into that side of recording?
It goes back to Tony Brown. I worked for Tony a lot during those years. There was a real style and method that I associate with making records in Nashville, especially from that era. It's a full band in the room, for starters. So, the majority of what's going to wind up on the record is happening live, with musicians having the conversation live with the singer. It's about a great song; first and foremost. And it's a producer who is steering the ship, but also has "cast" the band according to their particular strengths and temperament, and how all of that works with the artist. The process is then about letting the musicians contribute according to their strengths. Every musician in the room is sort of a producer, in the sense that they're producing their part. I learned to make records as a sideman with a Nashville number chart – a chord chart – and then playing rhythm and making up my parts. There'll be a verse that I fill; I figure out what that fill is, and I figure out how I play my rhythm and my fill to enhance the lyric and also the style of the singer. I learned to play stone country, and I learned to play pop and rock 'n' roll. At the core of all of it is that I learned to play rhythm, and the rhythmic aspect of records became a really vital thing for me.I got excited about making records. I loved the process, starting with being in the room as a piano player, listening toa demo or work tape, and then working with these amazing people in a room until it somehow magically "lifts off the ground" and becomes bigger than any of the individual parts. It seemed very natural for me to want to be in the producer's chair. It felt like the same process, but I had a bigger box of crayons!
Do you remember the first thing that you produced?
I don't remember the first one. I dabbled in a lot of stuff. I wound up writing a bunch of songs with a woman named Anna Wilson. She's a singer/songwriter and she's married to Monty Powell, who's been a really successful Nashville songwriter and a producer as well. I worked with Anna and Kevin Montgomery, who's the son of Bob Montgomery, the legendary producer of the Everly Brothers. Kevin and I were friends. He was on A&M Records and had made a really cool album. He introduced me to Anna Wilson. The three of us spent a month writing, and we wound up making arecord with Anna. I was living in a house in West Nashville and I had a studio in the basement. We were in the "background vocal" phase of the record, and Anna was friends with this guy named Keith from Australia. It turned out to be Keith Urban. He had a band called The Ranch. They were local heroes, and they had a deal on Capitol, but they hadn't quite cracked it. She got Keith to come to my home studio to sing some harmonies on the record we were making. I spent a day producing background vocals, and then some months later, Keith got in touch with me.
What year are we talking about?
I believe it was 1990. He liked the feeling of how I worked in the studio. He said, "My band's on Capitol, but that's not really happening. They want to try me as a solo artist and they're giving me one shot to see if I can make something that excites people. Do you want to go in and cut three songs?" I hired the band, which included Chris McHugh who became his longtime MD [musical director] and drummer, and Justin Niebank engineered. Justin became the guy who engineered his records from that point on. We went in and cut three songs. One of them was "But for the Grace of God," which became his first hit. And one of them was "It's a Love Thing" that Monty Powell wrote. We cut three songs, he turned them in, and within weeks they were saying, "We love it. Go finish the record." We finished this record and it did great. He got the Horizon Award (best new artist) at the CMAs [Country Music Awards]. And then he quit using me. [laughs]
Didn't you also produce Edwin McCain's hit, "I'll Be"?
Yeah. That record was called Misguided Roses. Another early record of mine was with Heidi Campbell, who I was friends with. She had a band called The Keep, and I cut some tracks with them early on. They had a drummer named Dave Harrison. Dave then joined the Edwin McCain Band. They were on Atlantic's Lava imprint and they were looking to do their next record. Dave asked me, "Do you want to try to produce?" And I said, "Sure. How about me and Kenny Greenberg?" Kenny is a great guitarist in Nashville, and we had been co-producing together.We wound up doing that record in my basement, the same basement where I met Keith Urban. Richard Dodd [Tape Op #105], who mixed Tom Petty's Wildflowers, mixed the record. That was another platinum record.
But, at that time, your main work was still recording and touring?
Yeah. I really thought after Keith Urban all the doors would be flying open for me as a producer in Nashville. But it's a tough nut to crack. Back then it was a super "company town," and it was a place where the people who were doing that kind of work liked people to stay in their lanes. They wanted session players to stay session players and writers to stay writers. It was a tough thing to break those barriers; and I did, to some degree. I kept producing on and off, but at that point I never busted into mainstream country production.
Even though you had some very big records?
Yeah. I had a couple of big records, but there was definitely a "boys club" of producers in town at the time. It involved a lot of politicking. As records came along, I produced them, I kept playing on records, and I kept touring. I toured with Larry Carlton and did more with Lyle.
When we first met, you were touring with MarkKnopfler [Tape Op #97].
Exactly. Mark had a record I played on in '96; his first solo record [Golden Heart]. I got offered to go and join his band, but I turned it down, partially because I'd produced Keith and I was getting busier doing that. The offer came around again in '04, and '05 was the first tour I did. I did a solid six years with him.
For all the success you had in Nashville, you also left for a period of time.
Yeah. I left in 2006. I'm very much an instinctive person. I had signed with a manager who lived in Los Angeles – a different one than I have now – and I was interested in film scoring. I'd been in Nashville 20 years. I did a little film scoring, as well as a little jingle and TV work, but mostly I did a lot of writing. I got involved with a lyricist and did theater writing. I also did more independent productions. I think L.A. was my mid-life crisis.
Why was it a mid-life crisis for you?
In hindsight, it was a time that I was in transition. I knew I had done a lot of great work, and I knew I was good at what I did. But then I went to L.A. and I did a lot of things that I didn't know how to do. I started arranging. I would say "yes" to jobs, and I pushed myself in a way that opened up emotionally, spiritually, and musically a world of possibilities for me. During that period of time I got married, we had a child, and a handful of years into my child's life my wife and I looked at each other and said, "We don't really want to do this in L.A." So that's one of the reasons we moved back to Nashville. But coming back to Nashville, I was really a different guy. I started showing up on sessions with young guys who were the new crop and they would tell me, "Mr. Rollings, I've been listening to yousince I was a kid! "At first that freaked me out. But pretty soon I dug it and I said, "Yeah, you know? I'm a veteran. That's a good thing. I can wrap my head around that." It started this process of me owning my voice. As a writer, as anartist in the process of making a new record of my own, as an arranger, and as a producer – all these things that I do – I'm following what authentically moves me and really makes me happy to be a part of. Not that I don't go out and do gigs for money; but even then, I'm finding myself pretty selective. I've been working feverishly on arrangements for the Latin Recording Academy Person of the Year show that I'm MD'ing [music directing] soon. It's a great gig, with a good paycheck, but I'm able to bring a lot of myself to it. Arranger, musician, MD – which is in the producer category, skill-wise. It's definitely not something I "phone in."
It's ironic that you went back to Nashville and realized you really were a heralded musician.
I think I came back, and I realized the home that I had. I didn't know until I moved back to Nashville that I was actually a Southerner! The community here has re-embraced me so profoundly. I guess it never really stopped. I always hesitated to be too associated with any one style, because it's not who I am, but I'm definitely Nashville. I wouldn't call myself a country musician; I'd call myself a Nashville musician. I was raised here musically, so the sensibilities and the intuitive approach to music informs everything I do, along with the maturity that I found in L.A. and the resources I discovered there. I'm getting called to be an arranger now. I'm doing arrangements for the Willie Nelson records that I've produced. I was on the first Grammy ballot for Best Arrangement with Vocal for one of the Willie songs. I've always known that I'm a like a street arranger, but I'm actually doing string and horn arrangements. I'm finding this heart of an arranger, mixed with the heart of a producer. It's informing the way that I produce records, which is really lovely and gratifying. When I produce records, a lot of what I do is naturally being an arranger. That's how I approach making records. To me, you've got to have a great song; then it's about how the arrangement is laid out, so that it really takes me on this journey that I never wake up from. [I want it to be] seamless.
I read a fascinating interview with the late, great arranger Paul Buckmaster. Someone asked him, "Can you arrange strings for Elton John?" And he replied, "Yeah," even though he actually hadn't done so before.
It's also trusting your strengths, because there are going to be parts of it that are not your strengths. Lean on your strengths, which for me are my instincts and my ears. The way that I can find and recognize when I've made something beautiful, that's my strength. The other parts can fall into place.
You moved back to Nashville when?
Around the end of 2014.
How did your "second wind" as a producer get started after you returned to Nashville?
I started doing independent records. My friend, Michael Hunter Ochs, called me about a country artist he had been working with named M Callahan. We got together, wrote a couple songs, and made an EP. I was on the bus with Lyle three years ago, and Buddy Cannon – he produced all the Kenny Chesney records – calls me on the phone and says, "Matt, they're giving Willie Nelson the [Library of Congress] Gershwin Prize. We have this idea to do a Gershwin record to commemorate it. Do you want to produce it with me?" There were no strings or horns, so my approach was to make the record orchestral by using Mickey Raphael on harmonica and Paul Franklin on pedal steel. I wrote all the arrangements to the songs. We put the record [Summertime: Willie Nelson Sings Gershwin] out and it won the Best Traditional Pop Vocal Grammy two years ago. That turned into signinga deal with my current manager in L.A., Jeff Castelaz of Cast Management. That led to producing the newest Blues Traveler record [Hurry Up & Hang Around]. And it led to a second Willie Nelson record [My Way]. Now I'm talking to an artist, who I can't speak about, about doing a "duets" record; it's going to be a fairly big deal if it happens. And I'm making my own record called Mosaic. The drummer, Jay Bellerose, and I are recording fully improvised instrumental music, and in between the instrumental pieces are going to be songs with artists like Willie Nelson, Alison Krauss, John Hiatt, a duo called The War and Treaty, Ramblin' Jack Elliott, and a couple more. The project is a bit of a musical memoir. It's songs that either I've written or have been a part of my musical history. I've finally found a way to do everything I do and make it my own.
Didn't you have a solo jazz-ish record out in the '80s?
Yeah. It was a full trio record in 1990 called Balconies for MCA with myself, John Patitucci [bass], and the late Carlos Vega [drums]. It was produced by Dave Hungate.
Do the jobs you're getting called for these days force you to multitask in a way that you didn't once have to?
I have to do a lot more than I used to do. I'm not a tracking engineer. I won't go in, set up mics on a drum set, and run a tracking session. I'll hire somebody to do that. If you want me to produce a record, and we need to do tracking and there's no budget for that, then I'm probably not your guy. The same with mixing. But after that, after the songs are tracked, it's me. I can sit here, and I can record guitars, vocals, and background vocals, and sing background vocals myself in my studio with my headphones and my mic. I'll do overdubs, I'll do rough mixes, and I'll do edits. When it comes to mixing the record, then I hand it off. But it's very empowering, and I love doing it. It makes me a better producer to be hands on.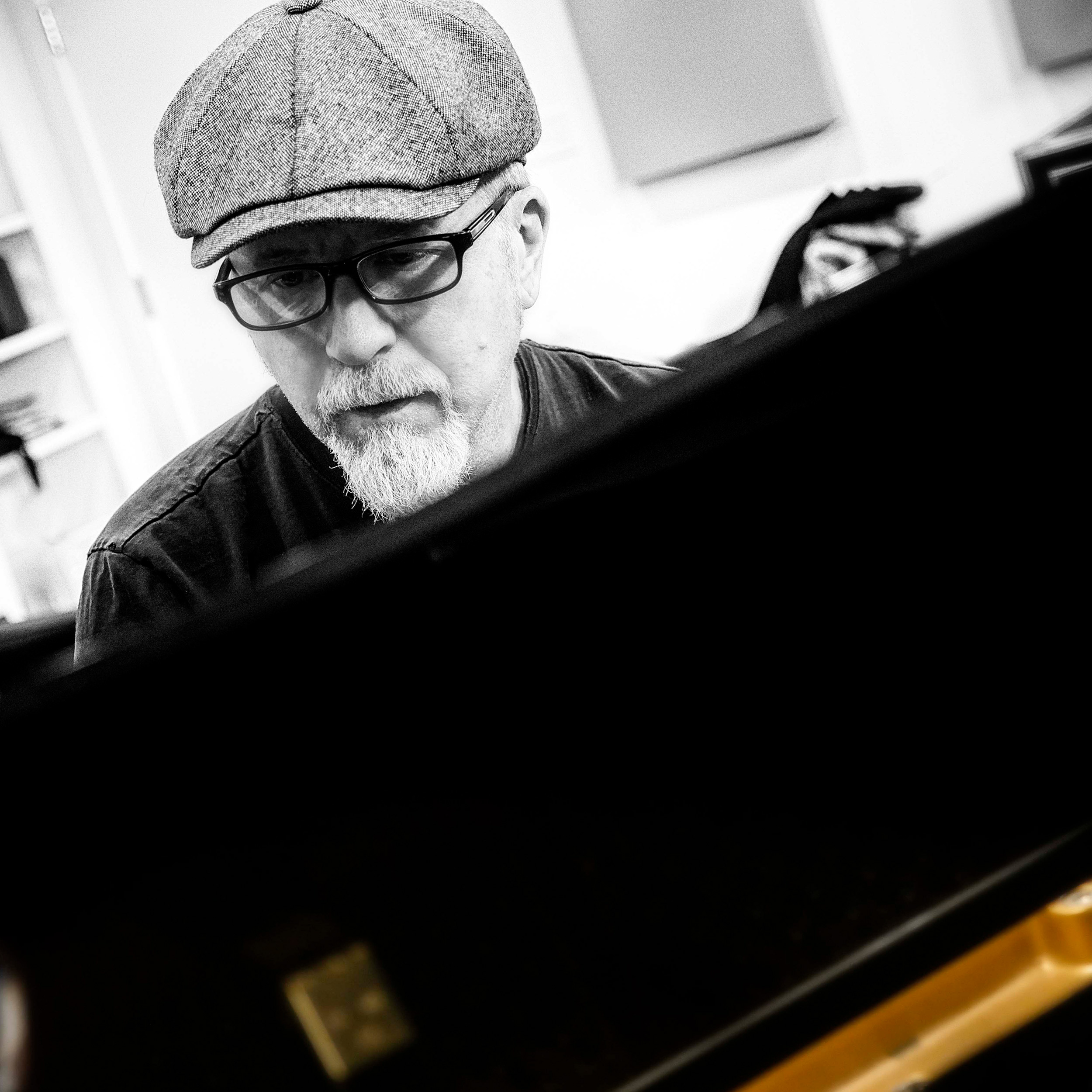 What do you record on at your personal studio?
I've got a full ProTools rig, as well as Apple Logic Pro X. If I'm working in the box, and writing or arranging, I'm in Logic. I've got tons of virtual instruments and sample libraries.
What do you reach for, in terms of mics and preamps?
I've got an sE Electronics Z3300 A large diaphragm condenser microphone that I use in the studio for vocals. I also really love the Audio-Technica AT5040; it's a beautiful vocal mic as well. If I'm making a record with an artist, I often "shoot-out" mics. A Neumann U 67 is my go-to microphone; a Telefunken ELA M 251 is also an amazing mic. If I'm cutting tracks with an artist, it comes back to what I was saying about how I learned to make records. The first order of business is casting, and part of that is knowing what they'll bring gear-wise, sound-wise, and emotionally. To me, it's not so much about knowing everything that's going to work, rather it's about having resources and having people that I'm working with willing to say, "Man, what if we tried this?" When I did Blues Travelers' Hurry Up & Hang Around, those guys are road dogs, so all their gear was their road gear. I filled the studio with beautiful vintage combo amps and bass amps. I had a corner full of keyboards – a B-3, a Wurlitzer, a Rhodes, a Mellotron, and a System-8. I had great Craviotto drum set that Chad Cromwell lent me. There was David Leonard, the legendary rock 'n' roll engineer who recorded Toto and Prince. The record sounded great. I'm willing to experiment; I get a sense on the front-end of what resources I need to have available, and then we fly into it.
How is Nashville different now, compared to when you were there years ago?
It's really different. I made my bones in the mainstream country music world here in the '80s, '90s, and into the 2000s. I don't connect really with the music that's on country radio. It's not my thing – not all of it. I can't say that across the board, because now, with Kacey Musgraves and Maren Morris, there's some new music coming out that's actually revitalizing me. But, to me, what happened when the music business "collapsed" is that it opened the floodgates for all this independent music that, up until then, had been on the fringes. Nashville now is pretty much a home for everything. There's a vibrant R&B scene here, an amazing indie rock scene, and there's a jazz scene here. I think partially that's because the playing field got leveled. I mean, there are still record labels, but now independent labels, like Dualtone Records and the Concord Music Group, which has Rounder, Sugar Hill, and New West Records. These labels now have a real voice, they have these legit artists that are making amazing music, and they're getting Grammy Awards. It's not like they're selling a gazillion records, but they're making cheaper records and they're selling records. Dualtone, who I produced a record for back in the '90s, is an independent record label. They've got The Lumineers, who are a big band. I think that when the strict structure of Nashville crumbled, it's like it suddenly became a music town, rather than a country music town.Now it's a food town too, and it's a destination. There are growing pains, which all cities have, but there are great restaurants now. There's great music. The community of musicians and artists here is unparalleled, in my opinion. It's incredible.
It sounds like you're as inspired by music as you were when you were first starting out.
I'm as inspired by music I think as I've ever been, and partially because when I sit down at the piano now my voice is more authentic than it's ever been. The way that I play is more "me" than it's ever been, and that thrills me. Who I am in my life is who I am as a musician. I'm 11 years into an amazing marriage, and we have a 9 year old boy. Showing up for all the things that allow me growth is really profound, and it can't help but bleed into everything, which is music. I'm thrilled with all of it.

As of September 2019, Matt Rollings became an official Steinway Artist and is now the proud owner of a Steinway Model B grand piano.
Tape Op is a bi-monthly magazine devoted to the art of record making.