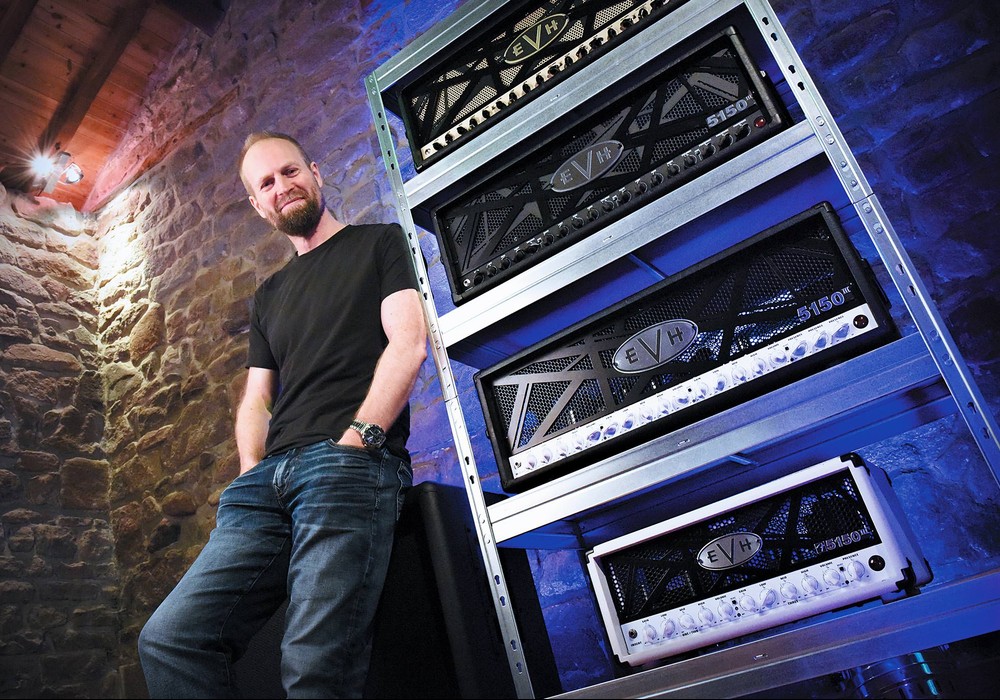 If you've listened to metal records produced in the last two decades, you've surely heard the work of Andy Sneap. Killswitch Engage, Megadeth, Carcass, and Judas Priest are only a few of the artists whose works have been given his treatment: tight, snarling mixes where the bands' virtuosity and chops can be heard with full force and clarity. In 2018 and 2019, Andy toured with Judas Priest as one half of their twin guitar attack, subbing in for an ailing Glenn Tipton. With touring ground to a halt throughout the pandemic, Andy's studio work has resumed with albums from Saxon and John Petrucci (Dream Theater) among his upcoming batch of works. We caught up over Zoom at his home in Derbyshire, UK, to chat about his evolution as an engineer from his early days in Oakland, California, to rehearsal spaces, to producing Judas Priest's warmly received Firepower.
The first thing I want to trace back to is 1997 and Another Lesson in Violence by Exodus. That was recorded live at the Trocadero [in San Francisco], correct?
I didn't actually record the live bits. The first album I did in America was The More Things Change… by Machine Head. I was the mix engineer on that. I tracked the guitars with Robb [Flynn] in San Francisco and then mixed it in L.A. After that I did Skinlab for Century Media, and then I did Exodus. They had the same management, Debbie Abono. I got linked in with Exodus then and never looked back.
There's a whole Bay Area connection there with Skinlab, Machine Head, and Exodus.
Testament, also. I've done a lot of work in the Bay Area. It was done at Hyde Street, which used to be Alpha & Omega [Recording]. I did loads of work there. A lot in rehearsal rooms. What's that main one?
Soundwave Studios.
We've done loads of recording at Soundwave. Testament's got a room in there. We also had Craig [Locicero]'s old room upstairs, which we called Flabby Road Studios.
On some of those early albums, like The More Things Change…, that was the mid- to late-'90s, when Pro Tools was starting.
We were still on multitrack tape, running two 24-track Studer machines on that. I remember I was running Cubase on a PC for triggers, moving kick drums around. It wasn't until Nevermore [on Dead Heart in a Dead World], which was one of the first albums where I used Pro Tools for pretty much all the tracking. I was still using a lot of outboard gear on that. Pro Tools slowly crept in toward the end of the '90s. In fact, the first album I used Pro Tools on was the first Blaze Bayley [Wolfsbane] album [Silicon Messiah]. I bought my first blue and white [Apple Macintosh] G3 with Pro Tools 4.3 on it. I had one [Digidesign] 888 [I/O] and an ADAT bridge. I was using my ADATs as interfaces, transferring onto ADAT with the BRC, and linking it all up like that. That would have been '98.
You were talking about using triggers in Cubase. Were you using hardware triggers?
I was just triggering into Cubase using an [Alesis] D4 [drum module] to create MIDI. We used an Atari ST [computer] before that. I think it was [Emagic] Notator [Logic] to do a MIDI note, using SMPTE off the tape, and MTC [MIDI time code] to sync it up. It worked pretty well. I used the D4 and an Akai S1000 [sampler] for sounds. When we couldn't do the MIDI side of it, we'd go off the sync head, delay it, and put it back in time. There are ways around it, but it was very basic back then.
The collection of kick and snare samples that you had must have been a lot more limited, right?
Oh, it was totally single-shot. That's why those albums do sound a bit machine-like at times. There was no real variance in the sounds. That's come a long way since back then, but it worked. We blended it, and it gave us that consistency in the sound we were after to help get clarity on the mix.
With a lot of those thrash bands – and I'm sure [Andy's first band] Sabbat –didn't get the clarity of the kick drum back in the '80s. Plus, there were no high-gain guitar amps yet.
In the '80s I was using [Marshall] JCM800 [guitar amps]. On our second album [Dreamweaver] I was using the [Marshall] Silver Jubilee with a Boss GE-7 [graphic equalizer stompbox] and a noise gate to tighten the front end. But on the third Sabbat album [Mourning Has Broken], we did trigger the kick drums on that. We triggered it live off the recording; there was probably one or two mis-hits on that. That was the early '90s. Some of the other albums that were around, people were using the old TC [Electronic delay] units to trigger. You could store samples in that and fire off it.
When I listen to that first Testament album [The Legacy], I hear this little...
The rest of this article is only available with a Basic or Premium subscription, or by purchasing back issue #144. For an upcoming year's free subscription, and our current issue on PDF...