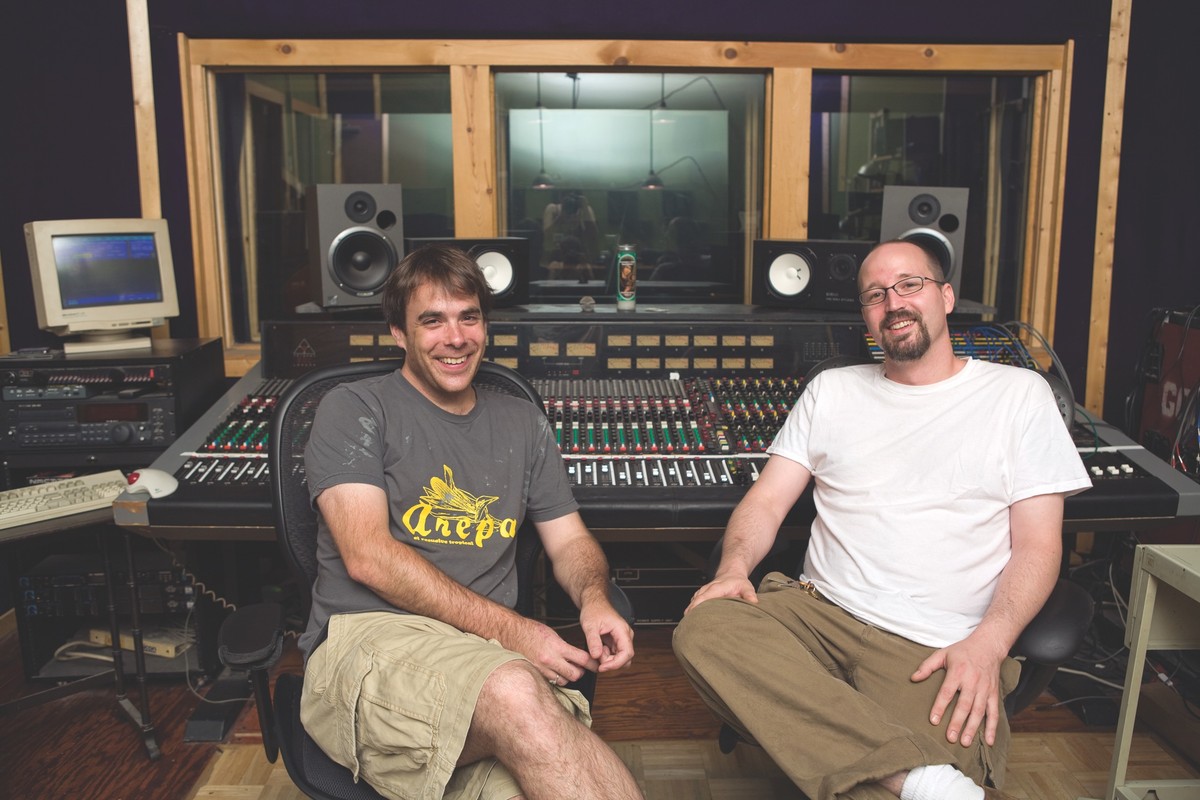 Williamsburg, NY's Headgear Recording has played host to a number of Brooklyn's best and perhaps most innovative bands including the Yeah Yeah Yeahs, TV on the Radio, CocoRosie, Au Revoir Simone, The National and Dirty on Purpose — as well as out-of-towners like Son Volt and Celebration. Co-owners Alex Lipsen and Scott Norton fill us in on the studio's history and future in their rapidly gentrifying neighborhood.
How did the studio get started?
AL: The studio started because (in typical New York fashion) me and Dan [Long] (our other partner who's in L.A.) were both interning at studios and we had the dream of being the next big band,. We got a rehearsal space and to get good demos we started collecting recording equipment. I was working in a music store in Soho and this guy — a really friendly guy named Reggie Hodges — came in and he was saying how he lived in Williamsburg and how he had a space that needed a sublet that was already built out and would we be interested? We were like, "Fuck yeah." So we went to this place that was right next to this bar called Galapagos on North 6th, and they had a full studio called Bass Mind that they had built up. They had a room that me and Dan subletted. Even though we were working on our own music and getting into a couple of production projects, we saw the need to make some money because we had to pay our rent — so we started taking commercial clients. Then the person who owns Galapagos ended the lease and our landlord — this whole collective called True Mystic Sound System who we were subletting from — they were doing jungle, dub, reggae, all this other stuff — the guy we were subletting with was like, "Hey, do you want to go with me and build a studio in another building? It'll probably take three months." [Scott laughs.]
AL: This was ten years ago so the neighborhood was just starting to fucking pop. It felt like anything was possible still, just really exciting. Then Doug, the guy who sort of commandeered looking for space, found this space in East Williamsburg — just out in the middle of fucking nowhere. We moved in, we did a little bit of construction and then we started smelling some weird smells. We just realized that we were literally adjacent to a barrel cleaning business. It was like clockwork at twelve and seven and we were like, "I don't think this is going to work."
How long were you there for?
AL: We were there like two weeks, but it was an expensive two weeks. Dan and Doug were pretty skeptical about finding another space in this neighborhood. So I was like, "I'm going to find a place in this area." Some-fucking-how I found this building just walking down here with my wife. I call up and it's this Hassidic landlord and I was like, "How much is the space?" and he goes "It's $4,500 for 6,500 square feet," and I think I was hallucinating and I said, "You mean it's $6,500 for 4,500 square feet?" I literally said that because even back then that was such a crazy good deal. And he was like, "No, you fuckface. It's actually $4,500 for 6,500, shut up." I was like, "Okay, we have to do this." So we were only going to do a studio before and now we've found a whole building. So for the next year — which was not three months — we built this whole building out. We built the Headgear space, and we built two spaces up front. We split the entire building into thirds, three spaces of 2,000 square feet and split the first third into two spaces, and the middle third into two spaces. So we subdivided the whole building. My wife and I lived in an apartment in the first third, Doug lived in an apartment in the other third, we had a painter who was here for a number of years and then a kickboxing school, hence the "School of Kickboxing" sign. They were here for a few years and now Stay Gold [Dave Sitek of TV on the Radio's studio] is there. It was a really ambitious project.
SN: I came out a few times and it was always, "Three more weeks and it'll be done."
AL: Scott was kind of parallel with us because he had a studio in New Jersey and he had a kind of similar situation. DS: I met...
The rest of this article is only available with a Basic or Premium subscription, or by purchasing back issue #65. For an upcoming year's free subscription, and our current issue on PDF...