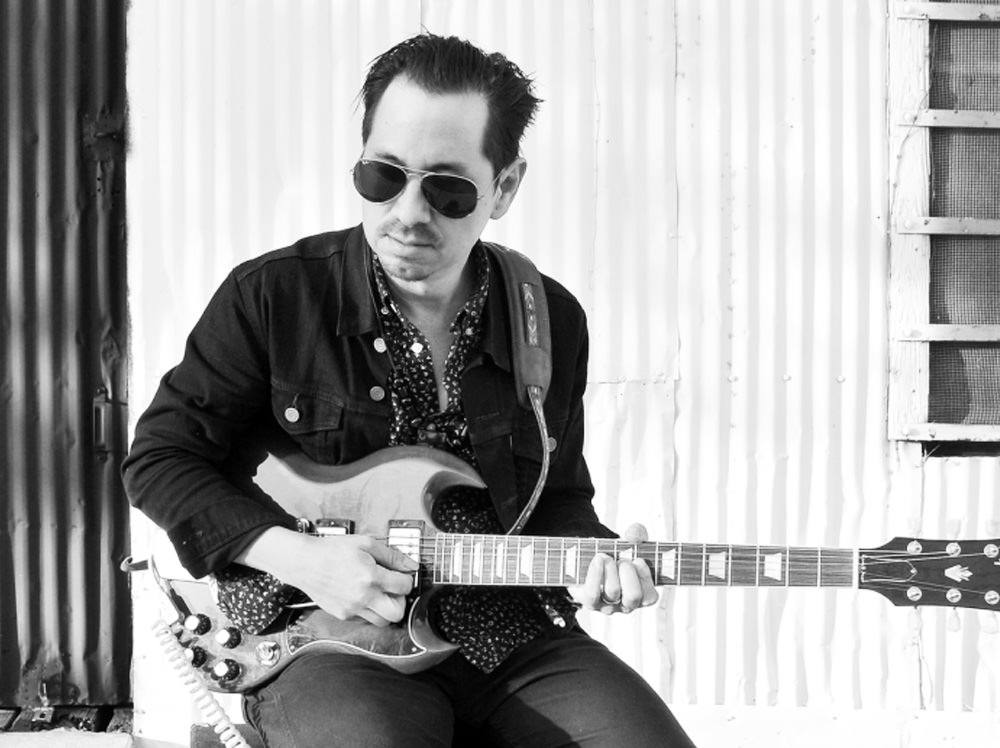 Adrian Quesada first made a name for himself as a founding member and producer of the Grammy winning Latin-rock big band, Grupo Fantasma. Since then, he's been writing and working on several projects. Most recently, he partnered with songwriter Eric Burton and formed Black Pumas, an Austin Texas based band that has just released their self-titled debut album on ATO Records. It's a collection of classic soul-flavored tracks and great songwriting, but is not simply a retro retread. Taking queues from hip-hop and psychedelic genres and pairing them with a mix of classic and modern recording techniques, and a live off-the-floor approach, The Black Pumas have created a future classic of their own. I interviewed Adrian back in 2013 for Tape Op issue #94, so having Geoff catch up with him was long overdue. -Larry Crane
I wanted to discuss your most recent project Black Pumas which was just nominated for a Grammy, so congratulations on that. Before we do that let's fill in the gap between the last time we interviewed you years ago for issue #94, when you were doing Grupo Fantasma. What have you been up to in that hole between that time and now?
Last time I spoke to Larry Crane, we had recorded an album with my old band called Grupo Fantasma. We'd recorded a record in a house. We just rented a house and made a makeshift studio. That was really around the time that I started to produce and was barely really kind of learning engineering, more out of necessity. Most of the studios that I was going to weren't getting the sounds that I was hearing in my head. That was early on, me trying to do that. A few years after that I really started to get into producing more, but I was always playing catch-up as an engineer, just to try and get the sounds that I was hearing. I'd say about five or six years ago, I opened up more of a proper studio and started investing in equipment and stuff. Early on it was all pretty lo-fi. I've just been working on records since. I played in a few different bands. I can get into some of the history of other bands and projects that I've been a part of, but in terms of the studio side of it, after that was when I kind of got thrust into producing and subsequently engineering.
In that time, I'm assuming you were doing some writing which led to what became Black Pumas?
Yeah. That was about two or two and a half years ago. I had a little bit of rare downtime. I had done some songs that had done really well. I'd done these instrumental records with a cohort of mine from the UK named Shawn Lee, an awesome producer if you haven't ever checked him out, engineer, producer, songwriter, multi-instrumentalist. Just generally one of my heroes. He and I did a couple of albums, these Trans-Atlantic collaborations that we did all via e-mail. He has a studio, so he would send me drum tracks. He's in the UK, and because of the time difference, by the time I'd wake up and get to my studio, I'd have drum tracks sitting in my inbox, sometimes with bass lines. So I'd add songs. Anyway, we made a couple records and had a little bit of success getting songs in TV and film. Financially, I was at a point finally where I could take a little bit of time off and write. In 2017 I started this other record that I was working on for Amazon Music, a compilation more of some Texas Latin and soul. What happened was I sat down to write and record demos for that and I ended up coming up with a bunch of instrumental tracks. I was about three or four of them in, and I realized that this isn't this record, but whatever it is, it's something cool vibe-wise, so I followed that. I made these demos and brought in some musician friends of mine to play them. I recorded this huge batch of soul-influenced, kind of psychedelic-leaning instrumentals. At first, the initial intent was for me to have somebody come help write those songs and sing on them. That led to me meeting Eric Burton from the Black Pumas. At first, he was just helping me out with those songs. But as we started to gain some momentum and have fun working in the studio, we said we should make this an official thing. That was when we started to explore his songs. He's an incredible songwriter, and I feel like that's really when we became the Black Pumas. We already sort of had the production direction. Then when we were able to tap into his catalog, some of his old songs and bring them to life in this format, it all made sense as an album.
Yeah, so with the stuff you'd been writing and the songs he...
The rest of this article is only available with a Basic or Premium subscription, or by purchasing back issue #bonus. For an upcoming year's free subscription, and our current issue on PDF...