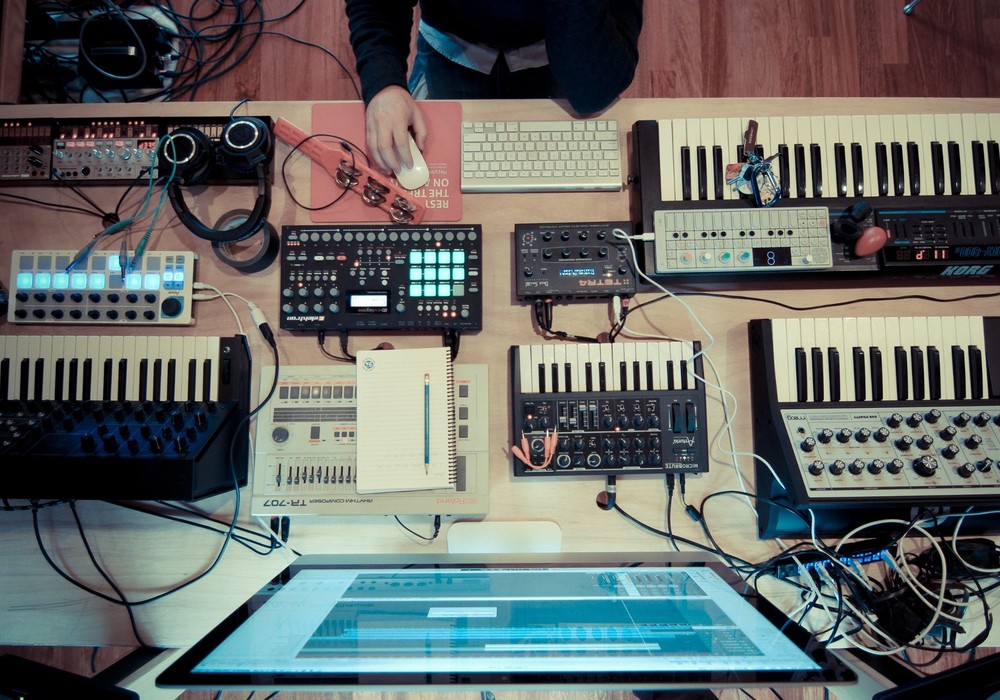 Michael Lerner of Merge Records' Telekinesis has released three critically acclaimed records via the old get-a-producer-and-book-a-recording-studio process. For his fourth, he decided to plunge willingly into the thorny forest of uncertainty, technical manuals, and nosebleed learning curves otherwise known as "recording our album at home."
I mean how hard could it be?
In March of 2013, I set out to build a home studio in the daylight basement of our West Seattle home, with the hope and intention of recording a fourth Telekinesis record there. If I could pull it off, it would be something I had never been able to do in my career. Historically, each of my records has been made in a short two-week burst, in a professional recording facility.
My first album, Telekinesis!, took less than two weeks to be completely finished. Chris Walla of Death Cab for Cutie, who produced and engineered the record, sort of designed it to happen that way. We recorded and mixed a song a day to a 24-track tape machine. This meant all decisions had to be made in the moment, and there wasn't a whole load of time to experiment on things. I think that's one reason the record sounds so immediate — because it truly was. The second Telekinesis record, 12 Desperate Straight Lines, took more or less two weeks of studio time to complete as well, though Chris and I didn't track and mix a song a day. For Dormarion, my third record, I drove from Seattle to Austin, Texas, to work with Jim Eno of Spoon in his beautiful studio, Public Hi-Fi, again for about two weeks.
There are a myriad of reasons why working this way in the past has been really great for me. There is no overthinking things. You really have to commit, especially because you aren't using a computer to record. A tape machine is really great that way. It's your friend, if you let it be. You have to trust yourself a great deal to work in this manner, and I got to be very good at playing and making sure I was prepared to give a performance so we could move on to the next thing.
Another reason to record quickly, unfortunately, is financial. Making an album in a recording studio is not a cheap affair, especially when you figure in tape costs, travel expenses, and paying your producer/engineer as much as physically possible (and believe me, they deserve every last penny).
So when the opportunity to build my own small recording facility presented itself, the idea of having a space I could use for an infinite amount of time was really exciting. It would allow me to experiment and learn synthesis, something I really hadn't had the luxury to get very involved in due to the simple time constraints of being on the clock in a recording studio.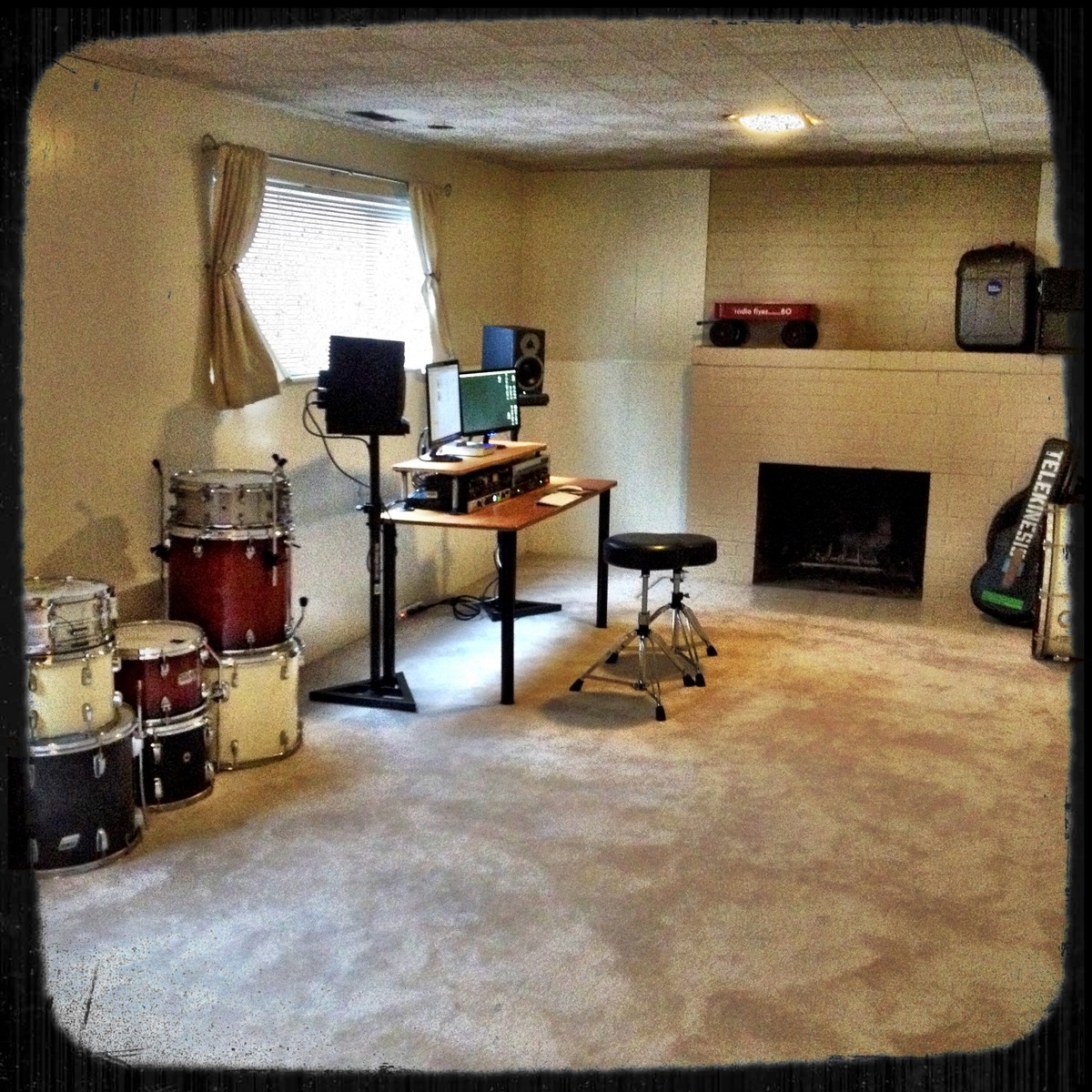 My father-in-law, Kerry, was kind enough to build for me whatever I had in my head. I really wanted a space that looked great, was comfortable, and sounded good as well. After a few months of planning and building, Squared Studio was born.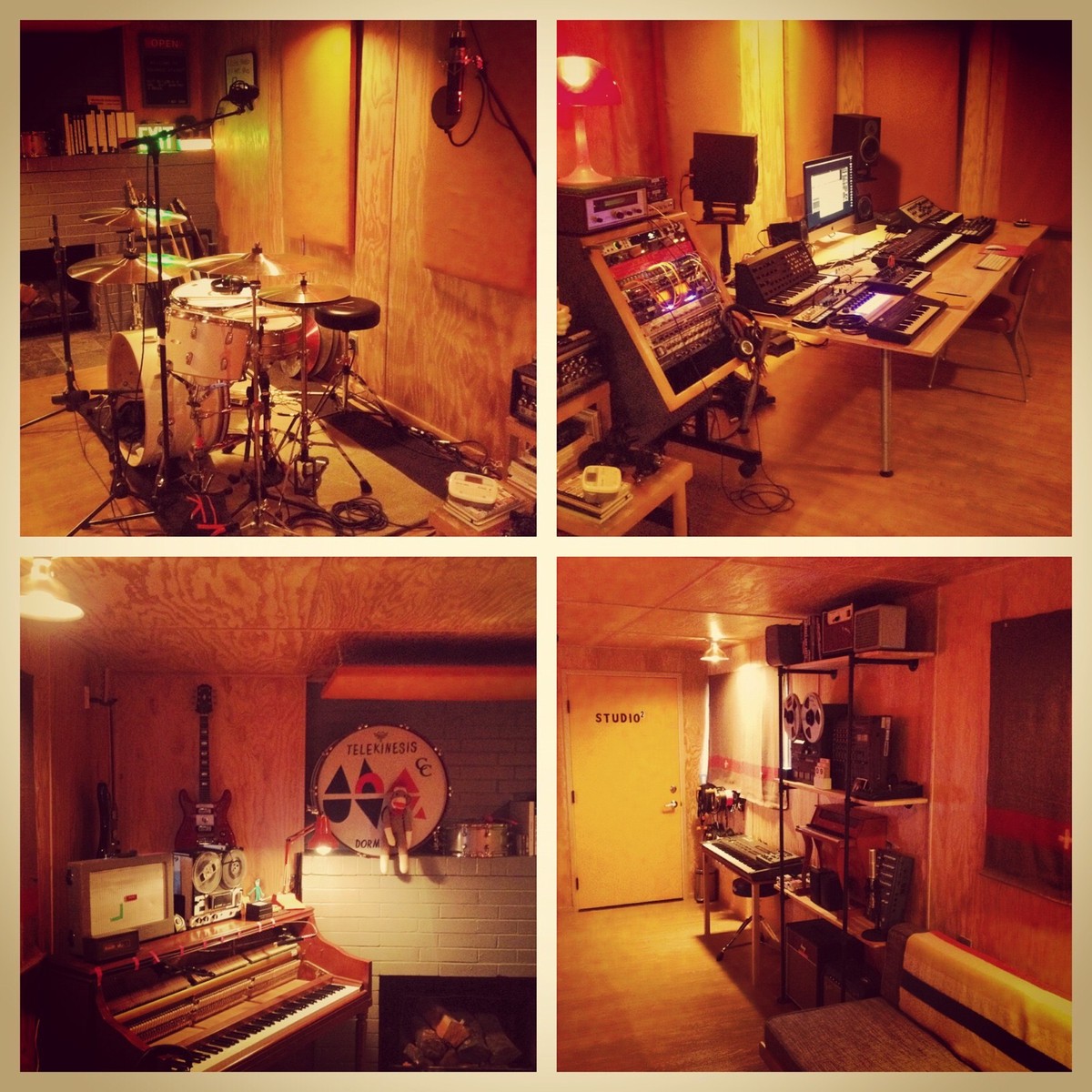 Once I had everything moved in, I started thinking about writing the fourth Telekinesis record. Coming off of recording Dormarion with Jim Eno, I had a newfound obsession with vintage synthesizers and drum machines, of which Jim has MANY. There is a song on Dormarion called "Ghosts and Creatures" which started as a very drum-and piano-heavy demo but ended up as this very electro-tinged piece that you hear on the record. All credit goes to Jim for steering the ship in this direction. In my opinion, it is one of the coolest songs I've ever recorded.
That experience at Public Hi-Fi lay very heavy on my mind when it came time to make my next record. What I was missing by recording at home and not at a big recording facility was the equipment. As I said, Jim's studio came chock-full of all these beautiful instruments. I didn't really have any to speak of.
So, I started slowly but surely amassing a trove of synthesizers and drum machines.
The first synth I bought was the Teenage Engineering OP-1. It is a tiny, beautifully designed digital synthesizer packed full of some very useful features as well as some very frustrating ones. It was sort of my initiation into the world of synthesis. From that point, I started buying things that I thought would be inspiring to me.
Once I had amassed a collection of synthesizers and drum machines, it came time to learn not just how to use them, but how to do so in a musical way. This proved to be incredibly time-consuming and, at times, a ridiculously difficult task.
As someone who is a drummer turned songwriter, cables have never really been something I have had to worry about. Years ago, when I started getting more and more into guitars to write songs, even then it was just your standard 1/4" leads and patch cables to sort yourself for a basic guitar-to-amp setup. But getting all the synthesizers to connect to each other and, in essence, talk to each other required so many cables. It became almost hilarious how many were required: standard MIDI cables, USB MIDI cables, DIN sync cables... SO MANY CABLES.
The task of getting all of the machines to communicate with each other is really insane. In my case, I used Logic Pro 9 as my digital audio workstation (DAW) and also my main clock source, which meant that I wanted to be able to press play on my computer and have it to where everything in the studio would go at the same time.
I won't go into specifics about how that is achieved, but I will say it was an absolute, total, and complete nightmare to pull off. I couldn't have done it without the help of my good friend and constant tech support compadre Eric Elbogen of the band Say Hi.
Another important thing was getting a patch bay, and having all of my gear constantly patchable into my DAW.
This essentially meant that I could have everything running, and take the outputs of multiple pieces of equipment into the 8 inputs of my recording device.
The end result was being able to record a drum machine, synth bass, and synth lead all at the same time.
Phase Two: Edgewood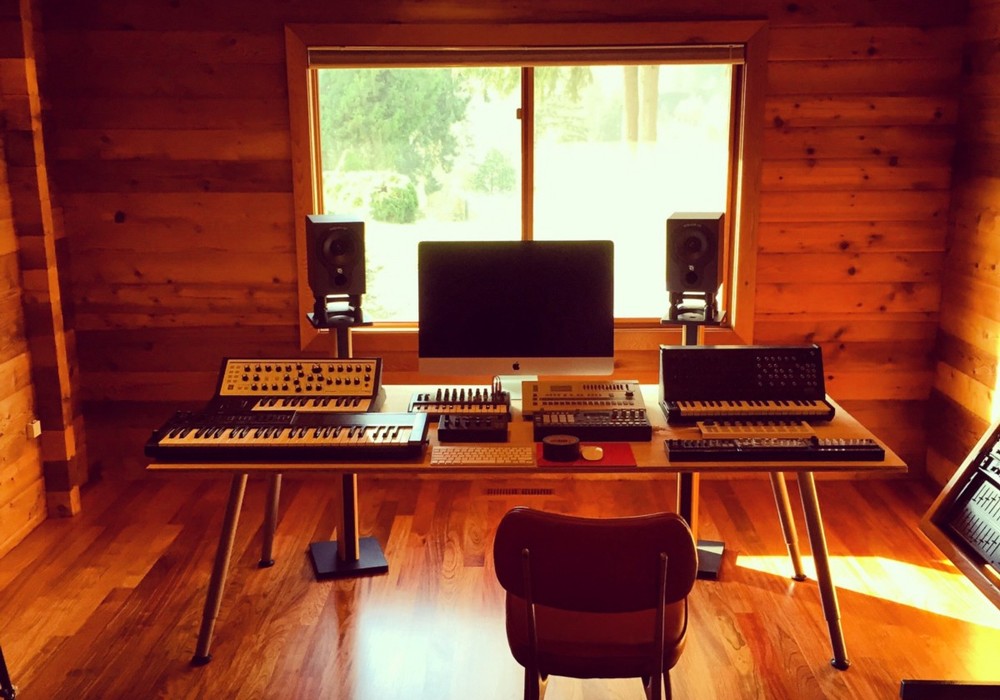 Hilariously, once I got all of the synching and clocking and stuff sorted out — something that took me nearly six months of troubleshooting — my wife's boss offered me the opportunity to work on my new record at Edgewood, his beautiful sprawling property located about 40 minutes south of Seattle. This would mean having to tear down my newly established home studio setup and rebuild it in an entirely new space — a task that seemed daunting, to say the least.
I did it anyway. In fact, I usually leave home when I have to write songs. Doing so helps get me out of my comfort zone, and it also minimizes distractions from the phone, internet, friends, cats, etc. In 2010, I flew to Berlin and stayed for a month, shacking up in a practice space in a very industrial neighborhood. There, I wrote a majority of the songs that would become 12 Desperate Straight Lines. It was an incredibly inspiring and fruitful time. For 2013's Dormarion, I took a ferry from Seattle to Friday Harbor in the San Juan Islands and set up shop in the family cabin there. Because it was fall/winter, the tourist-laden summer vibe was absent. That quiet environment was, once again, perfect for writing. I would say half of the record was written during that two-week trip.
So naturally, when the opportunity to get out of my house arose this time, I jumped on it immediately. I moved my entire recording operation to Edgewood in November of 2014 and started writing furiously.
The guest house, a beautiful cedar structure with great lines and perfect angles, sits atop a hill with a view of Mount Rainier. It was an incredibly inspiring place for me to work. Peacocks roam the property, and they would come to my door every once in a while to hear what all the bleeps and bloops were about.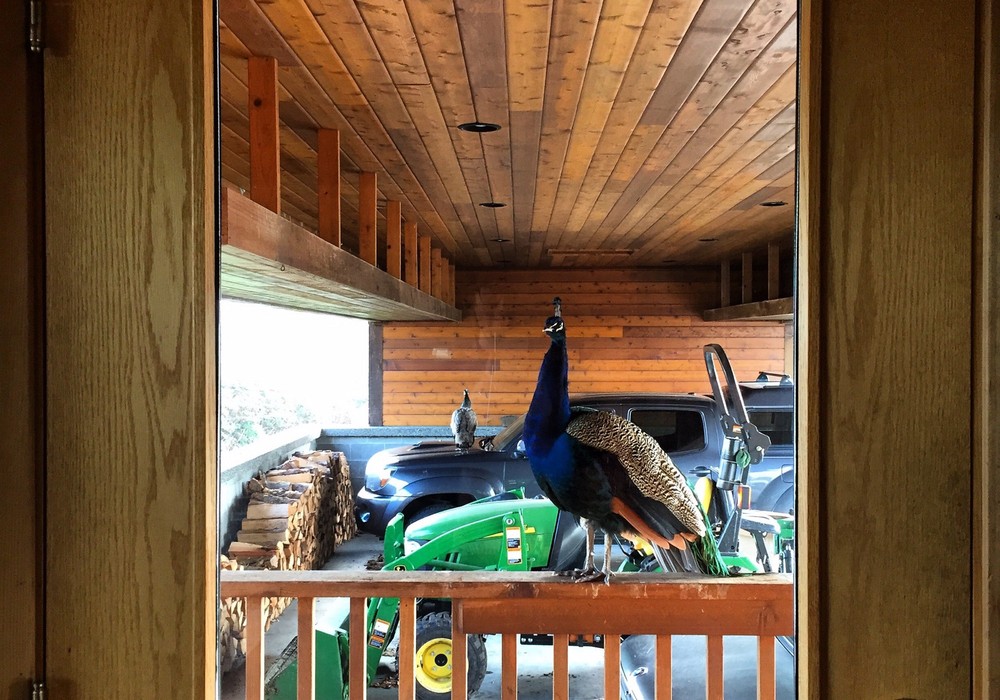 There was no internet at the house, so I was somewhat cut off from the world, which really helps when you are trying to create something. By this time, I was fully entrenched in the synthesizer/drum machine world, and songs like "Falling (In Dreams)" and "Sleep In" came to be during my stay at there. Edgewood is where Ad Infinitum really began.
After about a month or so of pretty intense writing sessions, I packed everything into a U-Haul once more and moved back home with my studio in tow and enough songs to begin reworking and rerecording what would eventually become Ad Infinitum.
The above photo is what the last four months of making the record looked like. I had moved everything back in after Edgewood and was now trying to compile all of the little bits and bobs of songs I had created there into full-on finished versions. It was a very fun process, but I definitely got stuck many times. As I mentioned earlier, my friend Eric Elbogen came over on more than one occasion to help me out of many a funk (and also to eat some delicious food from the Thai food truck down the street). I am forever grateful to him for getting me out of some serious jams and pickles.
←Eric, showing me how to map MIDI in Logic.
←Me, not understanding how Eric is mapping MIDI in Logic.
After two years of working on and off and on and off on this record, Ad Infinitum was finally finished, mixed, and mastered in March of 2015. Again, this was the first time in my career that I had been able to take as much time on the recording process as I needed in order to figure out how to put all the pieces together. It led me down some new roads and to some challenging road blocks that I had never encountered before.
Ultimately, it made for an incredibly interesting writing and recording experience. I'm extremely proud of myself and what I was able to accomplish, and I am especially proud of my little basement recording studio, which turned out to be more capable than I could have ever dreamed it would be.
Thank you, dear reader, for taking the time to learn about the making of this record and listening to the end result.
Swollen Appendices: Some Key Pieces, Explained
Learning Is Listening / Listening Is Learning
About halfway through the process of writing Ad Infinitum, I received a most wonderful gift: The Blue Nile.
Mac McCaughan, frontman of Superchunk and the co-owner of Merge Records, gave me their first album, A Walk Across the Rooftops, as he knew I was knee-deep in the synth world and that I was really interested specifically in the LinnDrum. When I first played that record, it changed everything for me. There was so much space. The songwriting was insanely good, and the arrangements and performances were beyond brilliant.
Though you might not necessarily hear their influence on Ad Infinitum, AWATR and the Blue Nile's second record, Hats, changed the course of my writing dramatically. I am greatly in debt to Mac for the introduction.
Here are two of my favorites by them:
The Blue Nile | Rags to Riches
The Blue Nile | The Downtown Lights
Another song that I became completely obsessed about was Donna Summer's late-'70s hit "I Feel Love," which relies heavily on synth wizard Giorgio Moroder. He truly is a wizard.
Donna Summer | I Feel Love
Orchestral Manoeuvres in the Dark was another band I was reaching for heavily, these two songs in particular:
OMD | Souvenir
OMD | Telegraph
And weirdly, a song that influenced this record perhaps more than any other was this one. I think it's pretty perfect.
Drake | Hold On, We're Going Home
Tape Op is a bi-monthly magazine devoted to the art of record making.