F. Reid Shippen is a successful music producer, engineer, and businessperson. He has also helped out Tape Op over the years with his insightful reviews and great ideas, so we thought it was about time to drop by and pick his brain. His credits include Little Big Town, Dierks Bentley, Ingrid Michaelson, Kenny Chesney, Lady Antebellum, Eric Church, Cage The Elephant, and India.Arie. He lives in Nashville, and has a mighty fine mix room set up for his own use.
AH: In one of our first conversations many years ago, you told me you had a business degree.
I have a degree in Recording Arts & Sciences and Business Administration from Middle Tennessee State University. I started school as an Electrical Engineering major, then an Accounting major, and realized early on I'd rather be interested and poor than secure and bored.
AH: What was it that got you into music from this side of the glass?
I'd always done music as a kid, like singing at church and being in bands, but I never really considered it as a career. It seemed super interesting, and I was going to go for it, so I quit school and moved down here.
AH: Where were you living before Nashville?
I grew up in Fair Haven, New Jersey, south of New York City.
AH: Had you made records for your bands in studios?
Nope. High school was the only time I was in bands. I'd done musical theater and church singing performances – but not recording.
AH: Were there certain albums listened to and identified as recordings that were made in a studio?
I really got addicted to, and started to pay attention to, albums like Heartbeat City by The Cars – I knew every note of that – and [AC/DC's] Back in Black. Also tons of '80s pop, like all the Peter Wolf pop music, the David Foster productions for Earth, Wind & Fire, all the albums by Chicago. As I look back now, I see that I gravitated towards great songs and really great production, but I didn't realize that at the time.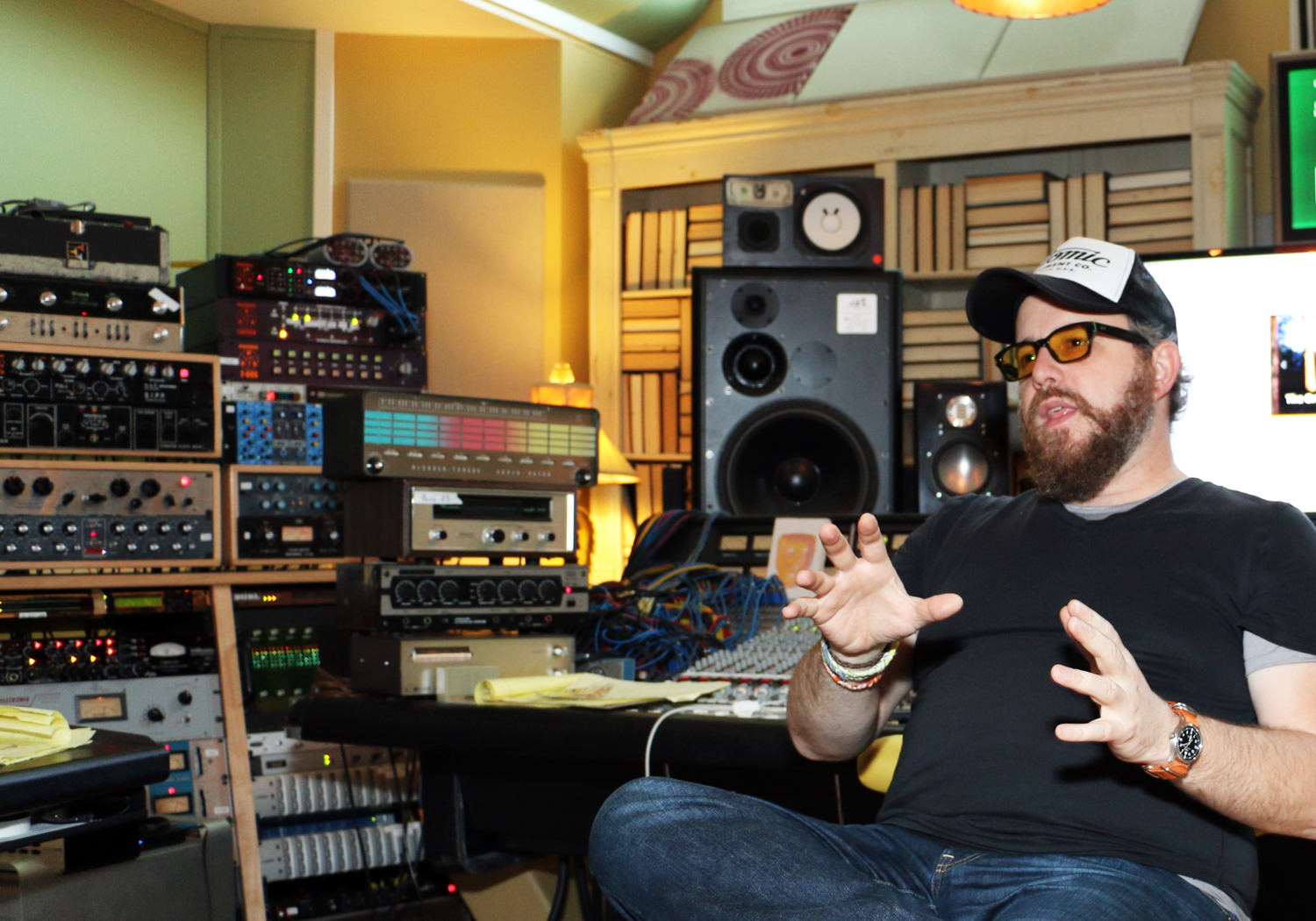 AH: That wasn't inspiring you to be a music producer?
My parents used to say, "Music is an avocation, not a vocation!" Until the Grammys started showing up, I guess.
AH: How many Grammys do you have now?
I've mixed ten Grammy Award winning records. A Grammy and four dollars gets you a latte at Starbucks. Don't tell The Recording Academy I said that.
AH: When you won your first Grammy, what did your parents actually say?
I remember the conversation with my dad was like, "Do a lot of people get those?" I said, "No, not a lot." He's like, "That's a pretty big deal isn't it?" I said, "Yeah, I suppose it is." I think that's when it clicked for him that this wasn't just fooling around with music, but an actual job.
AH: Are you picking and choosing the artists you work with?
I guess everybody does, to a certain extent. In the music business, as you know, it's more like they pick you. I've had a really weird career arc where it's been a lot of genre-hopping. I grew up on New York City music. I saw the Beastie Boys when they were a punk band. There were all kinds of great music, hip-hop, and all of that culture. When I moved down to Nashville, it was country or Christian. I was like, "Okay, wow." I didn't even know what Christian music was, because we didn't really have it growing up. And country music? Country music to me was Johnny Cash and John Denver. I jumped into the Christian music scene because it included rock music, pop, hip-hop, and all these different genres.
AH: It's interesting that people even consider Christian music a genre.
It's very strange. But it let me work on diverse genres of music.
AH: Why did you choose Nashville over New York? New York has a vibrant music scene.
Not so much a vibrant studio scene, does it? I came down here and had to go to school and work full-time to put myself through. MTSU was the only school I could afford. I had the single-mindedness of, "Okay, I'm going to put my head down and work my ass off." I looked up, it was six years later, and I was living in Nashville. I did school, and then internships. I almost didn't graduate because I was working in studios. It's like, "Okay, I can work on this record – or I can sit in class and do a synopsis of...
The rest of this article is only available with a Basic or Premium subscription, or by purchasing back issue #125. For an upcoming year's free subscription, and our current issue on PDF...