Damon Moon has been producing and recording artists in Atlanta since 2011. He took a huge step in early 2017 with the opening of Standard Electric Recorders Co. and quickly built a faithful client base of regional artists like Little Tybee, up-and-comers Bathe Alone, as well as some higher profile artists like Curtis Harding. Now, in the midst of the pandemic, Damon is expanding and relocating the studio to a significantly larger space with new manager, Will Derr. Also involved is his life-partner, Sydney Ward [founder of Little Treblemakers, a music school for kids], and Andrew Barkau [founder of Sustain, a buy/sell/trade/repair shop for vintage, used, and new musical instruments and accessories], who will be operating their businesses in adjacent spaces on the property. Damon is a kind soul in love with unique sounds, as well as an empathetic collaborator and friend to the artists who make them in his studio.
How did you originally become interested in recording?
I was on the playground in 7th grade and a friend handed me a pair of headphones and hit play on his cassette player. It was Led Zeppelin III, and I was completely floored by what was happening between my ears. My birthday was coming up, and my parents asked me what I wanted. I said, "I want to start playing guitar, but I also want a 4-track." Because, at that point, I had already done a little bit of research about recording. They told me, "We can get you one or the other," and I said, 'Get me the 4-track." So, I had a 4-track recorder before I had a guitar. Recording has always been the number one priority.
What led you to open Standard Electric Recorders Co.?
My experiences in other studios birthed the idea. A lot of Atlanta studios have closed with redevelopment. There are still some big studios, but the people that live here can't afford them and the alternative is some guy recording in his bedroom. I wanted to put the emphasis on the people doing the work, as well as the work itself, instead of on the studio. Early on there was this mantra, "The work, the work, the work." It's not about gear. Gear is cool, but gear doesn't make records. People make records.
Expansion in the middle of a pandemic is a bold move. What led you to that decision?
By the time we move, I'll have been in the old space nearly four years. Over the past year the old studio began to feel smaller with the scope of the projects that have been coming in. There was already a thought to expand. Then COVID hit, and immediately my thought was that there was not enough space for bands to be safe and follow distancing guidelines. It's also been a long-term dream for Sydney and me to find a space where we can cohabitate professionally, without either operation having to bend for the other. Sydney was teaching a few hours a week in the live room at the old location, but her business spiraled and grew quickly. We started to talk more seriously about finding a new space. Around that time, we reconnected with Andrew, and he asked us to carve out a little space for his shop. We found this place, and instantly it was like, "Oh, my god, it can all happen here."
So, pooling resources made leasing a building this size with separate spaces possible?
Totally, and the businesses are already time-tested. Andrew's venture is new, but it's the work he's been doing for a long time.
Tell me about the new studio space!
It's an old church [Greater Mt. Zion Full Gospel Baptist Church] that was built in 1950. It was saved from demolition and restored to a point by the owner, and we are taking over the renovation with the build-out. We're trying to maintain as much of the original aspects of the building as we can, because it's just a beautiful campus and facility. The entire place is right under 4,000 sq. ft. The live room alone is about 1,100 sq. ft., which could almost contain the entire old studio! There are two control rooms, one on each side of the live room. Both control rooms can work simultaneously and share the live room. My side has a large control room [Control Room A], a large vocal booth, and a large sound lock, which can easily be used to record drums when the live room is in use by another engineer in the B room. The B room also has a vocal booth and can be rented out for post-production, voice overs, podcasts, or for making records.
Will the B room have gear set up, or is it dependent upon who is using it?
It's mostly dependent on whoever comes in to use it, but I have a setup we could throw in there temporarily.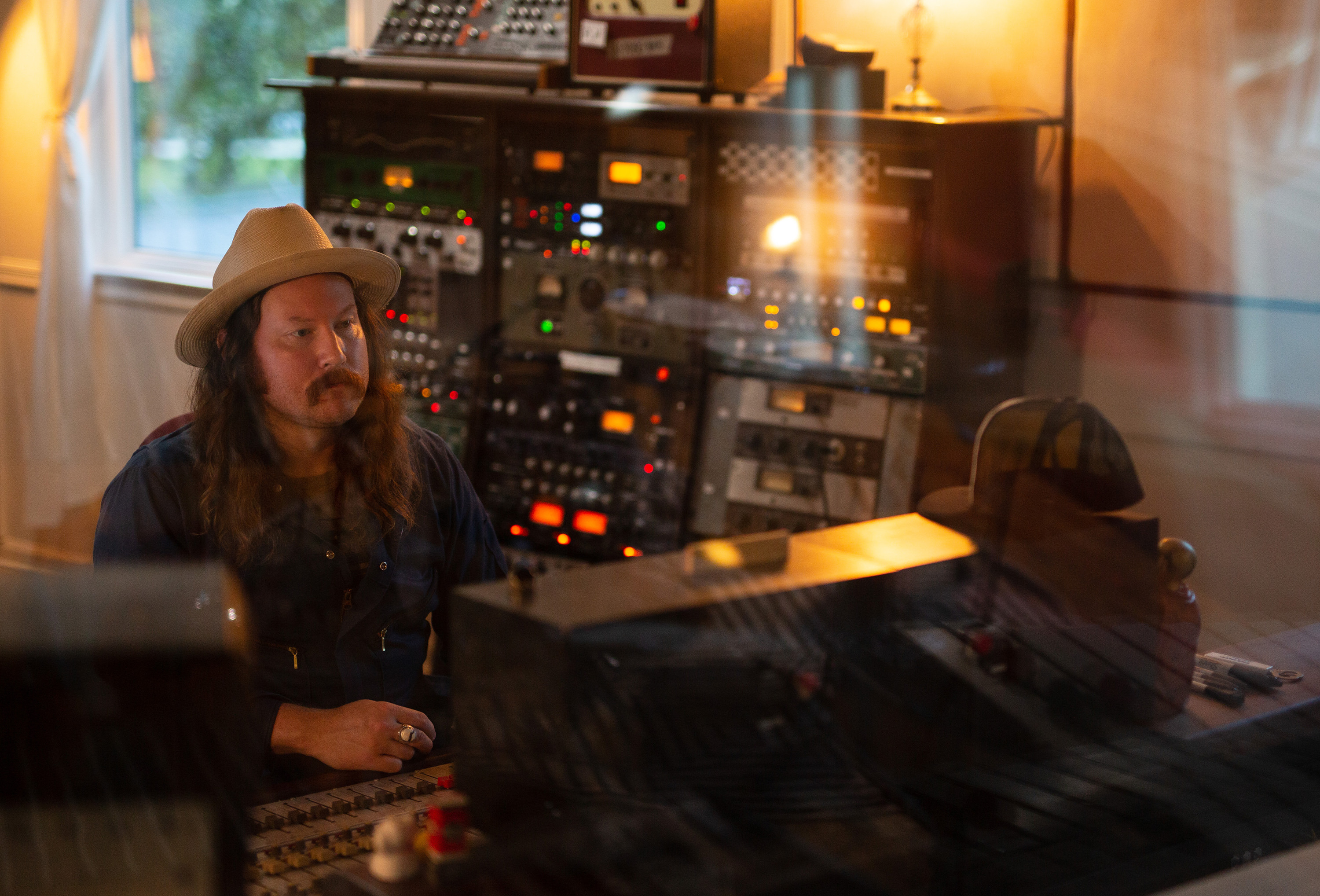 What is your role going to be in the new studio?
These days I'm very much in the driver's seat, producing things from the ground up with bands and artists. Every now and then I get the gig where someone's just looking for an engineer, and I do that as well. In the past I've also been the one managing the day-to-day operation, but in the new space I'll be sharing the load with Will Derr, who will be taking on a studio manager position.
What has your business been like since the pandemic hit?
It was mostly unattended mix sessions the first couple of months, but with touring at a standstill, bookings for recording sessions skyrocketed over the summer. I've been working with a lot of repeat clients I have a good rapport with. I've also been getting a lot of new word-of-mouth business.
Are these primarily regional bands?
Yes. Lately I've had an influx of bands from Nashville coming down that are in a certain scene, I guess. They are bands that do a good bit of touring. I don't know for sure, but I think a couple factors are the cost of recording and the experience. Nashville is such a busy town for recording, and I think a lot of bands are looking for a more personalized experience.
Can you talk a little about the experience you provide?
Working on records, you become friends with people through the process of making art and being vulnerable. A lot of it is about being a good person and responding to their needs, in terms of what they are looking to get out of what you're creating together. In a perfect world, there's a lot of pre-production that happens before we do anything. I sit in their hot practice spaces for an hour or two, and we talk about the vibe and the idea. The first time I hear something, I'm trying as hard as I can to hear the final "thing." I try to keep my eyes on that and figure out how to get there. A lot depends on how a band sounds in the room together. Sometimes I hear a band and say, "We just need to take all of this, move it into the live room, and do it there." Other times I hear a band and say, "We need to isolate; the overall song is going to be better if we take it apart, change the parts that need to be changed, and put it back together." ThatÕs part of the personal connection with people. You can ask a drummer to play something differently, but it's how you ask them to play it that will dictate what happens. That is part of the personalized experience that I like. I want to know everyone and their personalities before we are in the studio making decisions.
How does your background as a musician inform your work with other artists?
In the producer role, being able to communicate effectively on different instruments is something I feel strongly about. There are a lot of records that come in with a songwriter where I'll play most of the instruments on the record, or at least consult and hire musicians to play on the record. My first instrument was the clarinet. I started playing in sixth grade. I started playing guitar more or less as a means to learn how to record, because I got tired of trying to record myself harmonizing on clarinet! My grandparents were musicians, and at the first family Christmas after I got my guitar, I sat behind my grandmother's drum set and it came naturally to play a simple drumbeat. Over time I learned drums more. Through guitar I picked up on bass, and I started messing around with piano here and there. I'm not someone who went to music school, and I don't communicate in that way. I try to meet people where they are. Being a musician and playing these different instruments definitely affects the way I do things in the studio, and the way I communicate what I'm hearing.
Your work with artists spans a variety of genres. Is there a common thread in how you approach projects?
Whenever I listen to my favorite records, I find myself thinking about how interesting things sound. I want sounds that draw you in and change the way you think about the instrument itself. I really enjoy drum sounds that don't sound like an acoustic drum set, but actually are. In approaching projects, I have to think about how appropriate that is and measure what really needs to happen. But it's always the goal for me to create a recording with the band or artist that is aesthetically interesting on its own.
You prioritize the work and your collab-oration with the artist over gear, but is there anything relevant about your gear choices youÕd like to mention?
I have a love for unique, old gear, and I try to outfit the studio with equipment you wouldn't see all the time. It's all about capturing interesting sounds. I love the [Teletronix] LA-2A, but I'm going to go for a [Tri-Tronics] Maxson Federal tube limiter for the unique characteristic of it. I love old Altec equipment, '70s Electro-Voice dynamic microphones, and old RCA ribbon mics that are becoming increasingly harder to find, because they're expensive to repair and keep running. Our console is a Tascam M-600, serial number 00001. I took a long trip to Canada to get that. There are four tape machines, in various working states. I love analog recording, but I'm not an analog purist. I see tape as a tool, in the same way that Pro Tools is a tool.
What are your aspirations for the studio?
I love what I do, I want to keep doing it, and I want to continue to get better. The idea behind the studio was initially about the people that do the work, and I want to continue to build relationships with artists and make records that I like. We have a long-term lease renewal option, so we could be here a long time!

Tape Op is a bi-monthly magazine devoted to the art of record making.