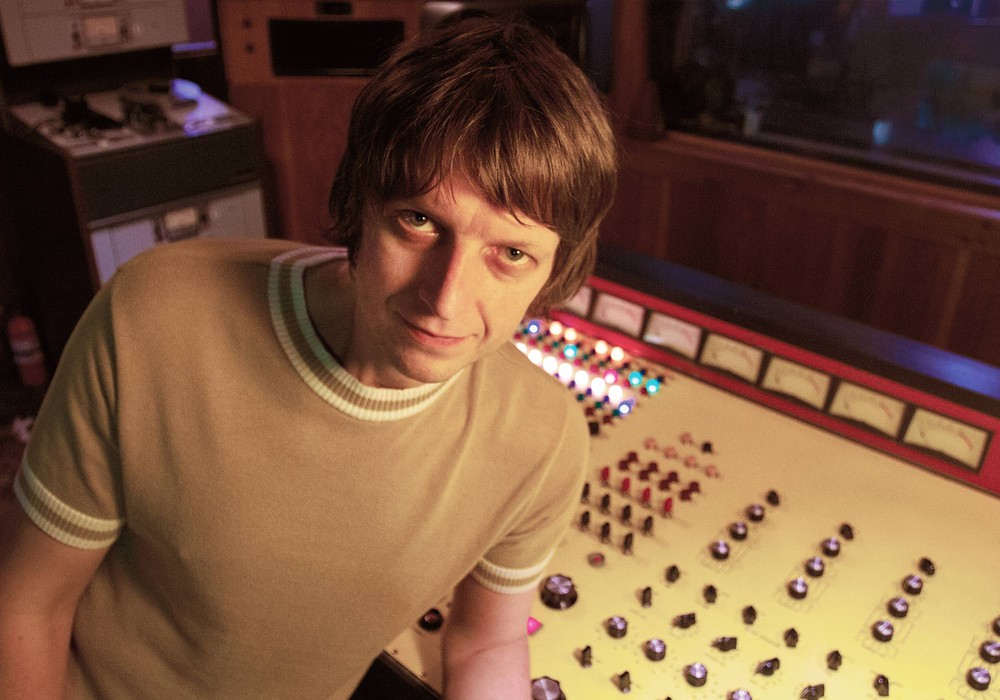 In Tacoma, Washington, a town full of rich musical history – including The Sonics, The Ventures, and The Wailers – exists a museum-like recording studio you've probably never heard of. However, unlike a museum, the artifacts of Uptone Recorders are preserved, maintained, and available to record with. Producer Steve Fisk [Tape Op #3] describes Uptone as a "singular experience," saying, "It is not like any place you have ever worked. The gear and instrument collection literally hurts my head." I sat down with Hunter Lea, the lead producer at Uptone Recorders, to talk about the studio, recording during COVID, and the Nancy Sinatra and Lee Hazlewood reissues he's producing.
What is Uptone Recorders?
When I was 15, I started buying guitars from a guitar shop in Tacoma, Guitar Maniacs, where Kurt Cobain bought many Univox Hi-Flier [guitars]. I love music from the '60s, and to be able to see all the tools in person that were used on all these records that mean so much to me was inspiring as a teenager. I was that annoying kid who kept asking to play the 1950's Rickenbacker each week. I eventually became friends with the owner, Rick King, and he shared his passion of music and instruments with me, starting me on a path of exploring the magic of vintage equipment. Uptone was originally started by some of Rick's friends, [engineer] Wes Weresch and Clint Werner [of the band Seaweed], in the early 1990s, and I saw it as an extension of Guitar Maniacs. The Melvins [Tape Op #142] recorded there in the '90s and so did Death Cab for Cutie [#19], members of the Screaming Trees, The Jim Carroll Band, as well as a lot of other cool Northwest artists. I wasn't around for that, and [the studio] lay dormant for a while; from the early 2000s until 2010. I was still a customer of Rick's, and we were close friends. I had been to Uptone a couple of times to record Mellotron on an album; it was the only one in town and I needed a real Mellotron. I'd been there, liked the vibe, and it was intriguing to me. Rick said, "I have an empty studio here. Do you want to do an all-vintage studio with me?" The timing was right; I moved all of my equipment in with Rick and we slowly started building our dream, in the spirit of vintage recording from the '50s, '60s, and '70s. At times it looked like a hoarder's house of cool stuff, but, over the years, we've refined it. We added a third partner to the studio, Wendell Ratliff, who is a talented young local musician. He started as an intern, but within a year he was an engineer, session musician, and singing on demos we were working on for The Monkees! With Rick, Wendell, and myself, we span three different generations. We each have our own specialties, and that makes for a diverse and well-rounded team. We started recording with friends and songwriters we liked. An underground buzz started happening. Other people became interested and it grew from there. What we have now is a whole building of vintage equipment and memorabilia that is basically a music museum and recording studio combined in one.
What is the equipment that sets Uptone Recorders apart?
Our main console is a mid-'60s custom console that has connections to Motown, and it's this yellow behemoth that looks like it's from Adam West's bat cave. We love tracking with it. We also have a custom board from Wiley Griffith Recorders in Tacoma, the studio that recorded The Wailers' Out of our Tree, The Sonics' Boom, and bunch of other cool Northwest music in the 1960s. In terms of instruments, one of the most fun things we have in our collection is Hal Blaine's drums and percussion, and that includes Hal's 1960's blue Ludwig sparkle set at the core. We also have his late '60s monster toms, which was an eight-tom setup that Hal designed and had custom-built. Additionally, we have Hal's percussion, which is the most interesting of all his gear, which, I hate to say, [laughs] includes the sleigh bells used on [The Beach Boys] Pet Sounds and the Turkish bells used on "Good Vibrations." As you listen to one of the thousands of recordings The Wrecking Crew played on, you'll hear these sounds and we'll often match the sound when recording new songs. We think that Hal's snare, which we call the "Be My Baby Snare," is one of the most recorded, if not the most recorded, instrument of all time. While Hal had a few different sets, his Ludwig Supraphonic snare drum was the one constant throughout his career that stayed the same, and it still sounds amazing. Beyond Hal's gear, we continued our obsession, and we have three Wrecking Crew guitars that we use on regular sessions, including one of Billy Strange's Fender Jaguars, a Fender Bass VI that belonged to Al Casey, and Chuck Berghofer's 1959 Fender Precision Bass. We love keyboards. At any given moment we're likely to have every vintage Moog model available for use in a session, including a 1970 modular IIIP system and two Minimoogs owned by Motown producers Deke Richards and Lamont Dozier. Beyond Moogs, we have a lot of keyboard options, so if you're looking for an organ sound, we have Hammond, Vox, and Farfisa organs. If you're looking for [electric] piano, we have multiple Fender Rhodes, Wurlitzers, and Hohner Pianets, as well as acoustic and electric harpsichords. In addition to keyboards, we have a lot of guitars and amps, and sometimes we'll go off on a specific tangent. One recent obsession has been JMI [Jennings Musical Instruments] British-made Vox amps. We tracked down nearly every model of Vox amp, including an AC-30, AC-50, AC-15, and some of the rarer models that The Beatles and Stones used on their late '60s music. This included the Vox UL Series and Conqueror Series, both with the interesting built-in fuzzes that you can only find in those amps. If you want to sound like [The Beatles'] Magical Mystery Tour or [the Rolling Stones'] "Sympathy for the Devil," you've gotta have one of these Vox amps.
With all those tools at your fingertips, is it hard decide what to use? What are some of your favorite sounds?
This is a Pandora's box. I would say vintage instruments are number one. In terms of instruments, I love keyboards. I would have to say that my favorite keyboard is the first synthesizer I ever bought, which is a secret weapon and is a sleeper keyboard: a Moog Opus 3. It's stereo, it's polyphonic, and you can get so many sounds out of it. People focus on the negative aspects of it, treating it like a glorified organ that doesn't have an envelope for each key, but it's an amazing keyboard that you can do full orchestral arrangements on. You can make it sound like a Hammond organ, a Farfisa organ, or a [Sequential Circuits] Prophet-5. In terms of sounds, it's also been a lifelong quest of mine to achieve the perfect "clicky" bass tone. I didn't know how to get the sound, but I first heard clicky bass on Beach Boys records with Carol Kaye [Tape Op #45] and The Beatles' records, like the sound on "Glass Onion" on the White Album. It captured my imagination, and I've been on this quest since I was teenager to figure out how I could get this magical sound. We have Andy Parypa's 1962 Fender P-bass – the one he used on all The Sonics records – and it can get that sound. Eventually, I sought out a bass lesson with Carol Kaye, so I traveled to California and she taught me many things. When I asked Carol about her old Fender basses, she told me that she would sell a bass for a new one whenever it was time to replace the strings, and that shattered the illusion for me that the tone was in the instrument, because the tone was in her. In our lesson, she was playing a modern Ibanez bass and she started playing "Good Vibrations." I closed my eyes and it sounded exactly like the record, through a little practice amp and Ibanez bass!
How have you dealt with the impact of COVID at Uptone?
As of February 2020, things were going so well; we were excited. We had good creative momentum building, the word was getting out about our studio, and we had started doing some recording with Steve Fisk. Then COVID happened. Our last Uptone session was in March of 2020, and it was with Mark Pickerel, who was the first drummer in the Screaming Trees and is a great songwriter. We had an amazing session. He brought his favorite musicians in, and I was playing with them, engineering, and producing. Beyond him, we had tons of bookings and I was feeling, "Yes! This is it. We're so excited. Our vintage studio is finally happening!" We had these professionals coming in, and it was sounding so good. We tried to find a way to make in-person recording safe, but ultimately my partners and I decided that we would not alter it because we were sacrificing the soul of the experience. We still had clients coming to us asking to book dates, so we started offering a remote option and a lot of people were interested. It's also opened the doors to working with people from faraway places, including other countries, giving new connections where we might not have had the opportunity. Overdubbing some exotic keyboards for a Greek band or playing Hal's percussion on a track for someone across the country has been fun and inspiring. Now we're working with artists that have home studios, which makes it easy because we're trading files. But there are many prolific songwriters that know nothing about recording at all, and, beyond that, have no recording gear, but they still want to make a record. So how do we do that? I've gotten creative with helping people get Pro Tools setups, or getting them iZotope Spire recorders, and there are lots of options. The process is different, but I've found the end result can be just as good, where a spark of an idea can be grown into a realized vision. So, while COVID is a severe limiter in terms of a traditional studio, I don't think it has to be in terms of the creative process of collaborating with artists; it's just different.
Before Uptone, what were some of your previous recording experiences?
I've always recorded from home, since I was 14 and before I could even play guitar. I had a karaoke boombox and figured out how to overdub between two cassettes, and that unlocked the door to recording for me. I realized you could record banging a trash can, switch tapes, and then record blowing bubbles through a straw in water and, all of sudden, you have a sound collage. I thought it was so fascinating building layers. When I was 17, after gaining experience using cassette and digital multitrack recorders, my garage band and I decided we're going to get Pro Tools. So, we worked full time jobs and got a [Digidesign] Digi 001 [interface] and a Mac G3, and that was mind-blowing. We reached nirvana for recording, because we could record endless tracks. We built a garage studio and recorded hundreds of songs. One of my projects was a band called Mono in VCF, and that led to a demo record deal with Sony Records. I went to my first commercial, big time recording studio, Jupiter Studios in Seattle, run by Martin Feveyear [Tape Op #23], and it was totally different than recording at home. We had a ton of people around, one or two engineers, a producer, and people sitting on the couches. It was definitely a different experience, and it showed me what a commercial studio was like.
How did the recordings turn out?
The demo deal Mono in VCF had with Sony fell apart, which I regretted as I thought it would lead to making a full record. I tried forming a new band, but then I got diagnosed with cancer. My goal in life at the time was to make a magnum opus record, what would be my own version of [The Beatles'] Sgt. Pepper's… When I found out that I had cancer, the first call that I made was to my parents, and the second call that I made was to Martin Feveyear to say, "Hey, Martin; I have cancer, but I need to make a record before I die. Can we book some time?" We booked the time, and then I went through chemotherapy. During this time, Jarvis Cocker from Pulp heard our rough demos and added us to open for him when he played in Seattle. I finished chemotherapy, we played that show, and then went into the studio for six weeks to make a record, Mono In VCF, in 2008. We looked up Terry Jacks ["Seasons In The Sun"] to get him to help us with our record because we loved [his '60s group] The Poppy Family, and we loved his recordings. He decided to come down and help. It was an amazing experience; it taught me how to make an album, and it was the best therapy for taking my mind off of cancer.
What about a recording makes it resonate with you?
One of my favorite concepts in music is the '60s studio album – Pet Sounds, Sgt. Pepper's, [The Zombies'] Odessey and Oracle, and up to [Pink Floyd's] The Dark Side of the Moon – these studio creations that, at the time, couldn't exist in real life. It was something that could only be created in this medium. Sgt. Peppers couldn't be played live in the same way it could be listened to on a record. What I'm also looking for is lost magic. There are so many records that are important to me that were under-appreciated at the time. Part of my purpose as a producer – both as a reissue producer and a current music producer – is to find art that is special that I think would resonate with a lot of people.
Who are some of your favorite producers?
I have my knights roundtable of producers that I go to when I'm trying to be inspired. When I have an idea and I'm trying to visualize where to take it, I think of Joe Meek [Tape Op #100], Lee Hazlewood, Terry Jacks, David Axelrod, and Curt Boettcher; all these producers that have their own bag of magic tricks. They found their own way to take a piece of music and make it unmistakably theirs. You know a David Axelrod song when you hear the groove. Curt Boettcher, when you hear The Millennium and Sagittarius, I can pick his harmonies out. Some producers are very transparent in trying to capture a sound, and I suppose that my personal taste is for the producers that color the sound in their own way. The producers I mentioned are very prolific and somewhat unsung. These producers, regardless of hits, kept creating and doing their craft. Terry Jacks started out in the early '60s with a group called The Chessmen and he's still making records. That's a lot of time! We're at an era where the '50s, '60s, and '70s are musical history, but lot of the people from that era are still around. There are people that are still recording, and there are people to be learning from. We're at a place in history where it's very interactive, and I'm trying to learn as much as I can from people of the past, either through finding their lost recordings, through talking to them, or – if I'm lucky – working with them.
How did you get into producing reissues?
We finished the Mono in VCF record with Martin Feveyear, which got us the opportunity to play the Bumbershoot Festival in Seattle. One of my bandmates pointed out the owner of Light in the Attic Records, Matt Sullivan, and suggested I approach him about signing us, but self-promotion wasn't my thing. Instead I asked him if he'd ever considered putting out Lee Hazlewood reissues, specifically his LHI Records catalog. Lee had a label in the '60s called Lee Hazlewood Industries, and, while I had cancer, I tracked down all 80 LHI 45s, which weren't easy to find. I asked Matt about putting these records out. I didn't mean for me to be directly involved; I was asking as a fan. I got a call a couple months later that Light in the Attic had connected with Lee's widow and she was interested in putting out a Hazlewood series, and would I want to produce it? I told him I had never done that before, and he reassured me by saying I knew more about Lee Hazlewood than anyone he knew. I've always been fascinated by record reissues; some of my heroes in that realm include Andrew Sandoval, who did a lot of work with Rhino Records and a bunch of other labels, as well as Bob Irwin [Tape Op #47] from Sundazed Records. They showed me the possibility of what a reissue could be. It didn't just have to be the album released again; it could be a reimagining of the album and a time capsule of the era. When Matt asked if I wanted to do it, my idea was to do the most lavish reissues ever. I wanted to meet the musicians and songwriters and anyone that worked on these albums, find lost photos and tapes and tracks, and get the complete story. Lee Hazlewood has such a great, untold story. This guy, after the Korean War, became a DJ, and as he was playing songs, he thought, "Hell, I can write songs." He would take a Greyhound bus from Phoenix to Los Angeles in the 1950s – while in his mid-twenties – and pitch songs. He was told many times to give up and that he didn't have what it took to be a songwriter. Lee didn't listen, he didn't stop, and he wound up forming a label in Phoenix that had no hits. He put all of his money into this label, Viv Records. He got down to his last dime and he needed a song. He came up with a hit song, "The Fool" for Sanford Clark, and it catapulted him into being a producer and then into working with Duane Eddy and creating "Rebel Rouser." I was fascinated by this guy's story, who went on to work with Nancy Sinatra and create a timeless track with "These Boots are Made for Walking," and to take the money and the credibility from that song and launch an empire known as Lee Hazlewood Industries. He spent hundreds of thousands of dollars making records and designing artwork, hiring musicians and songwriters, and being in the music business. Ultimately, his business failed and he moved to Sweden, living an outsider's existence. I found that story so fascinating, and, beyond that, the music was so good. I wanted to tell that epic story, and it culminated with our release of There's a Dream I've Been Saving: The LHI Years 1966-1971, which was a giant box set for Light in the Attic Records that garnered us a Grammy nomination in 2015.
Can you talk about the aspects of working on reissues that involve working in the studio?
In terms of the Hazlewood reissue, a lot of the process was looking through tape boxes. As a solo artist, he made dozens of records that most people don't know about. Some of those records came out in 1999 on Smells Like Records, which was Steve Shelley's [Sonic Youth] record label. I'd heard those records; that is where I first discovered Lee Hazlewood. The problem was the fidelity sounded like it was a vinyl dub, and I thought that was all there was, that the tapes didn't exist, and that's what I'd be dealing with. What I later learned, through a friend of Lee's, was that Lee was being a curmudgeon. He knew where the tapes were, but for the masters on those Smells Like Records reissues it was a cassette dub of a record. That was the master. But, once he died, we realized his publisher had an archive in Los Angeles with 500 master tapes and multitracks, and I was given access to explore.
Can you talk about the work you're doing now on reissues with Nancy Sinatra?
Light in the Attic's Lee Hazlewood series started out as one compilation, and it became their longest running series, currently at 19 releases. In terms of Lee's story, the music he made with Nancy Sinatra is arguably the most special music he created. We've asked ourselves what makes this music so special, and I think it's the juxtaposition of Lee, who called himself a "non-singer," with this gravelly baritone voice, and Nancy, a beautiful woman with a sweet voice and great musical instincts. When you put those together, there's something about the combination. It was always our dream and hope to work with Nancy, and now we're in the process of telling her story. Lee's a big part of that story, but there were records she made before Lee and records she made after Lee. She has her own story, and we're excited to be working with her.
Can you talk about the difference in the process of working on a reissue with an artist who has passed away, like Lee Hazlewood, to being able to work with Nancy Sinatra on the project?
It's totally different. For Lee Hazlewood, I felt like I was in Citizen Kane for ten years; like I'm a reporter trying to figure out who this guy was, because I never met him. In terms of working with someone who is happily still alive, it's much better. You can talk directly to the person and get the intent behind the music, talk about the original vision, and talk about the feelings connected to it.
What makes the recordings of Nancy Sinatra and Lee Hazlewood special?
For one thing, the recording engineer was Eddie Brackett! He was an amazing recording engineer, and many people I've talked to have described his incredible technique of playing the console like an orchestra, conducting the different levels and performing the mix. And The Wrecking Crew playing on the records, with Hal Blaine, Carol Kaye, Don Randi, Al Casey, Billy Strange, and Chuck Berghofer. With all these people, Nancy and Lee had this great team and they had all these great songs.
And what can fans look forward to, in terms of what you're working on with Nancy?
Having the first Nancy Sinatra release come out in 2020 has been a beam of sunshine for me and Light in the Attic Records. It's a new single, and new 45 for Record Store Day Black Friday. We decided to create something new, so we took what many consider to be Nancy and Lee's greatest track, "Some Velvet Morning," and paired it with an originally unreleased track from the same sessions: a cover of Ray Davies' Kinks song "Tired of Waiting for You." We had access to the master tapes, and we are working with a brilliant mastering engineer named John Baldwin. His new masters sound 3D. It's the best I've ever heard Nancy and Lee sound. That's a sneak peek, and it's just the tip of the iceberg. We had a compilation out in February 2021 called Start Walkin' 1965-1976, which is a great encapsulation of her work from that era. It has an interesting story arc, in terms of songs. It goes from her first album with Lee, Boots, to working with other producers like Lenny Waronker and Ted Templeman, who they did a track with called "Hook and Ladder." There's a song that Nancy thought should've been a hit called, "How are Things in California?" That had Jerry Scheff on bass, Ron Tutt on drums, and James Burton on guitar. They were Elvis [Presley]'s guys. It's a fascinating story, and it's not just "These Boots are Made for Walking" and "Some Velvet Morning." There's a lot of interesting music that people don't know about. We're also releasing reissues of Boots [1966], Nancy & Lee [1968], and Nancy & Lee Again [1972].
What else is next for you?
I've got a lot of projects I'm excited about! I'm working with a songwriter named Lynn Castle. Her first song, "Love's Prayer," was recorded by the Spinners in the '50s. She also worked with Jack Nitzsche, Lee Hazlewood, and Phil Spector. She's 80 years old, and we are working on new recordings right now, collaborating from afar and trading files. She's taught herself Pro Tools, and her living room is her studio. There's also a new series of Hazlewood-related LP reissues I'm producing for Munster Records in Spain. A lot of interesting 1960s obscure productions from the LHI Records label. I'm searching for sounds that inspire me. I also have my own project, Moon Age. I'm always searching for collaborators that are inspired, and for good songs, past and present.

Tape Op is a bi-monthly magazine devoted to the art of record making.