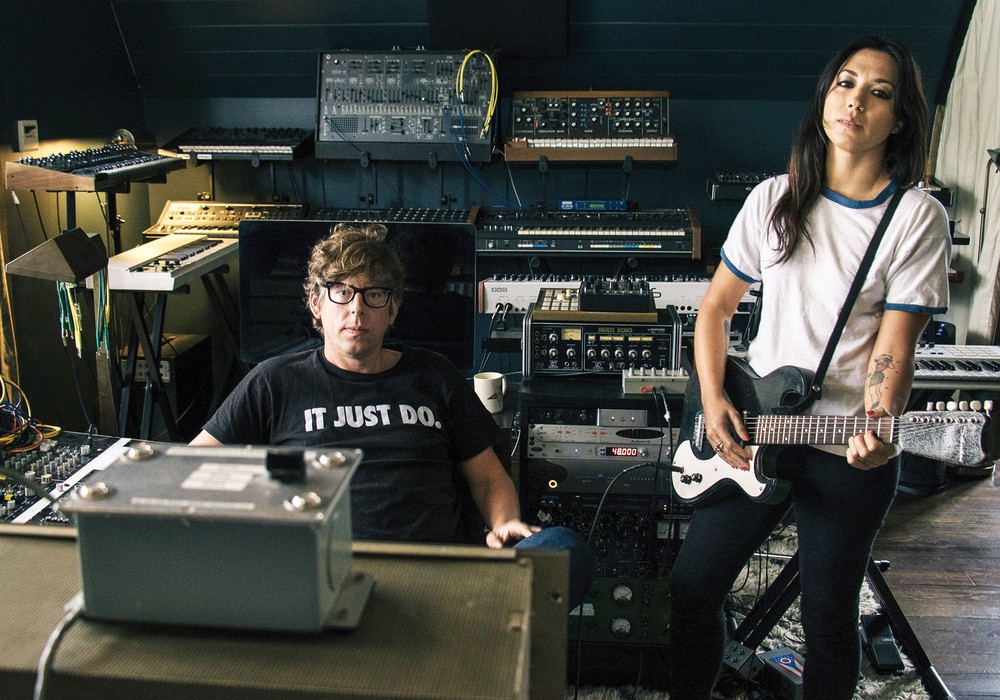 As one half of The Black Keys with Dan Auerbach [Tape Op #127], Patrick Carney has witnessed their band achieve the sort of commercial success they would have once considered impossible. But more than "just" a drummer, Patrick is actually a guy who found his way into this band by being into home recording. Many of the early Black Keys' albums were "homemade" by the band, and they've been hands-on with producing and recording ever since. Patrick's career as a producer has seen him work with Jessy Wilson, Calvin Johnson, Tennis, The Black Lips, The Sheepdogs, and *repeat repeat, as well as Michelle Branch, Patrick's wife and a very talented musician in her own right. Dan and Patrick had completed Let's Rock in 2019 when I rolled up to visit his Audio Eagle studio outside of Nashville.
Photo: Patrick and Michelle at Audio Eagle

How did The Black Keys begin?
We grew up together. In high school we would fuck around on my 4-track. Then Dan bought a 4-track, and we'd fuck around on his. We'd bounce back and forth.
4-track cassette recorders?
Yeah. Then a couple years later, we were both making music independent of each other. He was kind of in a bar band, and I had an indie pop band. I had decided that I wanted to become a recordist; I wanted to record bands.
Were you more fascinated with the idea of making the recordings than being in a band?
I was more interested in making records, at the time. I think most people just obsess with music. For me, it wasn't necessarily tedious practicing and learning skills – it was listening and getting into the sounds. I ended up buying a Korg digital 12-track in the summer of 2001. I didn't have any money, so I got a Sam Ash credit card. I sat with it the whole summer of 2001, because I had lost the shitty job I had and I was desperately poor. I had a summer off, and I was about to go to college at the University of Akron for my third year, not knowing what the fuck I wanted to do. I just played with this recorder and I got pretty good with it. Dan was like, "Do you want to record my band?" I said, "Of course, man! Come over to my house." He showed up and we waited on my front porch. It was a late, hot, summer day. The other guys never showed up. Dan was like, "Shit, why don't you play the drums?" I was a guitar player; I could barely play the drums. The only time I'd ever played the drums was when I played with Dan years earlier. So, I recorded this demo. It was one afternoon for a couple hours, playing some songs I'd never heard; covers, mostly. Then we got a fucking record deal, and I became a drummer!
How did the record deal come about?
I spent a couple weeks mixing this on headphones. Then 9/11 happened; Dan had dropped out of school, and I was about to. It was a weird time. It was like, "We should just start a fucking band, and this is it!" This whole demo turned into a demo for a band, and we named the band The Black Keys. My brother made a cover, and we sent it out to a list of probably about 20 small labels. We ended up getting an offer. Then I had to become a drummer. But our thing early on was that we'll just make our own records, because it's cheaper. We also think it's a fun way to spend our time.
When I interviewed Dan I hadn't realized is that you guys had a band and a recording before you played your first show.
We had finished our record [The Big Come Up] completely and had it mastered before we played our first show. That was the fun part. Then we toured that. We started getting some heat on that first record. The White Stripes, The Hives, The Strokes, The Shins and all those bands were hitting, and we were the second wave of bands that hadn't been signed. We got flown out to a studio in Berkeley, California. This guy, Jeff Saltzman – who went on to produce The Killers' [Hot Fuss] record the next year [Not to be confused with Jeff Stuart Saltzman in Portland, Oregon. -LC] – was a manager for Green Day for a while. He had started this studio; he flew us out and said he wanted to produce us. He recorded six songs of ours. I went back and listened to them recently, and they sound good, but at the time we were like, "This is so produced!" We didn't really know what we were talking about. We were so insecure with letting someone else do stuff.
Close the ranks. It feels safer sometimes.
That's what we did. Actually I think it became our secret to longevity. We didn't sign to one of those big labels. We realized we were better suited to be on Fat Possum, the label we had admired since we were high schoolers. We were allowed to operate in a way where success for us was not about getting played on TRL [MTV's Total Request Live]. It was just about making a record and having fun. Around that time I bought another studio setup. We got another record deal and made another record. I got a Tascam 388 in 2002, and we did our second record [Thickfreakness] on that.
Did that feel more copacetic to the sound you wanted?
It was a lot easier, for sure. Around the same time that I got that, I also went back and did a couple singles and songs on that second record on an Audio-Technica [cassette] 4-track. It sounds fucking insane. Fat Possum was a really cool label to be on, because the record advance for us was like $12,000. I ended up taking their old Tascam 85-16B 1-inch, 16-track to knock $2,500 off the advance. I ended up buying a mixing desk on eBay; the matching desk for the 85-16B; the [Tascam] M16. This one belonged to the band Loverboy. It was just a fucking piece of shit, but we ended up making Rubber Factory on this. Then the next record we did on Pro Tools.
What spaces were you using during those different records?
It was always in my basement, except for Rubber Factory; that was recorded in this old General Tire factory in Akron. It was a factory, but the second floor was offices and laboratory space. They'd moved out of there in '86, and this was 2003 or 2004 when we were in there. It was so polluted. When we finished the record and were done with our lease, I just left the mixer in there. They tore the building down five or six years ago, and the city can't afford to clean it up because it's completely filled with asbestos.
That's the history of Akron in a nutshell.
We ended up making all the records ourselves, up through Magic Potion. Dan didn't have a studio until around Magic Potion. At that time he started collecting gear. He's a much different collector than me; I'm more of a cheapskate. When he got into it, he bought this 1970s Studer; a real desk with a big power supply. I'd always been reading Tape Op and reading books, but I think it was around that time, when I was 25 or 26, that we started getting into the nuance of how different records were made and we started actually learning. We realized we were in a position where we could go make records with people who had made records we really loved, and we could learn a lot from them. We started to really take advantage of that. But then we had a really miserable experience at the Man or Astro-man? studio
[Tape Op #9] in Atlanta.
Oh, the Zero Return studio?
Yeah. It wasn't with the guys in the band. Those guys were all cool. It was with an engineer who they worked with. We didn't really know how to express what we wanted. We kept talking about how we wanted the drums to be more distorted. Since then, I've run into this problem a couple times. Our second time we tried to go back to a studio with someone else, and it was just fucking terrible. It just wasn't fun. When we finally had to go to the studio with someone else, it was with Paul Hamann [Tape Op #13] at Suma Recording in Cleveland. He passed away a few years ago.
Crazy history at that place.
Yeah. I think he got offended because when I was describing it after we finished Attack & Release, I described it as this dusty piece of history. But it really was. His dad [Ken Hamann] had built it with him, and when his dad passed away they had not touched anything. It was amazing because we got to work with Paul. Paul was not the kind of guy who had a big ego. It wasn't like, "You have to use this mic." He had his own way of working, and it was really cool.
Besides Ohio and that connection, was it Pere Ubu records and such that drove you to that studio?
What ultimately made us go there was the fact that it was in Ohio, first and foremost. I actually didn't really start getting into Pere Ubu until around the time we made those records. Right before we went in there, I started listening to Dub Housing. When I grew up, my uncle [Ralph Carney] was in a band called Tin Huey and made some songs with David Thomas. I was familiar with it, but I just missed it. I didn't even listen to the Dead Boys first record until I was 30, and they're from Cleveland! I think, at the same time, Dan and I were both in super codependent relationships and we didn't want to be too far away. He was also expecting his first child. Danger Mouse [Brian Burton] was involved in that record. The way that record started was we were going to write and record the instrumentals for an Ike Turner comeback record that Danger Mouse was going to produce. He solicited us through the Ike project. We only got two of them finished, but it was six months of work. I actually went to L.A. and met with Danger Mouse without even asking Dan. I was just like, "Will you produce our records?" He came to Cleveland, to Painesville, really. It was right at the peak of Gnarls Barkley, and he said, "Man, this is really rural for me." He kept having to take a day off every four days and go into Cleveland! To this day, I would still consider Brian one of my best friends. Everything I know about production, I learned through him. With Dan, we knew how to make songs and records. But I think Brian really helped us see the light.
In what ways?
Brian is not a sonic guy, necessarily. Dan and I are heavily sonic guys. To a certain degree, we would rely too heavily on sonics and not enough on actual production.
Like, "The song sounds cool, but is it being done right?"
Exactly. We learned a lot. The next thing we did was Brothers; it was a weird time. Dan had put out his first solo record [Keep It Hid]. Dan and I are very close friends. It was a very weird time. We turned 30. I was going through a hard change in a relationship. You get two men having communication issues, and it's basically the history of why most bands fail. I was just like, "I'm not going to let this shit be the demise of the band." Ultimately, Dan didn't want to not do the Keys, he just wanted to make other music. I think that conversation led to us, inadvertently, to making this hip-hop record.
The BlakRoc record? I love that record.
Thank you. It was a big deal. It was our first foray back into the studio. It had only been six months; but you have to remember that at that time we had been going non-stop for eight years! We took six months off. We went into Studio G [Brooklyn] with Joel Hamilton [Tape Op #85]. Working with Dan and Joel – that was the most fun part of the experience.
He's really sonic in the way he records and produces.
Very sonic. I definitely learned a lot from him. His attitude in the studio was just amazing and very encouraging. We started writing bass and drums first. We basically did a practice session for going to Muscle Shoals. We made that BlakRoc record in June, July, and early August. Then, in late-August, we went to Muscle Shoals to make Brothers, which we had no material for, really. We had a couple of demos. In a two month period, we made this hip-hop record, and then we went into the studio with Mark Neill [Tape Op #29].
Was it liberating to do BlakRoc beforehand, to see how you could craft songs out of grooves?
It was like spring training. I think we had exhausted every idea that we had when we were up there. I remember going down to Muscle Shoals and being like, "We don't have anything!" Because of that, I think there's a way different energy to Brothers. It was mid-August and hot as fuck in Alabama. It was just the three of us. Mark wasn't producing; he was engineering.
How did you pick Mark Neill? He's a fascinating guy.
Dan picked Mark. I think he read about Mark, maybe in Tape Op. I remember reading the article about him. Mark's known for his studio designs. He designed Toe Rag [Tape Op #15, #88], and Dan was into that. On tour, in 2008, we actually ended up in San Diego at Mark's home studio [Soil of the South]. We did three songs in one day. Two of them ended up on the record, and one of them was on a Twilight soundtrack ["Chop & Change," from Twilight 3]. I liked working with Mark. He's peculiar and eccentric, which is exactly like Paul Hamann or most people we end up working with. He brought all his own gear to Muscle Shoals, like an old Gretsch round badge [drum] kit, some mics, and some preamps. He's secretive about it, which is a bit annoying, to be honest.
"What are those preamps?"
Yeah, "What are you doing?" "Oh, don't come in here!" Mark's allowed to get away with that shit because he's Mark, but if it's another engineer? This whole thing is about sharing. If you have a signature kick drum sound, come on! Everyone's got to share the knowledge.
And every single, tiny, incremental variable changes everything.
Everything! You can't reproduce it yourself, even if you wanted to.
Mark's known for doing a lot of research on how old records were made.
Yeah. There is a bit of mythology. Mark created some of the finest-sounding recordings with us at his house, and at Muscle Shoals. The Muscle Shoals studio was completely broken. Nothing was really working properly, at the time. We ended up waiting for, like, two or three weeks to get mixes back from Mark. Maybe even a month. We finally got the mixes back from Mark, and I said, "Man, they don't sound fucked up enough!" He's like, "There's so much distortion on there." I said, "Your 'so much distortion' is not my 'so much distortion.'" I don't pull punches. I'm not trying to be an asshole. I said, "No, I really think we need to have Tchad [Blake, Tape Op #16, #133] mix this. Tchad's the guy who will get this." We'd used Tchad on BlakRoc for one song.
I interviewed him last year and he talked about some of this.
I love him. I think our direction on the email was, "Hey, Tchad; these don't sound fucked up enough. Do whatever you want. Just make them fucked up." The first mix we got back was "Howlin' For You," and it sounded basically identical to how it sounds now. It was like, "Fucking amazing!" At that point, I knew that the record was going to do something special for us. I remember calling our lawyer; she's like a big sister to Dan and me. I said, "I think this record is going to sell a quarter million albums." It was all a big joke, because a former manager of ours said we'd never be the type of band to sell a quarter million albums. Our reaction to that was to fire him. We were like, "You can't tell 25-year-olds they can't sell a quarter million albums! [Pavement's] Slanted and Enchanted sold a quarter million albums. We can sell a quarter million albums. Maybe not. But you can't tell me no."
Don't say, "No!"
So, we finished the record and Tchad mixed it. I had just gotten divorced and was living in New York. We'd made everything on the first record, second record, and third record pretty haphazardly, in a cool way. The last record we'd done with Danger Mouse, but we only spent 11 days on it. I thought, "What if we go back into the studio for two more days and see if we can get a song that's catchier than what we have on here?" I asked Dan if he'd be willing to do it, and he said, "Yes." I asked Brian if he would produce. We ended up doing the Late Show with David Letterman in New York in December to promote BlakRoc. Danger Mouse came out, and in two nights – between like 7 and midnight – we wrote and recorded "Tighten Up." When we first finished it, it didn't sonically – or vibe-wise, maybe – match up to the rest of the record. We sent it to Tchad, and Tchad kept tweaking it. Our initial reaction was, "Okay, that's not right." We went to Dan's studio and did another song, using kind of the same lyrics as "Tighten Up." That's when we were like, "Oh yeah, that's it. That's the single." Our record was due in mid-February, in a couple of weeks. Our friend, Leon Michels – who ended up being in The Arcs with Dan and touring with the Keys – is an amazing engineer and producer. He and I were drinking in New York, and he came over to my apartment. He asked, "What's the single?" And I said, "I think it's this one." I played the song for him from Akron that we'd recorded at Dan's studio. He said, "Uh-huh. Anything else?" I played him "Tighten Up," and he's like, "You're a fucking moron. That's the single, clearly! The other one, don't even put that out." I called Dan and I said, "Leon says that the song with Danger Mouse is the single." Dan said, "Oh, really?" I said, "Yeah, what should we do?" He said, "I guess we should just put it on the record. Cool." Once again, I learned something there. We almost didn't put it on there, and then we have this song that becomes our first hit. At that point the story arcs back into us recording at our own studios again. El Camino is with Danger Mouse, and so is Turn Blue.
Was El Camino done at Dan's new Easy Eye studio here in Nashville?
That was done right as he finished that spot. He pumped all the money he made on that Brothers tour, which wasn't much, into that. He overextended himself to do that. But it worked out. He got his dream studio space. At that same time, for the first time ever, I got rid of my studio. I moved to Nashville, and I had no studio. That's when I started working with Roger Moutenot [Tape Op #20] a lot. We made quite a few records together.
Records that you were producing?
Yeah. I would produce and he would engineer, or maybe produce. We did bands like Tennis and Sheepdogs. I had my own label, Audio Eagle Records, and I found this band, Royal Bangs, from Knoxville and I did a record for them. I learned a lot from working with Roger. For a long time, it was perfect for me. "I don't need to have a studio. I'll just go play my drums in the basement and work with Roger." But I missed being able to go into a place late at night and listen to music, or start tweaking a plug-in, or fucking with shit, so I built this place. I had the space built out. Joel Hamilton [Tape Op #85] found the API console; one of two that was sold at the same time from Evergreen State College. It was in perfect condition. When I first got it set up, I didn't treat this room. Then, after 10 or 12 years, I finally bought the ATC SCM150 monitors because I'd used them at Blackbird. I thought, "I'm going to get all the gear I want. Fuck it."
How much recording have you done in this space, at this point?
I've done quite a bit. I set this up in September, 2013. We'd finished Turn Blue. I came back from L.A. and put on Led Zeppelin II. I cranked it, and I thought, "That's not right! What's wrong?" It turned out I needed a subwoofer. I like to feel a record. That's when I started collecting and decided that I was going to try to get some of the best gear I'd ever used in all these studios. Marc Neill had some 610 preamps – the only thing I don't have that I'd probably stab a motherfucker for.
The old Universal Audio ones?
He was using them on Dan's vocals, and for the overhead. They're fucking insane.
You've gone through a lot of prosumer gear, but now you can buy the best.
The problem is that trying to get lo-fi to sound good is not that difficult. But when you start to say, "I like the lo-fi crunch in this guitar, but I want the cymbals to not be trashy, and I want the low end to hit you in the face," that's when you start to get into trouble if you don't have good gear. You might have something that accidentally works, like [Richard] Swift [Tape Op #120] would have his way of putting tracks through an Echoplex that sounds fucking great. He found it, and it's his fucking thing. Everybody's out there looking for a cheap way to do something like that. I find it's a lot of experimenting. I don't regret any of it, because ultimately everything I read in Tape Op I learned firsthand. Like someone says, "You can't fix it in the mix." I'd think, "Bullshit you can't! Watch how many plug-ins I can put on this." Then, "Oh, shit. Yeah, you can't fix it in the mix."
It's experience.
I think about this on a daily basis. If I were to meet my 23-year-old self? Oh, my god; what a dumbass! Part of the gear thing for me, as a kid in Akron and all the way up through my 20s, was if you played a gig and got a couple hundred bucks in cash, one of the fun things for me or Dan to do was get in our van and drive to all the music stores. For a long time, my studio was a shrine of like, "Look what the fuck I found!" Now, most of the gear I've bought from Craigslist, friends of mine, eBay, or Reverb. But everything that I have now is something that I'm attached to in some way. But I'm not a big collector or anything.
From the beginning it was just to make records.
Dan and I have been having these conversations about records we've made and what the expectation is. Music is the most frustrating business to be in. The music itself isn't frustrating; it's what comes after you finish the song.
I try to make people not have that conversation with me while we're tracking. "Don't ask what will happen when this gets done."
Yeah! It is the elephant in the room. You have to ask yourself why you're in the room in the first place. You can't be in the room if you're worried about what's going to happen after you're in the room. That's the beauty with Dan and I. Because he and I had nothing else to do. We had no interest in college. I remember I felt we were really successful when we sold out the Beachland Tavern in Cleveland, which is 150 people. I thought everything after that was gravy. If your main goal for making music is, "I want my friends to have an interest in what I'm doing," that's a healthy thing to be worried about while you're in the room. I think it's also healthy to be like, "Is this terrible? Is there another way to approach it?" I'll be 40 in a few months. We've been doing this for 20 years, we've sold millions of records, and I still don't have an avenue to put out a record. How insane is that? When I talk to someone at Warner Bros., they're instantly going down through the commercial values of the record. You can't be talking about that! You have to assume there's going to be a couple hundred people, maybe a couple thousand people, who are interested in this. If there's not a model for that to be considered a success, then you've lost your place in the world of making art. Working on a Calvin Johnson record is just as important as working on a Keys record. Calvin's an idol of mine, a guy who inspired me to no end when I needed it the most, and I got to make a record with him with no expectations of money. If I can't get help with that then I might as well just be doing it myself.
Right. Dan has his Easy Eye label going, but it costs money to get people aware of the music.
Yeah. I had a label for a while, in 2007 through 2010. I ultimately had to stop doing it, because I put out a couple records with some really close friends and their careers never materialized. I'll help make the music and maybe give some advice here or there, but I can't be responsible for my friends' careers. My uncle Ralph [Carney] may have been the most talented musician I've ever met, and he would financially struggle for years. At the same time, there was no man more musical. Aside from my dad playing me The Beatles, the intrigue is that my uncle was in this band, Tin Huey. In the early '80s we would go spend the night at my grandparent's house every Friday, and my grandma would put on the Tin Huey record [Contents Dislodged During Shipment]. It melted it into my brain – it was my favorite record as a kid. Then, when I was about seven or eight, this record showed up and it had a picture of this guy with his head against a woman's chest; Tom Waits' Rain Dogs. I was very confused by it; the music is scary, but I listened to it incessantly. By the time I was 12 years old I was a Tom Waits fan. I wanted to see how to put music on this disc. I asked for a guitar, and my dad got me an electric Cort. The next thing I asked for was a Tascam Porta 02, with no EQ, just the pan and level, and my dad got it for me for Christmas the next year. I mowed the lawn and did chores just so I could get an ART reverb. I was obsessed. When I was 15, I lied about my age and I got a job washing dishes. I started buying everything I thought you needed to be a band.
When you were producing Jessy Wilson's Phase record, were you playing parts and then cutting them up and building them as a part of the writing?
I fantasize about Dan and I going to the studio and cutting something to 8-track, 1-inch. That would be a lot of fun for me. Dan and I do play music in a way that would work. But, for me, producing music involves a lot of arranging and writing, to a certain degree. I have a workflow in Pro Tools that makes sense for me, even down to gridding tracks out and writing in chunks. Getting a performance with drums and then building it again. I'm so open about it, because it's just the way I work. I like to show it to people because then it gets modified every time. They're like, "Oh, what if you did this?" I start with a reference click track, and then I'll figure out the tempo of the song, or the idea. Even if it's just two chords and we're writing it from scratch. Get the simplest beat with just some shakers and a kick and snare so that I can get off of the click instantly. I don't grid what I put down. Then it's just a matter of, "Let's put some bass down, guitar, or maybe organ pad." Maybe now the drums are rubbing wrong, so maybe I'll redo the drums. Before you know it, I end up with this groove, and then I can start writing. Loop the whole drum part out as a big loop, write to it, and then go back and cut a whole drum take. Maybe I'll do three drum takes and I'll comp.
So that it doesn't sound all stiff and edited?
That's the problem with music, so majorly. I don't know if it's just because I'm a drummer, but perfect timing, to me, isn't time, even though it's "right." Most engineers nowadays will sit there without even asking, just moving, moving, and moving [the drums in the computer]. It's not fucking real. If you're working with loop, you have no choice if you use the loop. You've got to fuck it up. With the right motivated singer and musicians, it'll take a day to write a song and finish it. I like to have three days if we're writing. I like to do at least one different approach to see; like completely inverse the tempo, double-time, and just fuck it up. To see what's there. Sometimes I end up liking both, and sometimes we can swap some chords out and write a second song.
Right, or there could be a part two of the song or such.
Exactly. I'm scared to start another record. I'm working on something with Michelle; we're in the depths of it, actually. I just took six weeks off to get away. I'm chomping at the bit to get in there. I need to get away, and then when I do get away, I'm my most creative. I love to produce. When someone asks me what I do, it's like, "Oh, I'm the drummer in The Black Keys."
You've got to have the time and interest to produce a record for somebody.
It's an emotional thing for me, ultimately. I tend to choose bands that have some problematic aspect to their career, like they got dropped from a label or they can't get signed. A band like Tennis; I can't take complete credit, but opening a band like that up and away from this kind of surfy sound. They were trying to break into something moodier.
Would you go back and listen to previous albums and think, "That's cool, but can they shift a little?"
I'll listen to their previous albums, for sure. When I got asked to work with Jessy Wilson, it was initially meeting with her and her former bandmate, Kallie North. They had a band called Muddy Magnolias. I was not a fan of it, but I took the meeting as a favor to a friend who's a manager. In the meeting I was played some demos; I stopped them and said I didn't like them. I was just honest, "I don't really like this, but I like your voice." Kallie wasn't even going to be in the band; she wanted to help manage the band. I gave my pitch of what I was interested in. I played everything from Massive Attack to Al Green. "This is what I'm into right now. I'd like to make songs like that." Jessy was like, "Let's try it." We tried it, and she liked it. She brought her whole band (at the time) in; music school kids. I kicked them all out of the studio after the first day, because it was very clear that what she needed wasn't going to happen in that way.
As far as a live band?
The same guys who fucked up her old band. I didn't want them. That's the problem with Nashville. There're some really crazy players, but there's also so much garbage. With Jessy, my main goal was, "Let's write together and make something you're really happy with." Ultimately that's what I did. Same with *repeat repeat's Glazed. Those are two drastically different records. I wrote both records with the artists. Calvin Johnson's record [A Wonderful Beast], it's like, "What does Calvin want to do? Calvin just wants to make some jams." I think he's a great producer. When he steps in and has an idea, it's like, "Oh, wow! I would never have thought of that." But I think, out of every record I've ever worked on, I can say that Michelle's record [Hopeless Romantic], that record – more than any Keys record – changed my life because it resulted in a child! A beautiful little boy [Rhys James Carney].
Awesome!
When I met Michelle, what was she doing? She was getting the runaround majorly in L.A. "Go write with this person. Go produce here." Which is really what happens in Nashville now all the time too. To me, it's the laziest way of making music. I think the producer should write on a song if the artist wants that, but I think the idea of an A&R guy saying, "This guy's a great writer. Go write with them," is totally nuts. Michelle was doing that. I called Gus Seyffert [Tape Op #118] and said, "Michelle wants to make a record with me. Will you do it with me?" I wanted Gus's ears on it, as well as his musicianship, and I love being around Gus. I spent a lot of time on that record trying to get sounds Michelle was happy with that weren't "poppy." Ultimately, she ended up with a record that she is really happy with. If a record's successful to me, they all sound different; but all the artists are happy as hell with them. Maybe if Michelle's record was my record, I'd make it a little more fucked up sounding. Maybe if it was Jessy's record, I'd make it more fucked up sounding too. But I do sit there and try to get Michelle to the spot where she's happy with the record. Once she's happy, then anything that's bothering me I address. That's how I do it.
It's a collaboration.
Yeah. I don't want to imprint some sonic thing like, "This is how I do stuff," or, "This is what I do." I like to put on something like [Richard Hell's] Blank Generation and fucking crank it. I can see the similarities sonically between that and Shuggie Otis, in a way; just the '70s. At the same time, I like to hear "Hoist That Rag" by Tom Waits, where it's the whole room throbbing. Everything's different. That's why music is exciting.
Listening to a bunch of your productions and playing, I hear that you love a deep-sounding snare.
Yeah. For me the drum sound is always crucial. There's a very particular type of snare drum that I like, and there are very many snare drums that I don't like. You know, like the '60s type of over-ringy snare sound? Utilizing a little bit more ring is something I've been interested in lately. I used to just go super dead.
In what ways were you getting that sound?
I like it dead, but I like to have a little snap on the top.
Not hitting a wet book?
I'll use maybe a little bit of duct tape and some MoonGel. I'm good at tuning drums and getting that sound. But I also just layer fucking handclaps on every snare, always.
You do, or tambourine.
Tambourine on every song, and shaker on every song. And congas and cowbell. Actually play it. Don't fucking fix it. Slap the engineer's hands if they try to do that. Let it rub against some fucking shit. I miss that so much in music. I catch myself listening to the radio like a fucking buffoon, expecting to hear something that I like. That's the ultimate joke, on me!
When you and Dan got together to work on Let's Rock, was there a recording plan or how you were going to start writing?
No, actually there wasn't. We'd only hung out with each other less than five times in the four years before.
Is it good to get some space after so many years of working together?
I guess the best way to describe it is that I only get a chance to see my older brother once or twice a year. When I see him, he picks it right up instantly. I didn't really need the space from Dan, but our relationship kind of ebbs and flows. When we need each other the most, it seems to be that we're there. He branched off doing the Easy Eye stuff, and I was doing Michelle's record. When we finally got to the studio, we never really had these talks. The only talk before we got in there was, "We can record at your studio, but I want to bring all my drum gear over, including mics and preamps." I brought my Neves and had my engineer Marc [Whitmore] set it up. We used the [Universal Audio] LA-3As and 1176s, as well as some other weird shit. I have this way of recording drums that's different than Dan's. Dan uses mostly mono drums, which I was way into for a while too. Mark Neill is the one who kicked that off for us. I still like that mono overhead squashed.
Right, to maintain the core meat of it?
But unsquash the stereo overheads and give it some real dynamics. Our conversation about what we were going to do, it didn't exist. We started jamming, and then we just went in and listened to it and added some percussion. We kept trying to add keyboards to this record, on every song. None of them fit. Neither one of us is a good keyboard player, but we're obsessed with keyboards.
You and Dan could go down a rabbit hole and waste a lot of time trying parts out.
We both kind of zone out in the studio sometimes, and we allow each other to do that. Then, if after an hour and nothing's happening, we just go on. But we're both equally happy to fuck around with the sound for a long time. We kept trying to do these keyboards, but they weren't working. We kept adding guitar. I was sitting in the control room with a guitar, and Dan had a guitar, and we'd just layer guitars. Eventually we just decided to not put keyboards on the record. This record was mostly about us getting back in the studio for the first time in five years. The last time we were in the studio, we made Turn Blue. Dan was in the depths of turmoil, really. He had a gnarly divorce going on.
With you guys, you gotta think about this band. "Do I get this band rolling again?" Is The Black Keys like that?
It's my life. It's Dan's life too.
Right. But you have to ask, "Am I ready to do all this again?"
I'm not ready to ever do some of the things that we've done. We have trouble communicating sometimes; I think this record we just got back in there. We started talking and figured out what we wanted to do. My main goal with this record was to make something we were both really happy with. That was it. If there's a single on it, great! If there's not, who fucking gives a shit. I want Dan to be happy when he's doing The Black Keys and know that it's there. If I think back about why he might not have been [into it] for a minute, or why he wants some space, it's like, "Oh, I get it. We finished a record, we went on tour for 90 days, and you're in the midst of a divorce." I should have known better. Maybe I just thought, "Oh, it's good for him to get on the road." It probably wasn't. It used to be for us that we would turn in a record like Brothers and get an itinerary sent back to us. "You're on the road starting in mid-May. You'll be home for Christmas, and then you'll go back out." We ended up playing Saturday Night Live for the first time in January of 2011. We were supposed to go to Australia for a month and then Europe for two months, but we canned the whole fucking tour. We paid $200,000 to promotors to not go on tour. That was most of the money that we'd made the previous year. But we just thought, "We're going to go home, and we're going to go make a record. That's what we like to do. We don't want to do this shit." And we went and made El Camino. Everyone was like, "You guys are fucking morons! You could have toured that record for another two years if you wanted." I've never looked at it like that.
You have to keep an eye on what really matters to you.
Everyone is so obsessed with this authenticity, and all we're getting is manufactured authenticity most of the time. My relationship with music is that it's all circumstantial. I happened to be born into this household where my uncle was a musician. I happened to grow up around the corner from this talented singer and guitar player. It's all circumstantial, but it comes from this very pure spot. I know the things that I have sought out and aggressively tried to get in my life never work out. I think music needs to be made, and come, from the purest part of you for it to transcend.

Tape Op is a bi-monthly magazine devoted to the art of record making.