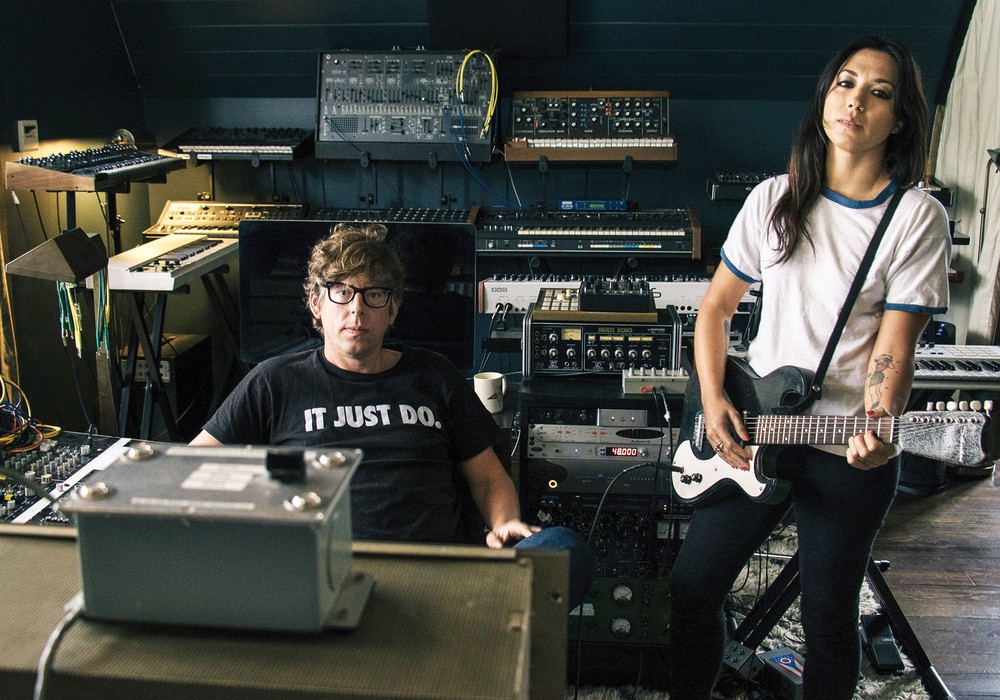 As one half of The Black Keys with Dan Auerbach [Tape Op #127], Patrick Carney has witnessed their band achieve the sort of commercial success they would have once considered impossible. But more than "just" a drummer, Patrick is actually a guy who found his way into this band by being into home recording. Many of the early Black Keys' albums were "homemade" by the band, and they've been hands-on with producing and recording ever since. Patrick's career as a producer has seen him work with Jessy Wilson, Calvin Johnson, Tennis, The Black Lips, The Sheepdogs, and *repeat repeat, as well as Michelle Branch, Patrick's wife and a very talented musician in her own right. Dan and Patrick had completed Let's Rock in 2019 when I rolled up to visit his Audio Eagle studio outside of Nashville.
Photo: Patrick and Michelle at Audio Eagle

How did The Black Keys begin?
We grew up together. In high school we would fuck around on my 4-track. Then Dan bought a 4-track, and we'd fuck around on his. We'd bounce back and forth.
4-track cassette recorders?
Yeah. Then a couple years later, we were both making music independent of each other. He was kind of in a bar band, and I had an indie pop band. I had decided that I wanted to become a recordist; I wanted to record bands.
Were you more fascinated with the idea of making the recordings than being in a band?
I was more interested in making records, at the time. I think most people just obsess with music. For me, it wasn't necessarily tedious practicing and learning skills – it was listening and getting into the sounds. I ended up buying a Korg digital 12-track in the summer of 2001. I didn't have any money, so I got a Sam Ash credit card. I sat with it the whole summer of 2001, because I had lost the shitty job I had and I was desperately poor. I had a summer off, and I was about to go to college at the University of Akron for my third year, not knowing what the fuck I wanted to do. I just played with this recorder and I got pretty good with it. Dan was like, "Do you want to record my band?" I said, "Of course, man! Come over to my house." He showed up and we waited on my front porch. It was a late, hot, summer day. The other guys never showed up. Dan was like, "Shit, why don't you play the drums?" I was a guitar player; I could barely play the drums. The only time I'd ever played the drums was when I played with Dan years earlier. So, I recorded this demo. It was one afternoon for a couple hours, playing some songs I'd never heard; covers, mostly. Then we got a fucking record deal, and I became a drummer!
How did the record deal come about?
I spent a couple weeks mixing this on headphones. Then 9/11 happened; Dan had dropped out of school, and I was about to. It was a weird time. It was like, "We should just start a fucking band, and this is it!" This whole demo turned into a demo for a band, and we named the band The Black Keys. My brother made a cover, and we sent it out to a list of probably about 20 small labels. We ended up getting an offer. Then I had to become a drummer. But our thing early on was that we'll just make our own records, because it's cheaper. We also think it's a fun way to spend our time.
When I interviewed Dan I hadn't realized is that you guys had a band and a recording before you played your first show.
We had finished our record [The Big Come Up] completely and had it mastered before we played our first show. That was the fun part. Then we toured that. We started getting some heat on that first record. The White Stripes, The Hives, The Strokes, The Shins and all those bands were hitting, and we were the second wave of bands that hadn't been signed. We got flown out to a studio in Berkeley, California. This guy, Jeff Saltzman – who went on to produce The Killers' [Hot Fuss] record the next year [Not to be confused with Jeff Stuart Saltzman in Portland, Oregon. -LC] – was a manager for Green Day for a while. He had started this studio; he flew us out and said he wanted to produce us. He recorded six songs of ours. I went back and listened to them recently, and they sound good, but at the time we were like, "This is so produced!" We didn't really know what we were talking about. We were so insecure with letting someone else do stuff.
Close the ranks. It feels safer sometimes.
That's what we did. Actually I think it became our secret...
The rest of this article is only available with a Basic or Premium subscription, or by purchasing back issue #136. For an upcoming year's free subscription, and our current issue on PDF...