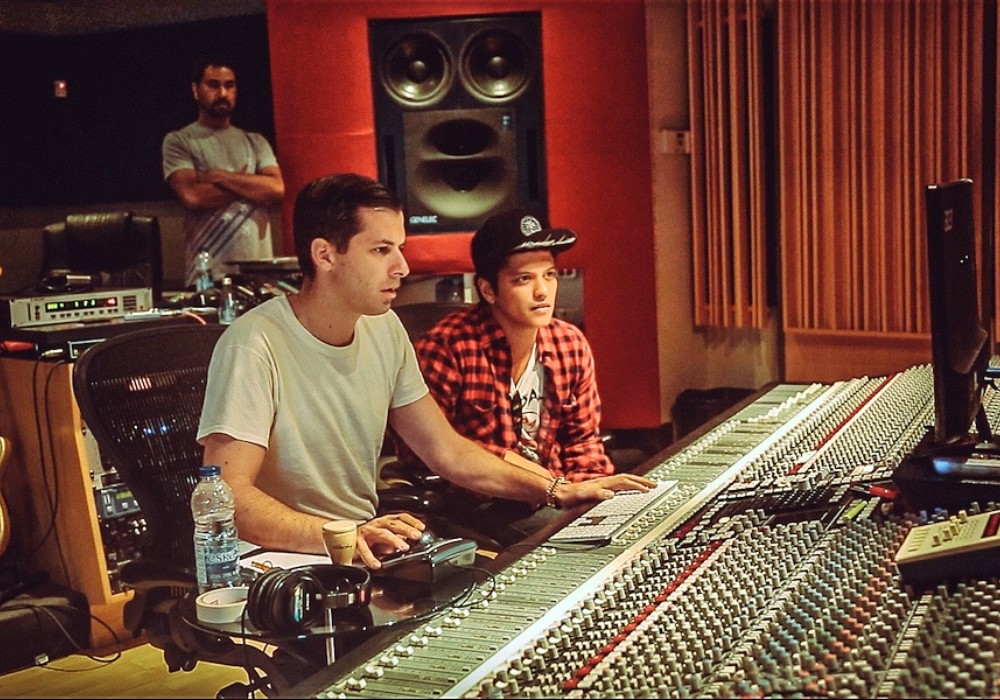 Mark Ronson got his start as a young DJ in NYC before going on to work with Amy Winehouse, Nikka Costa, Lily Allen, Macy Gray, Saigon, Adele, Paul McCartney, Duran Duran, and many others. Mark's own albums have showcased his work, featured many guest singers, and even spawned a hit with Winehouse's cover of The Zutons' "Valerie" in 2006. His recent album, Uptown Special, features vocals from Bruno Mars and lyrics by novelist Michael Chabon. Co-producer credits go to Jeff Bhasker, and even Tame Impala's Kevin Parker [Tape Op #95] makes an appearance.
Growing up, your stepfather was Mick Jones?
Yeah. Mick Jones from Foreigner, not Mick Jones from The Clash.
You always have to delineate that!
Mick and my mom aren't married anymore. He's an awesome musician. He was an amazing producer [Van Halen, Bad Company, Billy Joel, The Cult]. He had some great partners, like Thomas Dolby and [Robert John] Mutt Lange in the '80s. Those Foreigner records, and how amazingly pristine and clear they are, were part of the reason that I think rock radio exploded in that era. It was taking from the '70s, building on everything that Led Zeppelin, The Beatles, and The Beach Boys had done. But, all of a sudden, there was this new multitrack technology that they could really take advantage of. A lot of that gets a bit of a bad rap. I listen to the vocals and arrangements on the first [self-titled] Foreigner record, and I'm always blown away. You sometimes forget how great sounding it is, even though it wasn't critically acclaimed at the time.
Knowing Mick was making a living in the music biz, did that influence you in a way?
I definitely was on the path where I would have done it either way. My real dad wasn't a musician, but I was obsessed with drum kits from the age of 2. I had a mini drum kit; I'd wake up in the middle of the night while my parents were having parties and I'd play air drums in front of the speakers to whatever was playing. I think I was on the way. We had one of the early AKAI 8-track recorders that ran on Betamax tapes that I taught myself how to use. He had a Synclavier [early digital sampler/synthesizer] in the house, which was wild. I would take songs that I loved and recreate them on the Synclavier. It can probably be traced a little bit to the covers record [Version] that I did later. I loved the songs so much that I wanted to get inside and see what made them tick. The version was a bit different, because I was changing the arrangements and adding certain colors. He had an [Akai] S950 [sampler], and when I got into hip-hop in high school there were three kids who rapped, so they'd come over and I learned how to make beats. He had two S950s, and I didn't know how to sync them. I wasn't that knowledgeable with the equipment, so I'd get the loops as close to a tempo as possible and hit "start" on both machines at the same time. One time this kid, who was a rapper, came over and told me that it was the same concept as DJing, and that if I really liked it I should try the process. It's blending and matching beats.
You were a teenager heading to downtown New York and DJing, back in the day?
Yeah, when I was about 17 or 18. I'd listen to Stretch Armstrong, Funkmaster Flex, or Red Alert on the radio and try to teach myself routines by listening to them. I wasn't pushy, but I was super eager. I'd DJ for nothing. I literally took my turntables and speakers in the back of a taxi in the middle of a snowstorm to a bar to play. I'd do anything. First you want to get the gigs, and second you just love doing it so much. Like why wouldn't I love to do this? Over the course of three or four years I made a name for myself, playing in hip-hop clubs downtown. At first it was more underground rap stars, like DJ Premier from Gang Starr. Then suddenly Biggie [Smalls], Jay Z, Puff Daddy, and people like that were coming to our low-key, downtown New York spots. Puffy took a shine to me and liked the way I DJ'd. I was really good at a hip-hop set, but I was also really good at digging for the breaks. If there was a new Busta Rhymes song, like "Put Your Hands Where My Eyes Could See," I'd make sure to find the original steals and cross-samples...
The rest of this article is only available with a Basic or Premium subscription, or by purchasing back issue #105. For an upcoming year's free subscription, and our current issue on PDF...