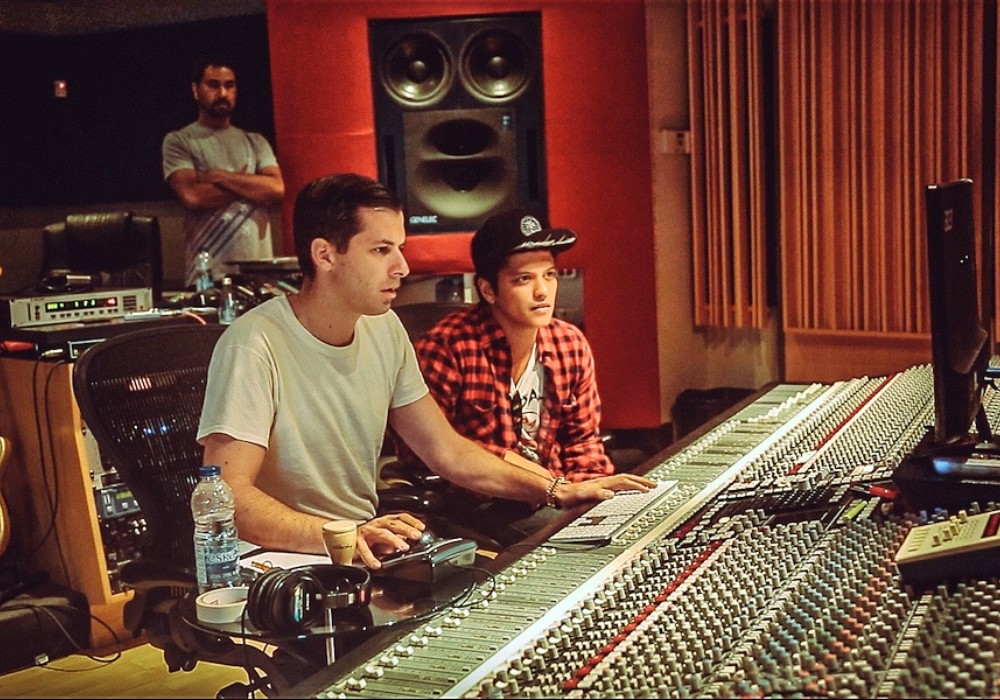 Mark Ronson got his start as a young DJ in NYC before going on to work with Amy Winehouse, Nikka Costa, Lily Allen, Macy Gray, Saigon, Adele, Paul McCartney, Duran Duran, and many others. Mark's own albums have showcased his work, featured many guest singers, and even spawned a hit with Winehouse's cover of The Zutons' "Valerie" in 2006. His recent album, Uptown Special, features vocals from Bruno Mars and lyrics by novelist Michael Chabon. Co-producer credits go to Jeff Bhasker, and even Tame Impala's Kevin Parker [Tape Op #95] makes an appearance.
Growing up, your stepfather was Mick Jones?
Yeah. Mick Jones from Foreigner, not Mick Jones from The Clash.
You always have to delineate that!
Mick and my mom aren't married anymore. He's an awesome musician. He was an amazing producer [Van Halen, Bad Company, Billy Joel, The Cult]. He had some great partners, like Thomas Dolby and [Robert John] Mutt Lange in the '80s. Those Foreigner records, and how amazingly pristine and clear they are, were part of the reason that I think rock radio exploded in that era. It was taking from the '70s, building on everything that Led Zeppelin, The Beatles, and The Beach Boys had done. But, all of a sudden, there was this new multitrack technology that they could really take advantage of. A lot of that gets a bit of a bad rap. I listen to the vocals and arrangements on the first [self-titled] Foreigner record, and I'm always blown away. You sometimes forget how great sounding it is, even though it wasn't critically acclaimed at the time.
Knowing Mick was making a living in the music biz, did that influence you in a way?
I definitely was on the path where I would have done it either way. My real dad wasn't a musician, but I was obsessed with drum kits from the age of 2. I had a mini drum kit; I'd wake up in the middle of the night while my parents were having parties and I'd play air drums in front of the speakers to whatever was playing. I think I was on the way. We had one of the early AKAI 8-track recorders that ran on Betamax tapes that I taught myself how to use. He had a Synclavier [early digital sampler/synthesizer] in the house, which was wild. I would take songs that I loved and recreate them on the Synclavier. It can probably be traced a little bit to the covers record [Version] that I did later. I loved the songs so much that I wanted to get inside and see what made them tick. The version was a bit different, because I was changing the arrangements and adding certain colors. He had an [Akai] S950 [sampler], and when I got into hip-hop in high school there were three kids who rapped, so they'd come over and I learned how to make beats. He had two S950s, and I didn't know how to sync them. I wasn't that knowledgeable with the equipment, so I'd get the loops as close to a tempo as possible and hit "start" on both machines at the same time. One time this kid, who was a rapper, came over and told me that it was the same concept as DJing, and that if I really liked it I should try the process. It's blending and matching beats.
You were a teenager heading to downtown New York and DJing, back in the day?
Yeah, when I was about 17 or 18. I'd listen to Stretch Armstrong, Funkmaster Flex, or Red Alert on the radio and try to teach myself routines by listening to them. I wasn't pushy, but I was super eager. I'd DJ for nothing. I literally took my turntables and speakers in the back of a taxi in the middle of a snowstorm to a bar to play. I'd do anything. First you want to get the gigs, and second you just love doing it so much. Like why wouldn't I love to do this? Over the course of three or four years I made a name for myself, playing in hip-hop clubs downtown. At first it was more underground rap stars, like DJ Premier from Gang Starr. Then suddenly Biggie [Smalls], Jay Z, Puff Daddy, and people like that were coming to our low-key, downtown New York spots. Puffy took a shine to me and liked the way I DJ'd. I was really good at a hip-hop set, but I was also really good at digging for the breaks. If there was a new Busta Rhymes song, like "Put Your Hands Where My Eyes Could See," I'd make sure to find the original steals and cross-samples to put in the set before I dropped the track in. That was a process, digging and trying to find the samples. Puffy would take me around the world with him to DJ spots while he was on tour, and Jay Z started booking me to play his parties. That was around the same time I was introduced to Nikka Costa through Cheeba Sound, this label on Virgin. That was my first record. I was producing a lot of shit. I had an [Akai] MPC. I'd been learning for a long time to make beats, but that was for my DJ sets. I'd play Biggie, EPMD, Rufus, Chaka [Khan], and AC/DC in my sets and blend them together. This [label] guy was like, "I don't know if you can make music; but if you can, and it's the same way that you piece together sets with these influences, that's what we'd love this girl's album to sound like."
Did you have music lessons before this?
Yeah. I'd played in bands from the age of 14 or 15. I had my high school band [with Sean Lennon] called the Whole Earth Mamas. Our singer named us spontaneously on stage one night. We were three white kids and two black dudes, all city kids. We were heavily influenced by 24-7 Spyz, Living Colour, and all that Black Rock Coalition music that was happening in New York at the time. We'd play all-ages shows, but we'd also get on the bill at Wetlands opening for Spin Doctors. We were also at Desmond's Tavern, and up and down Bleecker Street. We had a little following of like 30 or 40 high school kids. We'd also have rappers come up on stage, but we were just playing loose jams. That's when I was getting into hip-hop and I figured out that I wanted to start DJing. I loved hip-hop; but I didn't really like playing it with this band and I couldn't rap, so I figured I'd DJ. Then I got an [Akai] MPC and taught myself sampling, chopping breaks, and a lot of that shit I love. At the time, when you said the word "producer," I was thinking that my favorite producers were DJ Premier and RZA. I didn't know a thing about mic'ing a drum kit. I would just mic a vocal with my Audio-Technica mic in the bedroom if I had rappers come in to record. What was cool is when the Nikka thing came around I got to start re-exercising the process of playing and being a musician. Not that I was especially great. We had the luxury of working with Pino Palladino, Questlove, and all that on the record. That's when I realized as a hip-hop producer, I was never going to be as good as DJ Premier, or any of the guys I idolized, strictly on a beat basis. I realized that by combining the other things I was decent at — a little bit of playing and understanding musicianship — that I was trying to forge my own character. I thought, "If I mix up some of these things, at least it's becoming my own thing." I think that's what it became.
So you started using more instruments in the studio?
I got infatuated with putting live instruments on my first record [Here Comes the Fuzz]. It was a combination of having hip-hop beats chopped up and getting Questlove to play drums. Those elements started coming in. Finally, sampling a song by the Dap-Kings on my first record opened up that relationship. When I met Amy [Winehouse] a couple years later and we did the demos for Back to Black, I played her some Dap-King recordings and figured we should bring those guys in to play. I did my shitty plug-ins to try to make things sound old. I knew the differences in drums would make something sound new or old, but I definitely had no knowledge of the mic'ing and all the glorious, amazing things that I found out about in Daptone Studios when Gabe [Roth, Tape Op #59] was getting drum sounds. I've had maybe three musical moments in my life when I've felt like I'm floating while hearing something, just having an out of body experience. One of those moments was walking into the control room at Daptone on day one of tracking Amy. Gabe was at the desk getting drum sounds, and we were listening off the repro head. It was even more spooky because I was watching Homer [Steinweiss, drums] through the window and it wasn't in sync with what he was playing. I was hearing the most beautiful drum sound. I don't mean "beautiful" in the sense of pristine. It was like the sound that I heard in my head, that drum break that I'd been searching for — and here's this guy playing it live in a session, and he's going to be able to play fills and do whatever we want. We're no longer beholden to this one bar loop. Here's this incredible drummer and amazing engineer, with the best sound ever. That was it. When I walked in the room, I wasn't thinking it would change my life. It was just too much to even take in. I learned so much from Gabe and [guitarist] Tommy Brenneck, who has Dunham Studios. I learned everything from them, pretty much.
Even with Uptown Special, it seems like there's an attempt to make the live musicians sound like they're part of an older record, sonically.
I guess... I don't know if it's because that's my first instrument, but it always starts with a drum sound for me. An average guitar sound cannot ruin a song the way a bad snare can. Picture any of your favorite songs and put some '80s gated reverb on that shit. You can imagine it in your head. It's ruined. I'm not saying I was still doing that one mic, just a [RCA] 77 on the kit, as before. It's evolved. But I've learned how to get those sounds in my head, a little bit. The best thing, obviously, is when you discover whole new sounds. I'm not necessarily ever trying to recreate an era, like, "Oh, let's copy this record." It's just when it starts to sound good, when I get the crack on the snare and I feel like it sounds like a record. It doesn't have to be a record from the '60s or '70s. It just starts to sound like a record. What was great about going to Royal [Studios, Memphis, Tape Op #44] and recording there was that it was a different setup. I could no longer fall on my go-to knowledge of where to put the kit, or how to mic it. It was fucking harrowing the first day. I was wondering if it was a bad move. Maybe I couldn't get that sound that I wanted there. It sounds ridiculous to say in a place where they've recorded [Al Green's] "Love and Happiness," but everybody's laying around, and you've got the drummer hitting stuff for three hours. The first day of recording is always the most terrifying anyway. I love the fact that on this record there are a lot of songs that have a wider sonic palette. There were more mics on the drums. It's like an evolution of what we're doing, and it's also nice that I've leaned so heavily on Gabe and Tommy's expertise on other records. I think that having to do it myself this time, and just being forced to do it, was great.
"I was wondering if it was a bad move. Maybe I couldn't get that sound that I wanted there. It sounds ridiculous to say in a place where they've recorded [Al Green's] "Love and Happiness," but everybody's laying around, and you've got the drummer hitting stuff for three hours..."
At Royal were you working with the engineer, Boo [Lawrence "Boo" Mitchell]?
Yeah, of course. Boo knows the tricks. But I have to start from scratch. It's not because I'm micromanaging. I just have to have my hands on the EQ and the board, turning the knobs. Even if there were somebody psychically linked to my hand, turning the knobs how I wanted it, it wouldn't be the same. Boo was extremely valuable with everything I did. He could hear certain things and know when to suggest changes. He has such a fucking good vibe too. It was awesome. I'd never been to Memphis before, and I'm not an Elvis nut, so it wasn't on my bucket list. Me and Jeff Bhasker, who co-produced the record with me, stopped in Memphis and went to Sun Studios. It was amazing. They have this great young engineer, Matt [Ross-Spang]. It's so cool that there's someone there who knows the shit and is excited to get [the studio] back up to snuff. We recorded there one night. We had another night off and we went to visit Royal. First of all, Memphis just completely bowled me over as a town. I was completely taken by it. I was like, "Holy shit, I'm feeling something quite heavy." Jeff and I went into Royal, and I was just like, "Jeff, we've got to come back here to record the album."
That room is totally unique.
It's just magic. It's magic sonically, and magic from a creative-vibe place. You want to sit down and start playing everything. It's amazing. It was so cool to go down there and be cut off from everything. I have that same MCI 500-series [mixing] desk at my place in London. I fell in love using it on drums. I just love that desk, the pres, and everything. It was funny to go 4,000 miles away to Memphis and be sitting at the same desk — the same color and everything.
So many American records were made through those consoles back then.
Yeah. I found an old ad from Billboard for the first one. Lynyrd Skynyrd and the Bee Gees are standing together over it, posing. Yeah. [AC/DC's] Back in Black, Saturday Night Fever, all the Sly and Robbie shit [at Compass Point Studios]. That's probably where I heard about it, from Sly and Robbie, and the Tom Tom Club. That's what made me want to check it out. All the English engineers are kind of grumpy, like, "Oh, why don't you get a real desk?" But I think it's great for me.
What was this road trip you and Jeff took? How long of a time period was that?
It was about ten days. We started writing the record, and there were a couple of songs that we imagined having this young, Chaka Khan type voice on. One was kind of a "You Got The Love" era and the other was a "Do You Love What You Feel" thing. Jeff is this fucking eccentric character. We had these two songs and Jeff, late one night, said, "You know what? We're going to do this thing called the Mississippi Mission. We're going to drive to Mississippi, to the roots of America." Jeff's a Berklee jazz dude who's toured with gospel bands, and he has a love, like mine, of American soul music and R&B. We were going to go to these churches. We thought about how we could put it into reality. All we did was call a lot of churches in the South and see if we could go on a trip through Mississippi to hear people sing. We didn't say that we were auditioning people. That sounded obnoxious. We just wanted the trip for ourselves. We saw so many good singers. We went to New Orleans, Baton Rogue, Memphis, St. Louis, Little Rock, and Chicago. It was just amazing. In Jackson, Mississippi, we discovered this singer, Keyone [Starr], who had this incredible voice. It was the voice we were looking for. She was the coolest girl we saw. The trip was so amazing. It was a treat, going to churches and hearing people who could sing that well. You can be atheist, agnostic, super religious; no matter what... if you like soul, rock, funk, hip-hop — all the shit goes back to that source. Sitting in that place, you have to put aside your views about church and everything. You better respect this, because without it, all that shit you love doesn't exist.
Exactly. The roots of it all. You also did a lot of work with Kevin Parker [Tame Impala] on this record, right?
Yeah. When we went to tour in Australia with him three years ago, we got to be friends. I have so much respect for him. When we started writing some of the songs with Michael Chabon, the author who wrote all the lyrics, I was demoing them out. Kevin was into the project. He came out to Memphis to sing a few songs and write some lyrics. It was wild. Here's this guy in arguably the world's most famous new rock band, and here he is, coming all the way from Perth to Memphis for five days. Kevin's such a talented multi-instrumentalist. Just having him around to play a tiny bit of drums on one thing, or sing background on the Andrew Wyatt song, was a treat — let alone the three songs he co-wrote and sang lead on. He's made every record like a bedroom record, whether it's a bedroom record or not. It's him. You know it. He has this cliché bedroom genius vibe. I think that to have somebody else record him, or be a little produced, was an interesting experience for him. At one point while he was there myself, Jeff, Michael, Andrew Wyatt, Keyone, Emile Haynie, and Kevin had this creative vibe going around.
Your albums have a varied feeling, with all the different singers. In what ways do you also look at the project as a whole in order to find cohesion?
On this record, I really wanted to make sure that we didn't do that. Everyone on this album is on at least more than one song. I think, because I wrote the bulk of it with Jeff, and most of the lyrics with Michael, that it already has a pretty solid ground of cohesion; plus recording in Memphis and having the same main group of musicians. There are definitely two opposing forces. There's this thing that we set out to do, which is a jazz, solo, R&B-based album, with lyrics that tell rich stories. Then Memphis got into the record. I guess that DJing in clubs, so much of my shit is still informed from my DJ years. The meat and potatoes of your set, playing in a black music club in New York in the '90s and 2000s, was funk, soul, disco, reggae, and hip-hop. Those are all things that always fit together in my palette; regardless of how foreign, or disparate, they seem to other people. That's what I've been doing for 25 years.
Your TED Talk about sampling got a lot of attention recently.
Yeah. They asked me to give an overview of music from the last 30 years. I started freaking out and reading all these books that everyone reads to get inspired. But then I was like, "I've got to talk about something that I know, and not give some lecture on the analog to digital revolution." I think that the most important thing in modern pop music was the advent of affordable digital samplers. I wasn't setting out to make an impassioned defense of sampling either. It's just that this is what it is now. All our music comes from this, and this is how it happened. First of all, it was terrifying giving a TED Talk, because you want to sound smart. You have to talk to people who have no idea about your subject matter, but you also don't want to be condescending to those who know about sampling already. There were so many things I was worried about getting fucked up, but I'm glad that it seems to have resonated well. My engineer at my studio in London is a young kid out of engineering school, and he said, "We watched your TED Talk when I was in music class at university." I think it's awesome that something you did, talking about what you care about, can become a tool for teaching people.
Tape Op is a bi-monthly magazine devoted to the art of record making.