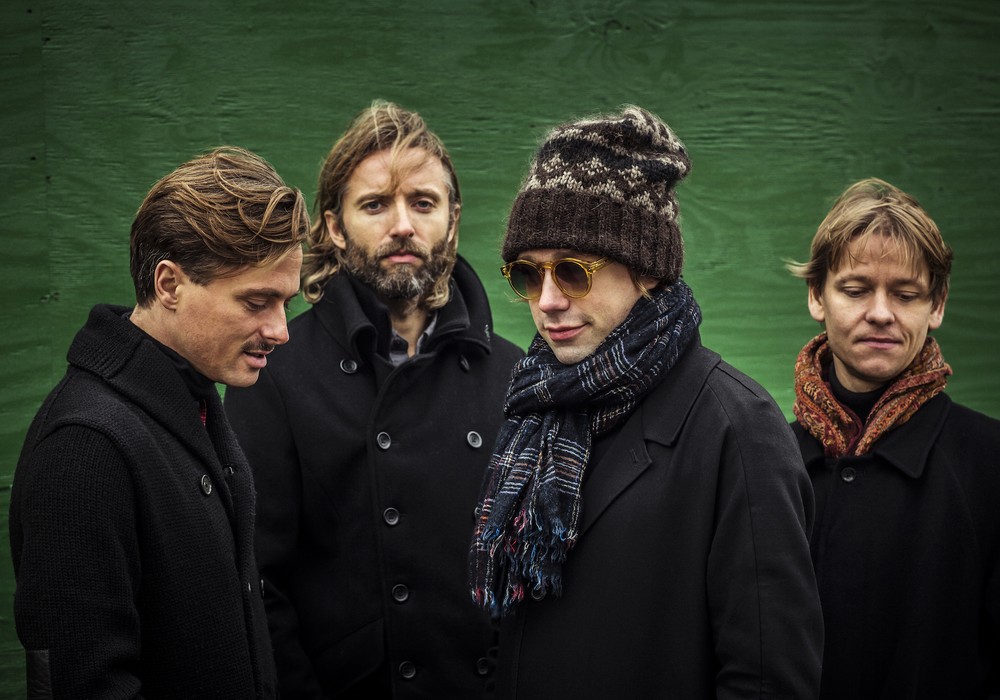 Formed 20 years ago in a suburb of Copenhagen, Mew was first in a wave of indie bands to come out of Denmark. While their earliest recordings may hint at more challenging music to come, nobody could have anticipated that they would eventually create some of the most complex pop music ever made. Their songs effortlessly blend indie pop, prog, electronic, dance, and orchestral rock. The band wasn't afraid to play with time signatures, nor were they restricted by convention, only to reveal themselves after multiple listens. Slots supporting R.E.M. and Nine Inch Nails have elevated their status further. (R.E.M.'s Mike Mills once told me that "The Zookeeper's Boy" was one of his favorite songs of the last ten years.) They have been extremely active in the recording process, and have released many video snippets of their creative methods, going so far as to include a bonus DVD detailing the making of ...And The Glass Handed Kites with their concert film, Live In Copenhagen. The 2015 release of the album + - marks the return of bassist Johan Wohlert, who amicably departed in 2006, reuniting the unparalleled rhythm section that is him and drummer Silas Utke Graae Jørgensen, along with guitarist Bo Madsen. I sat down with singer and multi-instrumentalist Jonas Bjerre to discuss their history and surprisingly diverse collaborations, as well as the new album's journey from defunct auto garage, to the basement of a piano shop, to a high-end facility, to eventually helping to resurrect a legendary Copenhagen studio.
Before Mew, did you have any early experiments with recording?
I did actually. The most wonderful present I ever got was when my dad bought me this beige Tascam 4-track. I still have it, but it doesn't work anymore. It had a high speed setting, so you could get better quality. In some ways that was always my favorite instrument. It was obviously a very small "studio," but it was a means to learn how to multitrack, and get different instruments to work together. There's a video on YouTube of one of our earliest demo versions of "Panda" that was recorded on that 4-track. It sounds pretty good.
Were you just recording your own songs or as a band?
We did some stuff as a band with that 4-track. I was very prolific then. It's very different now, but back then I'd write a song almost every day. I think the limitation of having four tracks was very good, because you just had to make it work. I'd have a vocal track, acoustic guitar, and then I had an old accordion that my grandmother gave me, and then maybe a track for some percussion. That was how we recorded in the beginning. I found out later that you were able to bounce down tracks, and that obviously opened things up a bit.
With your new education did you start to listen to music differently? Were there any albums that stuck out as particularly inspirational?
I loved The Beatles' Magical Mystery Tour record, and Pet Sounds. Later I read how Brian Wilson saw the studio as an instrument, and a way of orchestrating things. Recording is one of my favorite bits of being in a band. It's wonderful to make it all come together like that.
You often double your voice with the piano too.
Yeah, we do that live as well. Nick [Watts, touring keyboardist] plays a lot of my melodies as I sing. It's nice; it makes me sound good!
Do you ever take into consideration how you'll play a song live when you're making production decisions?
No. We do have a lot of challenges with that, but it can't really interfere with making the album. We figure it out later. Having Nick helps — he's definitely a multitasker.
How did the Bang & Olufsen partnership happen?
We're not on Sony anymore. There was very little of our team there toward the end, and it felt right to move on. It just doesn't make sense for us to be on a major label, or even a traditional label, because times are different now, and a label's role has changed a lot. We're really trying to do everything on our own terms and finding the right partners to do interesting things with. The people at B&O Play are just very curious about how we do things, and wanted to do something with us. We talked with them for a long time, and ended up making a unique app. They're collaborators, but they aren't putting out the record. We're doing that with Play It Again Sam. One of the frustrations of being on a major label had been that territories, which we feel are very important to us, like France and Germany, have been difficult to navigate. Obviously we had some muscle there, because we were on a major label, but still, they didn't sign you, some guys in America did, and they might not like the band. If you have five people working for you at a label, and none of them understand what you do, you're kind of screwed. Even if they'll put it out, they won't really back it up. That's just natural, how it is, and I don't think that model works very well anymore, especially now that record sales are so low anyway. When we were considering labels, we wanted to make sure that the people who would be working with our music really wanted to, in all territories. With Play It Again Sam, we feel we've gotten that, and much more. It's been a pleasure working with them so far, and I feel like we're in good hands.