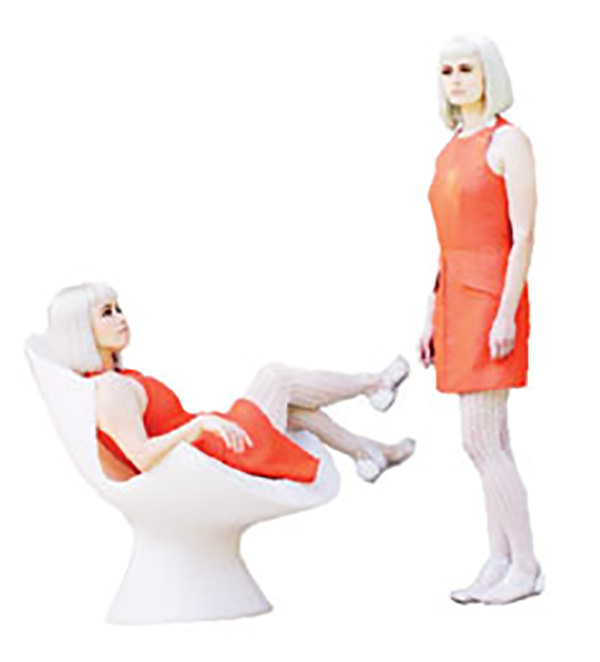 Dan Molad may be best known as part of the band Lucius, or for his current solo release as CHIMNEY, but he's also been involved as a producer, collaborator, and musician with a lot of interesting artists. JD McPherson, Elizabeth & the Catapult, Pavo Pavo, San Fermin, Here We Go Magic, and, of course, Lucius have all benefitted from his studio experience. We'd met at my studio while working on a jingle for Larabar a few years ago, so while visiting Portland he dropped by Jackpot! Recording Studio for a pleasant chat. Be sure to check out the new Lucius album, Nudes – a lovely, live-in-the-studio, acoustic record they tracked in two days at Electric Lady Studios in NYC, with engineer Joe Visciano.
That's interesting.
They share all the same prerequisite classes, up until about the second or third year. Then summers [home] from college I interned at West Side Recording Studio in Houston, where I grew up. I was learning Pro Tools by recording my friends. When I was in college, I started a band called Via Audio. We toured a little bit and got a record deal with SideCho Records. We got noticed by a couple different producers, one being Chris Walla [Tape Op #19, #111] from Death Cab for Cutie, and Jim Eno from Spoon [#27]. They were both saying, "Make a record with me." We ended up going to Austin, and we were one of the first bands to make a record at Jim's new studio, Public Hi-Fi. Have you been there before?
I was there back when it was in the garage.
Oh, wow.
I went back right after they were opening the new space, to say hi to Jim and Britt [Daniel]. It was like, "Oh, this is different!"
Yeah, he really did it right. It was so great. I got to learn a lot from watching Jim operate. That was also sort of around the time I met Elizabeth Ziman, and we started Elizabeth & the Catapult. Eventually I left Via Audio to pursue the Catapult full time. We were playing all the Lower East Side venues; The Living Room, Pianos, and Rockwood Music Hall. We got the attention of Blue Note and Verve Records. This was right around the time when there were lots of female songwriter artists who were emerging, like Norah Jones, The Bird and the Bee, and Ingrid Michaelson. We ended up signing to Verve. Elizabeth and I were in a relationship at the time, and we were in a band together for two records. The first one [Taller Children] we did with Mike Mogis [Tape Op #51] in Omaha. I started producing the record before we got signed, but passed the production duties to Mike once we began working with him. At Mike's studio, we ended up getting to this place with the record where he was starting to mix, but we were running out of time and we still had things we wanted to record. He was like, 'Go in the B-room.' I got to learn on his '70s API console, futz around, and work with all this cool, old gear that I hadn't really had much experience with. I've made a bunch of records there since.
He's a bit of a gear hound, I hear.
He is, for sure. We released that record when I was touring with the Catapult. Elizabeth and my's relationship sort of faded as a couple, but we tried to stay a band for one more album [The Other Side of Zero]. We ended up making that record with Tony Berg [Tape Op #121]. I met Tony, and Shawn [Everett, #115], who was his engineer at the time. It was another experience where I got to learn so much from two brilliant guys. I'd never seen someone engineer in Pro Tools as fast as Shawn. It was quite a sight to behold. Tony's a real teacher; he loves to foster talent. Through all those experiences I realized that in any band I've been in, even though I have the ability to record and make arrangement choices, if there is an opportunity to work with someone else, I will always take it. I get to have a master class and take home all these new methods of working, and then implement them in my own projects. It's so fascinating to learn how other people operate and do things, whether it's on a technical or psychological level. It's so much more about the relationship you develop than it is necessarily about 'what you know.'
Coaching someone's performance, or catching, "Hey, that drum part's kind of weird. Do you want to rearrange that?" That's what makes great records.
Yeah. Lucius just did a little bit of recording with Richard Swift [Tape Op #120].
I thought he said you guys were coming down when I interviewed him.
Yeah. We talked about Bob Dylan records, where you can hear the popping of the mic, like the "P" plosive. No one thinks about that when you're listening to those records.
Yeah. What does that matter, really? When did you meet Holly [Laessig] and Jess [Wolfe] and join Lucius?
I met Jess in college, but didn't get to know each other until a few years later. After college, Elizabeth & the Catapult were playing a show in New York at City Winery and Lucius were opening. Jess and I reacquainted at the show, and a few months later we started dating. A few months into our relationship, Jess asked if I would help her and Holly explore trying to give Lucius a more aggressive sound. The two of them had already put out a record [Songs From The Bromley House] that was more adult alternative.
A little straighter than now?
Yeah. Jess wanted to make something they could dance on stage to. It became this exploratory thing with the girls and me, where I would show them an instrument, or play a part, and be like, "You mean something like this?" They'd say, "Yes, yes," or, "No, no." It was a lot of me jumping around on different instruments, coaching them a little bit, and then them coaching me on what they were trying to do. I guess I have this thing of being in bands, but as a producer. It's like I'm an MD in the studio or something. I also brought in Pete Lalish [guitar, formerly also of Elizabeth & the Catapult] for a session. They loved Pete, and we all got along well. We finished this album that was mostly the two of them and me, which became the first incarnation of the Wildewoman album. We brought it to Shawn Everett to mix. I introduced the girls to Tony Berg, and he let us use his space and work mostly with Shawn. Tony was around for some of it too. After the record was done, and Shawn had mixed it, we were getting the band together. Pete ended up being a part of it, and Andrew Burri [guitar] was in, playing some shows. It was like, "Maybe we should re-track a couple of things and make this a real band record." We re-cut a third of the record, and then Shawn mixed it again. That ended up being what was the "real" debut record of Lucius, even though the girls had released another record before that. They wanted it to feel like it was a rebirth, because they're just such different records. That turned into two years of touring.
Were you even envisioning that that could happen with this band?
I don't know what I envisioned, but I had never really been in a band that went beyond a start-up level. I feel like I really love building things from the ground up. I take something where someone says, "I don't really know what I want this to be," and help them figure that out. Now the girls know much more of what they want. We go into the studio, and they have their songs and a really strong vision.
Lucius is definitely a really unique band.
On one hand, I like being a little bit in the background. The amount of responsibility that goes with being a front person: having all that attention, talking to all those people, and saying all the same things in interview, after interview' It seems nauseating to me. I got to experience a little bit of it with my solo record, and that was part of the impetus of me wanting to do it. I never would have thought that any of this would get to this point. I still pinch myself thinking about it. Now that Jess and Holly are on the road with Roger Waters, it's out of this world.
There must be a lot more attention folding back on Lucius because of his tour.
I think they knew that going into it. They sing lead on some songs. It's been a year now, and then there's another eight months of commitment that they're involved in.
I've never seen backing singers that are a presence on the stage in the way that they are. When they get to 'Great Gig in the Sky,' people are crying.
I've seen the show now seven times. I can look around at the audience, instead of looking at the show, and I can think, "There're 12,000 people here who all now know who Jess and Holly are." That's totally insane.
After all that touring for Wildewoman, Lucius did a second record [Good Grief] with Bob Ezrin [Tape Op #31], Shawn Everett, and you working on it. How did Bob Ezrin come around?
Bob was a recommendation from Tony Berg. We were talking to Tony, and asking him who he thought might be a good person to collaborate with Shawn, because Shawn is a sonic painter. He's grown a lot since making our record, but Shawn thinks texturally; that's his strong suit. We wanted to get someone involved who was more of a "song" person; someone who thought in a more zoomed-out perspective. The girls and I met with Bob, and had a really great meeting. At the time that it all ended up coming to fruition, his dad had gotten really sick, so he wasn't really around that much. It mostly ended up being just Shawn. I think we were in the studio with Bob for only a handful of days. We ended up gelling with Shawn. We had this box, called the Marnie Box. Before we would start recording any song, everyone would write down a couple of other [artists'] songs that they felt, in some way, could inspire something in the particular one we were working on. We would anonymously put them in the box. Shawn would pull out a song and play it on his phone. No one would know at first whose song it was, but we were all guessing whose song choice it was. We would just start talking, "What is this song making you feel, or think about? What do you like about, or not like about, the song?" Shawn would listen and chime in, but mostly he'd just listen to us discuss it and things that we would hear. We'd have this huge whiteboard with random thoughts and ideas on it, everything from dolphin calls, to wood instruments, to loud sirens, to "make it rock." It'd be super out there. Then we'd reference the board as we recorded the song. Sure enough, as soon as we'd be done with the song it'd be like, "Yep, everything is there." It was great; I loved that so much.
Where did you work at?
For Shawn's sessions, we did it all in his space in L.A., Subtle McNugget. The way that Lucius works is that the girls write the songs, and then they give them to Pete and I. It used to be Pete, Andy, and I, but now it's just Pete and I. We take their GarageBand demos, tear them apart, and put them back together. We'll record parts. Maybe if we feel like, "Oh, this is a cool harmony that doesn't quite match the melody," we'll try and switch a note, which they don't always love. But occasionally it works. Then we present it to them, and they either love the ideas or they don't. Then we have these "demos on steroids." I'm recording in a hi-fi fashion. What's great is that we go into the studio and we have the "girl's demo," we have the "boy's demo," and, at any point, we can pull from any of those sources. Good Grief ended up being a compound of some of the parts the girls recorded, some of the things we recorded, and also from Shawn's studio. The music that we demoed was at this rehearsal space called Bedrock.LA. We reserved the room for about a month, and it was so noisy from all the rehearsal rooms surrounding us. In some of the recording rooms you could hear the rumbling of someone playing "Enter Sandman" leaking through the walls.
That can be dangerous.
It was definitely hard to clear the mind amidst that. We'd also just gotten to L.A. It was just a cheap place where we could make loud noise. What we ended up realizing is that if we went there early in the morning – between 10 and 12 when they first opened – no one was around because musicians don't wake up that early. That's how that record was made.
That's a more modern process. The demo tracks don't go away.
I feel like you hear it every time you talk to more and more people these days. I'd read something with Kevin Parker [Tape Op #95] from Tame Impala, where he said that something from his demo always ends up being in the last incarnation [of the song].
What prompted the move from Brooklyn to L.A.?
Jess is from there. Eventually we were either going to go to where her family was from, or my family. It just felt like L.A. made more sense. There are more avenues for work.
You produced JD McPherson's Undivided Heart & Soul album. It's fantastic. How did that come about?
Thanks. JD was the first person who was an artist of note to say, "I'm going to have Lucius open for me." I remember our first gig with him in 2012 or 2013. We went to Cleveland to the Beachland Tavern, opening for JD. We played a handful of more shows for him, and he was really nice. We stayed in touch and remained friends. Down the line he ended up opening for us, serendipitously.
That happens in this business.
When we did the last tour with him, a handful of shows, I said, "I'd love to do something with you sometime." He said, "Man, I'd love to also, but I always assumed you were too busy." I was like, "Ask me! I want to do things." It was this culmination. He was looking for a producer, and he had just signed to New West Records. He told me that he had made friends with someone at the Country Music Hall of Fame who was offering RCA Studio B to him. I guess they were some fans who were engineers in-house at that studio. It was a funny situation. He had this friend, Scott McEwen [Fry Pharmacy Studios], who's a really great engineer. At Studio B there was barely any gear, so Scott trucked in his tape machine, some Ampex preamps, and all this old analog equipment. We thought we were going to do the whole thing to tape, but the tape situation wasn't really working, so we ended up recording on my laptop. We still went through the transformers of the tape machine, and we still had the room, the chamber, the plates, and the spring reverb. JD is a revivalist; he's got this classic thing, and everyone in that band are all music historians. They all can communicate in this way of, "I want the drum beat from this Ray Charles song, but combine that with this Eddie Cochran acoustic guitar part." They're referencing specific tracks. Meanwhile I was pulling out my phone and getting on Spotify to check what they're all referencing. I know those artists, but the specific parts from specific songs? I think he wanted to bring some modern edge to what he was doing. He'd observed my contribution to Lucius, knowing that I wasn't this big hotshot guy and that I would just be eager and willing, and wanting to make it work.
Yeah. You're not going to impose some kind of overwhelming working structure.
He sent me demos, but the demos would be a guitar part. There were a handful of songs, but a lot wasn't finished. We'd be tracking a rhythm section, which would be a bass line and drum groove that had just been decided in that moment. He'd play a guitar riff and ask, "Do you think it's too slow?" I had no way of knowing. "You're asking me if a groove is too slow?" It was this push and pull of learning his process. At first it was a little frustrating, but what I've come to realize over the years from making records is that everybody has a different process, and there's no wrong way to make music. Maybe someone doesn't gel with someone else, or you find someone else's process frustrating; but if you ride the wave and learn how someone else might make an album, you're bound to discover something about yourself and gain a new knowledge of how to work in an interesting way. Something I didn't anticipate was that I got to be a part of helping write some music. I got to be involved at this angle that I wasn't necessarily prepared for, but was so happy to be a part of. This is really stylized music. When someone's like, "Help me come up with a verse," or, "What do you think of these lyrics?" I had to learn and study his influences to get on the same page. You want to make something original, but you want to tip your hat at the right angle. If you tip it a little too far, then it's like, "Oh, you're ripping it off." But when you can get it just right, and people feel that connection because it's nostalgic but also fresh, it's the most satisfying feeling.
Does that feel different to you than something like Lucius, which is future-forward in a way? Lucius is a band where it feels like anything's viable.
Right. It's funny now. We're starting to work on the third record, and now it's all about simplifying. We are actually creating some parameters. I mean, I'm proud of both of those records we made. I think there's a lot of originality and a lot of, like you said, this future sound. I still want to keep that as part of our MO. I don't want to make something that someone's heard before, but I also think there's a certain thing we do live, when it's just the four of us, or, in more recent performances, the six of us. When we're left to our devices there's no technology involved. We're just playing the parts we know; there's an ebb and a flow, and we're not spot on a click. I really want to capture that. I definitely learned a lot from JD; I'm so grateful for that experience. I feel like I put a bit of future touch in there. There was a lot of hit and miss in learning how far I could take it. There were a couple of songs where, for example, I brought in full string arrangements and they were just nixed. It was for the better. The record seems to be well-received. I believe in all those guys and JD so much.
You were working on CHIMNEY, your solo project and album. How did that start? Was it just bits and pieces, or was it a concerted effort for a release?
I started working on that at the same time we started working on Lucius' Good Grief. We had just moved to L.A., and I didn't have a proper space yet. I have a buddy, Ben Pacheco, in Santa Monica who's got a music house called Future Perfect Music. He said, 'You can move all your gear into my live room,' which wasn't a very big room. But I could come in after hours and work on music. I did it as this thing where no one's telling me what's right or wrong. I was making all the rules. It was very selfish. I just wanted this cathartic release of music journaling. Right around that time I had lost a really close friend, Harris Wittels, who was one of the people I was really excited about starting to strengthen my relationship with after moving to Los Angeles. Unfortunately, he passed away. But I went to see his family and we were all cleaning up his house. His guitar there; this really beautiful, old, beat-up Kay. His family said, 'Dan, do you want this?' I wrote the majority of this record on it, and recorded with it. It's like this form of letting go and releasing. There was never an intent of me trying to sell a record; it was completely for me. At a certain point, I had eight or nine songs, and I thought, 'I should just make it an honest ten and call it a full album.' I shared it with some friends, one of whom was the guy who did A&R for us at Lucius' Canadian label. He really liked it, and it became a real thing. I feel like there's never been a time where I made music, except maybe in high school, where it was just purely for the fun of it. Not to say that my music is that, but where it's purely emotionally driven and there's no motivation to sell something.
But like with the new Lucius record, there's a lot hinging on it. It's been moving forward and getting larger. You don't want to put out an album that would let the band down.
It's like trying to meditate in Times Square. There's so much more noise. I think people get much more critical of the second, third, and fourth record of any artist. It is so much harder when there's pressure around it. Sometimes fans don't think about the fact that this is now the artist's livelihood. They've stopped doing whatever in their life that might have provided them with sustenance, and this is now what puts food on the table. You're supposed to retreat into this place of emotional output with all of that hanging over your head? It's not easy.
Do you have a home set up now for recording?
Well, I've got a bunch of gear in an attic, which is a collection of things I've used at other places. That's another great thing about getting to work with other producers in other studios. I've tried all this gear, and I end up finding the things I like the most. I got these Coil Audio preamps [CA-26] that have been my new studio staple. Everything's going through them.
Big tube mic preamps.
Yeah, and they're cool looking too! The whole negative feedback circuit is so interesting, as well as the way that it interacts with different sources and different microphones. It's a lot of options, with minimal controls. That's generally what I go for; flexibility, without a lot of knobs.
It seems like you've spent a lot of time working out of other places and following projects to spaces. Anyone who starts to get busy enough has to have somewhere to at least track some vocals, as well as do some mixing and odd ends.
Yeah, I end up doing a lot of that at home. I've got good enough gear to make hi-fi recordings, but there's no replacement for a good room. I've gotten to work in some really cool rooms. Either interesting spaces, or well-tuned spaces. I had a lot of fun working at Panoramic House on another Elizabeth & the Catapults record [Keepsake]. I got to record this band, Pavo Pavo, who I made a record [Young Narrator in the Breakers] with a couple of years ago at a studio in Woodstock called Applehead Recording. We just finished their second album in Brooklyn at The Creamery Studio. I enjoy alternative spaces just as much, because they can totally influence and guide the shape of a record in a totally different way. I think that's the most romantic way to make art.
What was the concept for tracking the new Lucius album, Nudes?
Lucius has always had some part of our set that is acoustic. In the past we have enjoyed playing intimate acoustic performances in unique spaces, plus we always try to play a song or two in the audience at our bigger, more electric shows. It's something that our fans really dig. We took the concept of an acoustic album – something I think our fans always wanted us to make – and built on it a little bit. When it came time to mix the record I told the crew that I would love to work in a classic room, since the record was recorded in a classic room, and to my surprise everyone was into the idea. So I got to mix and record a couple of overdubs in United Recording Studios' Studio B, which was so much fun. For the mix process, I would get a mix happening on the console, and once I was happy I would print it. Then, I would take the board mix, get the levels where each track felt good hitting the Ampex ATR-124, and then get a balance on that and see which mix I liked better. In a couple instances the non-tape mixes won, but for the most part the tape always added glue and helped with harshness from guitar and vocals.
What's in the future?
Right now I'm working on a record with this band called Don't Stop or We'll Die, which Paul Rust is in. He has a show on Netflix called Love. I've been doing some tracks with Hannah Georgas, a Canadian artist. I started a record with The David Wax Museum. I've been making some tracks with this band called Frances Cone. I just finished a record with a band called Uni Ika Ai, with Pete, the guitar player from Lucius. It's his project with his girlfriend, Maia Friedman. I'm really excited about that. I'm working on some CHIMNEY demos. I've done a lot of music for commercials, and the girls and I recently scored a film called Band Aid.
I saw that movie. I was working with Fred Armisen [Portlandia, actor, drummer] a while back and talked to him about it.
Fred is great; I really enjoyed recording him. I got to record the EP of that band [The Dirty Dishes] from the film. Fred, Zoe [Lister-Jones, writer, director, actor, musician], and Adam [Pally, actor, musician] were all in the studio together. Fred has recorded albums before, but Adam and Zoe had never really been in a proper studio making a record. It was funny to see them stumbling around and being like, 'Oh, so if I need more of myself I turn up this?' But then they'd get in there and sound like a real band. Zoe's a workhorse. It's impressive to see someone like that. I really love doing that kind of work. Post-production, sound effects, and all of it. It's all interesting to me. I like being a bit of a chameleon and floating around, letting whatever that might be interesting and new come through the door.
Tape Op is a bi-monthly magazine devoted to the art of record making.