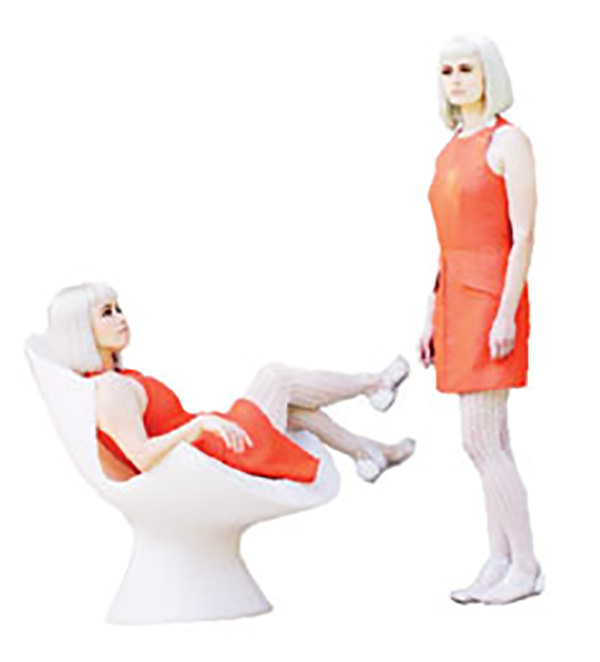 Dan Molad may be best known as part of the band Lucius, or for his current solo release as CHIMNEY, but he's also been involved as a producer, collaborator, and musician with a lot of interesting artists. JD McPherson, Elizabeth & the Catapult, Pavo Pavo, San Fermin, Here We Go Magic, and, of course, Lucius have all benefitted from his studio experience. We'd met at my studio while working on a jingle for Larabar a few years ago, so while visiting Portland he dropped by Jackpot! Recording Studio for a pleasant chat. Be sure to check out the new Lucius album, Nudes – a lovely, live-in-the-studio, acoustic record they tracked in two days at Electric Lady Studios in NYC, with engineer Joe Visciano.
That's interesting.
They share all the same prerequisite classes, up until about the second or third year. Then summers [home] from college I interned at West Side Recording Studio in Houston, where I grew up. I was learning Pro Tools by recording my friends. When I was in college, I started a band called Via Audio. We toured a little bit and got a record deal with SideCho Records. We got noticed by a couple different producers, one being Chris Walla [Tape Op #19, #111] from Death Cab for Cutie, and Jim Eno from Spoon [#27]. They were both saying, "Make a record with me." We ended up going to Austin, and we were one of the first bands to make a record at Jim's new studio, Public Hi-Fi. Have you been there before?
I was there back when it was in the garage.
Oh, wow.
I went back right after they were opening the new space, to say hi to Jim and Britt [Daniel]. It was like, "Oh, this is different!"
Yeah, he really did it right. It was so great. I got to learn a lot from watching Jim operate. That was also sort of around the time I met Elizabeth Ziman, and we started Elizabeth & the Catapult. Eventually I left Via Audio to pursue the Catapult full time. We were playing all the Lower East Side venues; The Living Room, Pianos, and Rockwood Music Hall. We got the attention of Blue Note and Verve Records. This was right around the time when there were lots of female songwriter artists who were emerging, like Norah Jones, The Bird and the Bee, and Ingrid Michaelson. We ended up signing to Verve. Elizabeth and I were in a relationship at the time, and we were in a band together for two records. The first one [Taller Children] we did with Mike Mogis [Tape Op #51] in Omaha. I started producing the record before we got signed, but passed the production duties to Mike once we began working with him. At Mike's studio, we ended up getting to this place with the record where he was starting to mix, but we were running out of time and we still had things we wanted to record. He was like, 'Go in the B-room.' I got to learn on his '70s API console, futz around, and work with all this cool, old gear that I hadn't really had much experience with. I've made a bunch of records there since.
He's a bit of a gear hound, I hear.
He is, for sure. We released that record when I was touring with the Catapult. Elizabeth and my's relationship sort of faded as a couple, but we tried to stay a band for one more album [The Other Side of Zero]. We ended up making that record with Tony Berg [Tape Op #121]. I met Tony, and Shawn [Everett, #115], who was his engineer at the time. It was another experience where I got to learn so much from two brilliant guys. I'd never seen someone engineer in Pro Tools as fast as Shawn. It was quite a sight to behold. Tony's a real teacher; he loves to foster talent. Through all those experiences I realized that in any band I've been in, even though I have the ability to record and make arrangement choices, if there is an opportunity to work with someone else, I will always take it. I get to have a master class and take home all these new methods of working, and then implement them in my own projects. It's so fascinating to learn how other people operate and do things, whether it's on a technical or psychological level. It's so much more about the relationship you develop than it is necessarily about 'what you know.'
Coaching someone's performance, or catching, "Hey, that drum part's kind of weird. Do you want to rearrange that?" That's what makes great records.
Yeah. Lucius just did a little bit of recording with Richard Swift [Tape Op #120].
I thought he said you guys were coming down when I interviewed him.
Yeah. We talked...
The rest of this article is only available with a Basic or Premium subscription, or by purchasing back issue #124. For an upcoming year's free subscription, and our current issue on PDF...