A few things conspired in my fortieth year to mix up my twenty- year old studio routine, but along the way I ended up in falling back in love with music and recording. After the birth of my first son I wasn't able (or willing) to put in the usual 14 hours of recording, critiquing, arranging, editing and mixing. A combination of the lack of inspired musicians and a definite degradation in major label releases had already led me to take a "time out" from recording. So I left the mainstream studio game in L.A. for the wilderness of Northern California. Not so far from society that there was no work, but far enough to work with only the committed. My studio is now three miles down a dirt road and twenty miles from the nearest town.
This lifestyle included summers filled with traveling to and camping out at music festivals. For the past 13 years I had also worked doing some mixing as well as helping the sound crews setting up stages in trade for being a VIP — i.e., free ticket holder. A good friend of mine, Rex White, is a videographer and had been asking me to join his video crew for years as an audio guy. I turned him down, preferring the live FOH [front of house] mix or simply enjoying the shows if not working. Well, this past summer I took the offer to join Rex and Natural VIP — a HD live concert production company. Natural VIP purchased a FlypakTM editing system from TV Pro Gear along with eight HD cameras. The company has had extensive experience in live edit DVDs. (The DVDs are usually given to the bands after the performance or for the festival to distribute.) It sounded like fun, so I jumped aboard and packed up my family. We came down the mountain to our first gig, 600 miles away at the Joshua Tree Music Festival.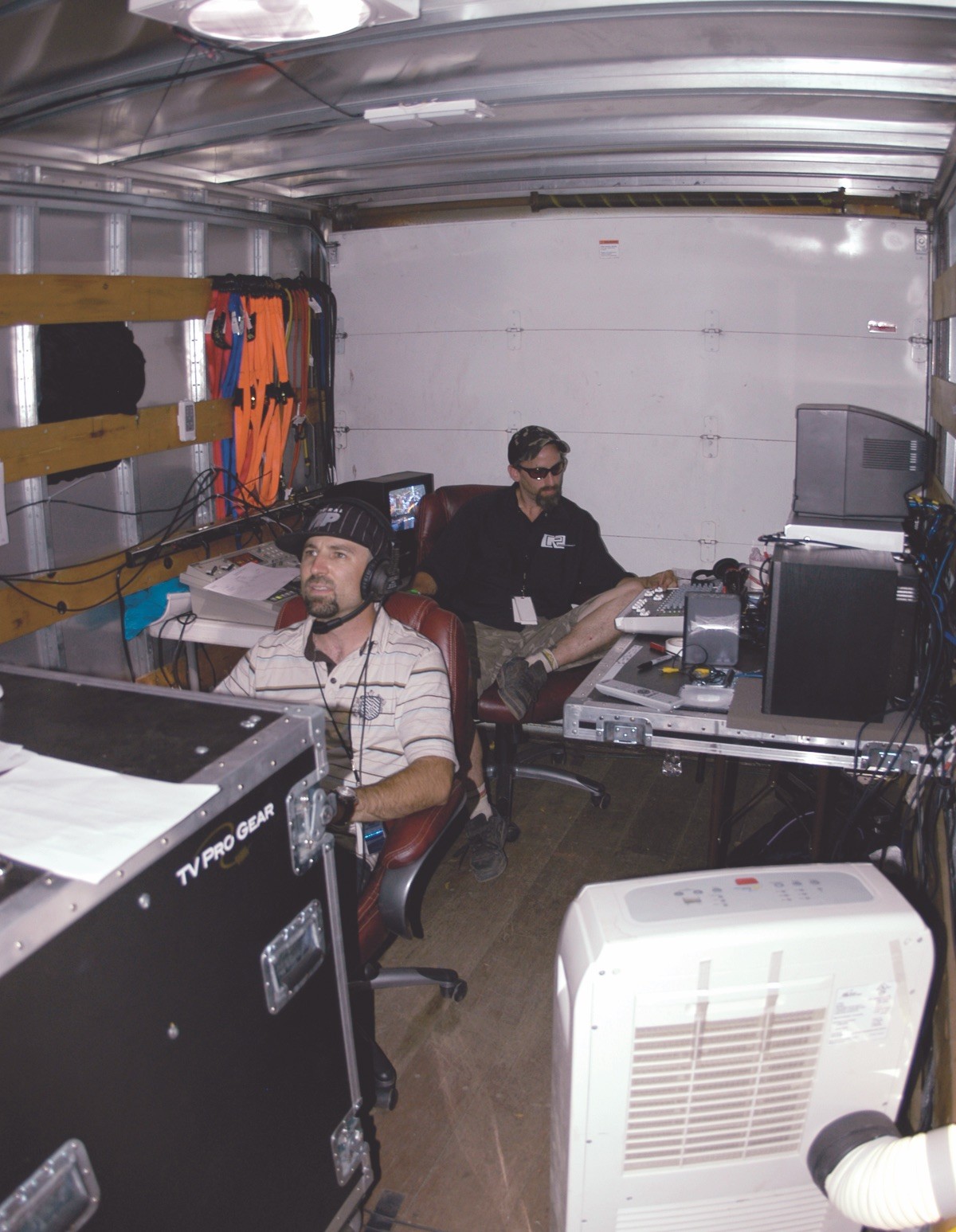 In the 110-degree heat we set up camp and checked out the scene. I would be working in a Penske rental truck with a portable AC fan to cool the gear as well as director Luke Archer and myself. I brought along a small Behringer mixer, Sennheiser headphones and my selection of Monster Cable snakes and microphone cables. The NVIP rack had a snake to the stage and (what I believe was) a mixer by Australian Monitor onboard. Chad Rea, the chief tech, provided me with two Sennheiser Shotgun mics and a Sound Devices 702 Portable Digital Audio Recorder with a manual. Having never seen one of these units, I sat down and made use of the manual. Before long, I had the machine recording at 96 kHz to compact flash cards (which proved to be too small — by the third day of the festival I was recording to a Firewire hard drive). Overall though, I was really excited about the ease of operation and sound quality of the Sound Devices 702. I climbed the side rigging and duct-taped the mics, not too high, on each side of the stage. My main purpose on these gigs was to get a good level from the FOH and to ride the audience microphones for applause — which meant hanging on every note holding the faders. The crew and I got along well. My family and I decided to commit to upcoming work with Natural VIP.
I ended up working on five more festivals around California — including the Sierra Nevada World Music Festival, Harmony Festival and Earthdance International. This range of opportunities allowed me to experience recording a huge variety of musicians including Taj Mahal, Sierra Leone's Refugee All Stars, Damian and Stephen Marley and many other talented artists. My sound rig grew to include Mackie HR624 monitors, an FMR Audio RNC compressor and a Mackie [Onyx] 1640 mixer — bypassing VIP's onboard mixer. I also added two Alesis HD24 recorders for the postproduction mix. Via these additions, I was controlling the main feed to the Panasonic HD DTRs, the DVD recorders and, on occasion, the radio and/or Internet. The one factor that determined whether the stereo mix's audio was good or not was always the FOH soundmen. I would make getting along with the FOH mixers my first priority. This would enable me to give comments when a mix wasn't working and still stay on their good side.
Watching a show from six to eight different cameras makes time goes by fast. The live, seat-of- your-pants, editing keeps you on your eyes, ears and toes. The bands were usually well-rehearsed (thankfully) and that certainly helped the overall mix.
While ten bands a day for three days can be fun, it also makes for a long workday. However, the sound of a concert is important to the attendees, and so is the sound for video. Sometimes the job we did in the truck was great, but sometimes an artist was not happy with something they did onstage. It was difficult to know those sets would never get looked at or listened to again. I did enjoy the process of knowing that the viewers of the DVDs will hear the festivals crowds and will be able to feel the energy of the bands in the concert footage.
Shows weren't without problems, and being part of a good crew helped solve those inefficiencies quickly. Some of the festivals took place at remote locations — on the side of the Eel River, in the desert of Joshua Tree or, for instance, next to the Pacific Ocean in Boonville — and this meant that getting any parts or technical support would have been impossible. Having a good set of all types of audio connectors, y-cables and extra microphone cables (long ones) lessened the stress. On one show I realized the snake was sending a time code bleed into the rack, so I had to run 150 feet of microphone cables to the mix position. Loads of extra mic cables are a must! A few times I had to run onstage to adjust a bullet camera or help pull cables, and other times I manned the director's chair and did some mixing of the cameras, which isn't as easy as it may look!
This job led me to develop my 5.1 surround mixing abilities, since we were using the 24-track recorders and providing surround mixes. The musicians really seemed to appreciate the DVDs after the show, and we got some great feedback on good or bad jobs. Being able to work through challenges quickly while educating myself on new gear and techniques helped me gain confidence and motivation this summer. There was an added bonus — I got to travel around while seeing some amazing places and listening great music.
robseifert.blogspot.com paparob@asis.com www.naturalvip.com Rob Seifert Gage has spent quality time in studios with Eels, Mike Watt, Porno for Pyros, Chuckii Booker, the Dust Brothers and many others. He is available to mix via www.esession.com.
Tape Op is a bi-monthly magazine devoted to the art of record making.